| | | |
| --- | --- | --- |
| old ads | | Views: 746 |
| Timberlakes of Wigan ad, 1958 | | Comments: 4 |
| Photo: Brian Item #: 30546 | | |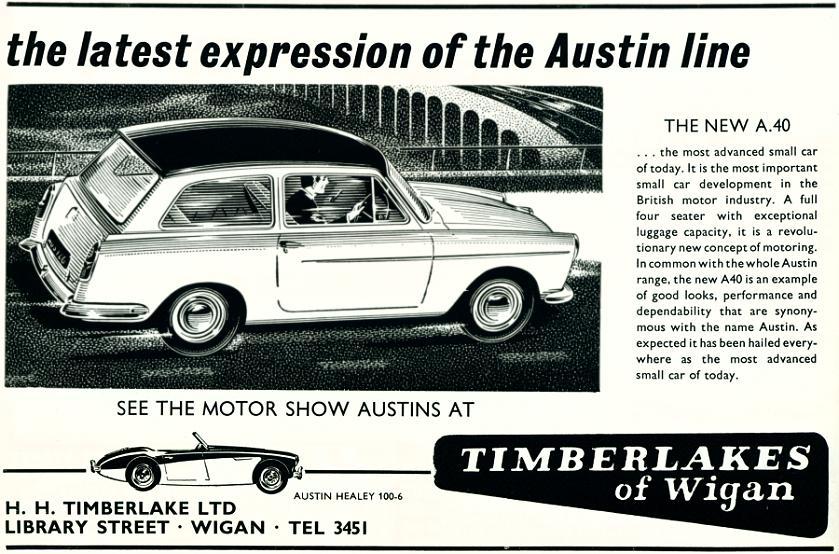 | | | |
| --- | --- | --- |
| | Image scaled down from 839px to 554px wide | Click here, or click the photo to view original |
| | | |
| --- | --- | --- |
| | Austin A40, the most important small car development in the British motor industry. | |
Comments by baker, 27th May 2018
any one own a decent austin of any model
Comments by RON HUNT, 27th May 2018
I had an Austin Healy Sprite in the early 70's. Red with wire wheels.
Comments by Bill parr, 30th May 2018
Re bakers inquiry I had a Austin Healey 3000 in 1961 I only wish I still had it now as it would be worth a small fortune
Regards Bill parr
Comments by Al, 5th June 2018
To have owned an Healey 3000 in 1961 you mustn't have been short of money considering they were (and probably always been) an expensive classic sportscar like the E-Type. And with the prices they now fetch I'm not surprised you wish you still had it considering they fetch upwards of 80 grand in today's insane market, but that depends on condition, and most in prestine nick have had about 100k spent on restoring them. They were, like most cars of the day, complete rust buckets.