| | | |
| --- | --- | --- |
| Programme Fair | | Views: 1269 |
| Programme fair 1988. | | Comments: 11 |
| Photo: RON HUNT Item #: 30456 | | |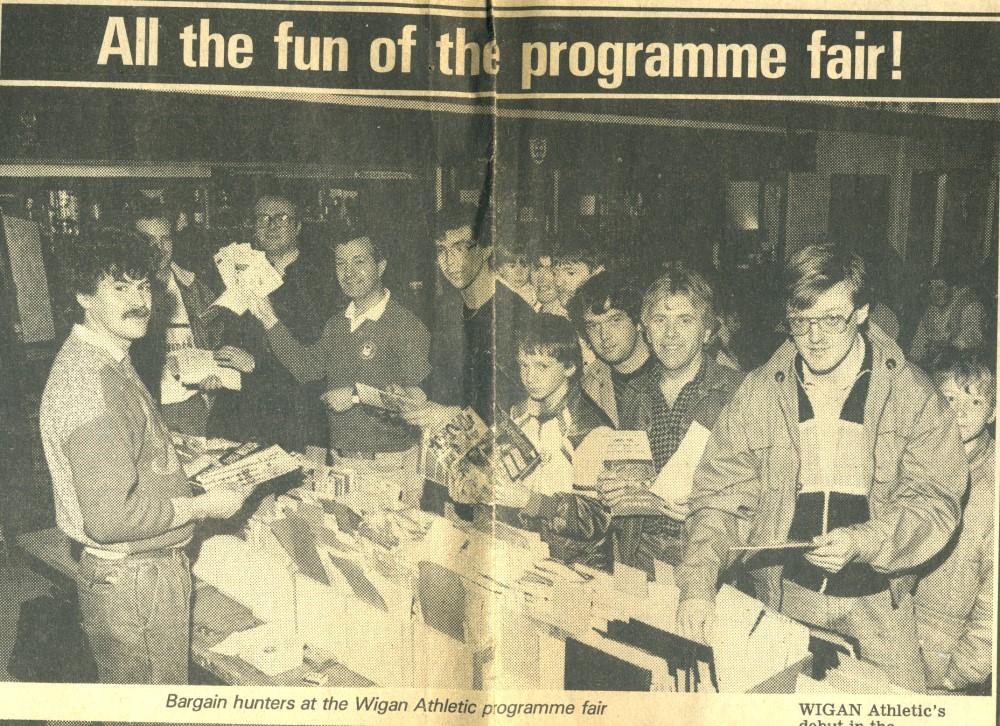 | | | |
| --- | --- | --- |
| | Image scaled down from 1000px to 726px wide | Click here, or click the photo to view original |
Newspaper cutting showing collectors at the Programme Collectors Fair, held at the Wigan Athletic Supporters Club April 10th 1988.
Yours truly holding a bunch of programmes. I can't believe it's 30 years ago... Paul Clarke (hidden) Melvin Partridge next to me and Pau,l and Derek Tinsley peering over the shoulders of two young collectors.
Comments by Philip Gormley., 14th April 2018
No rusty staples, no missing tokens, no team-changes appended: just some of the 'conditions' required by the discerning collector of soccer programmes.
I don't pursue printed collectibles with the enthusiasm of old, but I do feel confident that should Wigan Borough F.C.'s final issue in substandard condition come up for sale, then Ron would be onto it like a bat out of hell.
Comments by RON HUNT, 14th April 2018
Philip ANY Wigan Borough programme<g>
Comments by Poet, 14th April 2018
And always supplemented with a glossy Football League Review tucked in the middle.
Comments by Philip Gormley., 14th April 2018
You never know, Ron, one might just pop up in the most unexpected of places.
Comments by Philip Gormley., 14th April 2018
Poet. The 'Review was certainly 'something to read later', and the matchday programme's contents more satisfying to read during the build-up to kick-off - "They don't make 'em' like that any more."
Comments by Poet, 14th April 2018
Philip, the game was often so dull that relief was found in either reading the Review or baiting the lone Bobby during his circumnavigation of the touchline.
We stood on the grass terrace behind the goal waiting the Coppers return from his continuous laps of the pitch. On turning the corner flag a whistled rendition of the Laurel and Hardy theme tune would greet him as he progressed before us.
Not to be daunted the Officer would adopt a Penguin style walk and twirl his truncheon in a Chaplinesque Keystone Cop manner. Then we endured the game for a while until he came round again.
Comments by Philip Gormley., 15th April 2018
Your decision to stay until the end of those dull matches was admirable, Poet, and made worthwhile by the easy-going Grassy Bank, and the antics of a playful policeman.
I like your aptly-named poem "D-Day", shown recently on P-a-D, by the way; a sober telling - with a hint of zest - of Springtime's harbinger.
Comments by Poet, 15th April 2018
That's kind of you to say Philip and most gratifying coming from such a fine writer as yourself. Cheers.
Comments by DTease, 15th April 2018
Whatever happened to it Poem, the kind of gentle humour you describe when you could take the Michael out of a Policeman and rather than arrest you he would join in and have a laugh with you? Sadly, so many people now seem to be living on the ragged edge all the time.
It's important to keep a sense of proportion, a sense of the ludicrous and the ridiculous.
Comments by Jarvo, 17th April 2018
Dave Clarke not attend that one, Ron?
Comments by RON HUNT, 28th April 2018
I'm positive that Dave Clarke would have had a stall there, in fact I think he organised it. Not seen him for years and at one time he practically lived at our house.In fact he did for a few days, when his girl friend kicked him out What a lucky escape she had <g> I think he lives down south in Devon or Cornwall now?