| | | |
| --- | --- | --- |
| Wigan Jacks | | Views: 983 |
| The two Jacks | | Comments: 3 |
| Photo: Keith Item #: 31258 | | |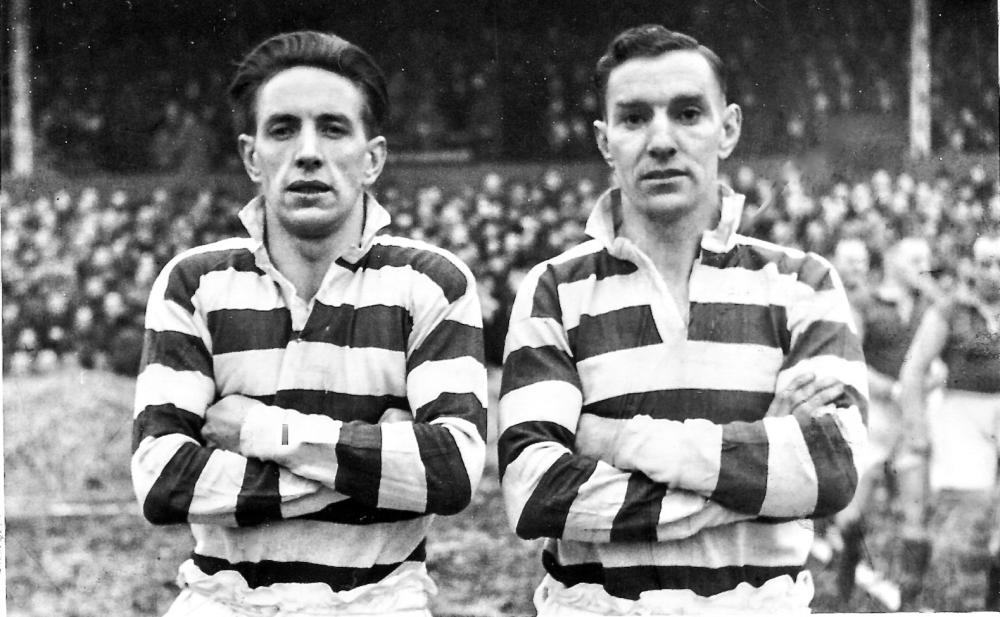 | | | |
| --- | --- | --- |
| | Image scaled down from 1000px to 617px wide | Click here, or click the photo to view original |
Jack Wood, on the left and Jack Bowen on the right, both with strong Wigan connections, although playing for Leigh at the time of the photo.
Jack Wood was born in Wigan, whereas Jack Bowen, my father, was a "naturalised" Wiganer having been signed by Wigan in 1938 from Llanelli and completed his 10 year contract with them. He remained in Wigan, after marrying my Wigan born mother, until his passing in 2009.
As you can probably guess from the facial expressions, it was one of the coldest days of the year in 1948. It was Monday, December 27th. Leigh played Warrington at Wilderspool, losing to them by 13 points to nil. Warrington finished top of the table that season. The attendance was 24,784.
Other Wiganers representing Leigh at that time were, Cec Ryan and Frank Daley as well as Rugby League luminaries such as Jim Ledgard, Charlie Pawsey and Norman Harris, grandfather of Iestyn Harris.
The other link between the two Jacks, apart from their christian names, was that Jack Wood's parents kept a pub in Wigan and almost exactly a year after this photo was taken my father became a pub landlord in Wigan as well.
Jack Wood's parents, John and Margaret Wood, I believe kept the Bush Hotel on Belle Green Lane at the corner with Battersby Street, just before the railway bridge. If I'm right then it later became an Indian Restaurant.
My father kept the Crispin Arms, Birkett Bank and later the Wellfield Hotel, Beech Hill. He and my mother retired after 24 years in the trade in 1974.

Comments by Keith, 5th June 2019
I should perhaps have mentioned that there were at least two great Wigan born players (born in Ince) playing that day for the opposition, Warrington. Both became GB Tourists, Jimmy Featherstone and Bob Ryan. Jimmy had originally made his debut for Wigan in the same team as my father (he was 8 years younger) before leaving for his long career at Warrington. He would joke that my father "taught him how to play the game", whether it was tongue in cheek or true I'll never know.
Comments by griff, 11th June 2019
Regarding the two tourists Jimmy Featherstone and Bob Ryan who played for Wires and originated from Ince both attended along with Ernie Ashcroft St Williams school creating I believe a record for the Wigan area
Comments by jackdog, 14th June 2019
Was that the Jack Wood who was later secretary of Wigan. I think there's a resemblance?