| | | |
| --- | --- | --- |
| Wigan Rugby | | Views: 1370 |
| Christmas card. Inside | | Comments: 13 |
| Photo: RON HUNT Item #: 30869 | | |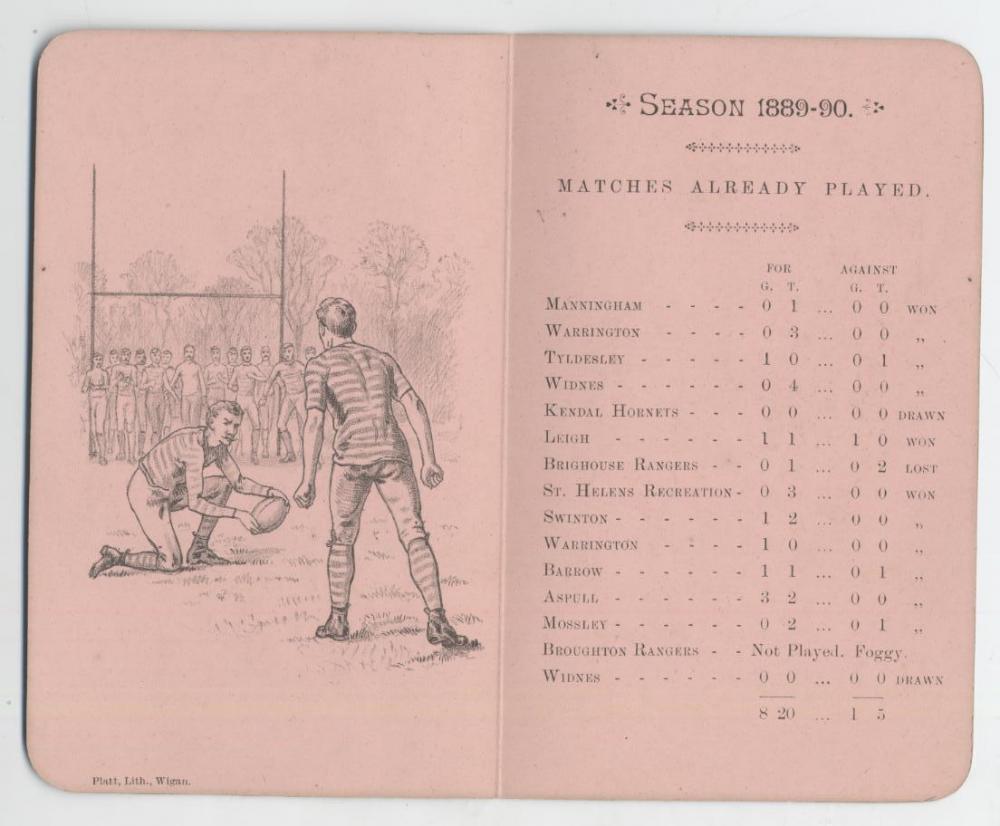 | | | |
| --- | --- | --- |
| | Image scaled down from 1000px to 826px wide | Click here, or click the photo to view original |
| | | |
| --- | --- | --- |
| | Inside of a Christmas Card from the Wigan Rugby Club 1889. Showing the fixtures and results. Thanks to Peter Fleetwood for the image. | |
Comments by Philip G., 13th December 2018
I wonder, when this scenario was last seen; a team mate holding the ball in position for his kicker? The lads beneath the sticks seem to be a little bit dejected too . . . although one of them does look as though he's about to shout Boo! Most unsporting.
Comments by GW., 13th December 2018
I'd say he's one of those St Helens lot Philip. He's spat his dummy and is about to take his ball home.
Comments by Philip G., 14th December 2018
G.W. If the artist's impression is of the game in which St Helens Recs had suffered a mild 9-0 beating then you could be right, and also of the fact that his team mates had shown some sportsmanship.
Good to have you back onboard.
Comments by Jarvo, 14th December 2018
If you look closely, the players are actually standing in the field of play - in front of the try line. Is that allowed in rugby league? At first glance, this looks like rugby union: the clubs on the fixture card give that impression. But there are 13 men in front of the posts...
Comments by Keith Beckett, 15th December 2018
In 1889 it would have been rugby union. The northern clubs broke away in 1895 to create what was to become the semi-professional rugby league.
Comments by FredG, 15th December 2018
For the uninitiated this is Rugby Union. Rugby League came 6 years later in 1895 and it was another 10 years before it became 13 a side.
Comments by Philip G., 15th December 2018
Well-in! Keith and Fred; and Jarvo's query had certainly been on the premises.
Comments by DTease, 15th December 2018
Looks like Aspull Nilled Wigan!
Comments by DTease, 15th December 2018
Oops! read it the wrong way round.
Comments by Pw, 15th December 2018
Not played foggy.That is a belter..I have "watched" matches at Wigan in the fog.How daft was that.
Comments by Philip G., 15th December 2018
RugbyFootballHistory.com > Scoring history table, gives bewildering accounts of 'points awarded' i.e., Prior to 1886, touching down the ball behind your own goal line was awarded a point, and not to be confused with the Cheltenham scoring system. The Cheltenham system?
Comments by Jack, 15th December 2018
Holding the ball for a conversion attempt was not common but not unknown (in RU) in the late 1950's, as an ex-kicker I had the ball balanced by a colleague at times but I found it more of a hinderance than helpful.
Comments by Philip G., 16th December 2018
Jack. My tattered Encyclopaedia of Sport that gives results up to and including the 1958-59 season includes a photo of England's JE Williams holding the ball in place for DF Allison during the 1956 game against Ireland at Twickenham - You'd been in good company.