| | | |
| --- | --- | --- |
| Abram FC | | Views: 1107 |
| abram football team | | Comments: 15 |
| Photo: DEREK EVANS Item #: 30808 | | |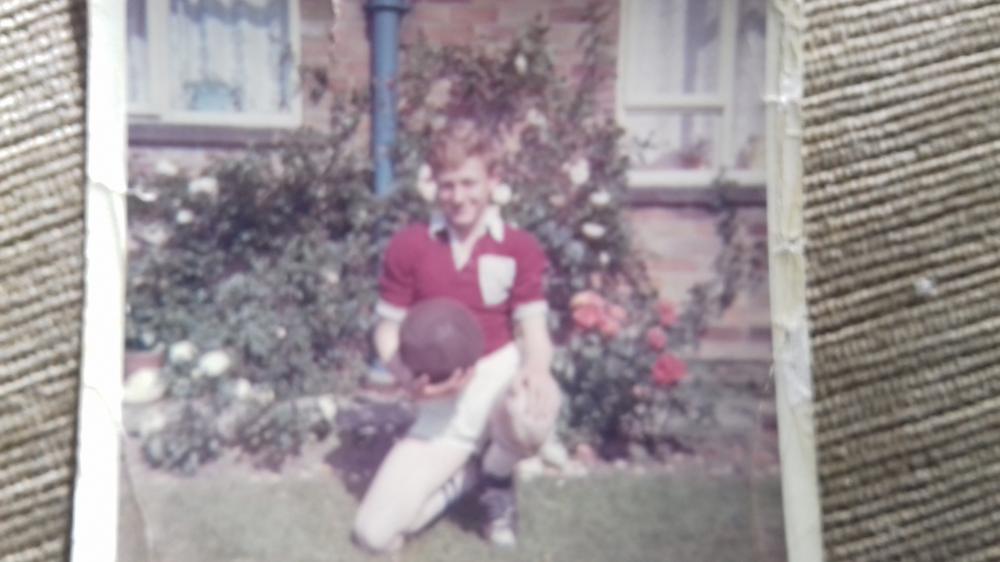 | | | |
| --- | --- | --- |
| | Image scaled down from 1000px to 562px wide | Click here, or click the photo to view original |
| | | |
| --- | --- | --- |
| | This is a photo of Nolan Bradshaw he said he played for a team in Abram who changed in the Bucks Head pub. The kit looks like the holy family but with a badge on. He cant remember what the team was anyone any idea or any photos of the team. | |
Comments by derek evans, 1st November 2018

I forgot this would be about 1964/65 ish
Comments by Philip G., 1st November 2018
Derek.
I remember playing up at Abram against a team whose jerseys were maroon with a 'shield' badge, during the early sixties. I also remember how myself and two other 'Sea Cadet's players had been given the opportunity of joining that team's training sessions, after the breakup of our own team. Item 20749 might provide Nolan with the team's name. Regards.
Comments by Broady, 1st November 2018
From first enquires it appears that around 63/65 they got changed in the school. They only used the Buck from 1970. Try and put the photo on the Abram web site to see if you can get further info.
Comments by derek evans, 2nd November 2018

Philip I have had a look at that article about Wigan fed. I am in that team ( D Evans ) Did you play for the sea cadets in that season. This is a real mystery Nolan and me were in the same class at ashton sec modern and we were mates after we left school but I cant remember him playing in abram or plat bridge. I played for The Holy Family and the pitch was behind the church but the year after they lost the pitch to house building. That team broke up and became APB Athletic and they changed at Bamfurlong school. The photo must be the year before I played at Holy Family which would make it 1962/63.
Comments by Philip G., 2nd November 2018
Derek.
Thanks for your kind and interesting reply.
You and I played alongside each other for the 'Fed team in 62-63. We also took part in the 'Fed's trial games: One played at the Sea Cadet's pitch in Pem', and another beneath a railway embankment at Ince. I might have been mistaken in my previous post, when saying that I had 'played against' the lads in maroon: it was probably, instead, the moment when I had been asked to join the lads' training session - the lads in maroon staying behind after our game with them had been called-off due to snow. I clearly remember Roy Gaskell and Ronnie Close being there, and that the pitch had a long line of trees close to a touchline, with loads of space on the other. The reason that I had put you onto the newspaper-cutting was that I suspected Abram St John's Y.C. could be Nolan's Team.
Oh, The Case of the Shattered Coach Window . . . I believe Holmes is still on the case. Regards.
Comments by derek evans, 2nd November 2018

Philip. Do you know I have no recollection of playing in the trials at Pem or Ince but I do remember playing in a match I thought was the feds trials at Abram St Johns pitch that one is tree lined near the touchline. I live about 50 yards from where it was its gone now its a play ground. I remember that day at Abram was very cold the pitch was frozen and I was playing centre half I went to clear a cross my standing foot slipped and I blasted it through my own goal. Was this not a trial and just a training session. I think I played centre half for the feds team what position did you play. Were you captain.
Comments by Philip G., 2nd November 2018
Thanks Derek. So it was Abram St John's pitch, was it. I'm quite certain that at the moment I'd been asked to join the lads, they'd all been stood together by a corner flag in readiness for a 'training session' ('we're not helping Nolan much, are we - poor chap') I didn't join the lads, and probably joined Bispham a short while later instead. I played at No. 10 for the Cadets, and also for the 'Fed - that's Inside-left in 'old money'. Take care Derek.
Comments by Broady, 3rd November 2018
Presumably this "Abram St. John's pitch" was Abram Park. Situated at the top of Lee Lane!!!
Comments by Philip G., 3rd November 2018
'Park' seems to fit the bill Broady: There could had been enough room for another one or two pitches?
Comments by derek evans, 4th November 2018

Yes the pitch was at the top of lee lane there is a tarmack 5 a side floodlit pitch there now and some seats. I played no 6 for the holy family so we must have met a few times on the field.Where was the sea cadets pitch at Pem and where did Wigan boys club play. Its all gone.
Comments by Philip G., 4th November 2018
I'm fairly confident that The Sea Cadet's first match had been against Wigan Boys Club yet certain that Johnny Maye had been the opposing team's pivot ("Good morning, Mr. Maye."), and that the game had been played on a cinder strewn pitch within easy 'sniff' of the glorious Bone Works. The Sea Cadet's goalposts were backed by a school at one end, and by a coach/engineering works at the other in the centre of Pem'. Where's Jarvo!
Comments by derek evans, 5th November 2018

Yes I do remember that Boys club pitch now not a blade of grass on it. The coach works in Pem was just off Enfield street near the Enfield pub but I cant remember the field. The same year I also played for the school team Ashton Secondary Modern. We won the Wigan league and cup and were runner up in the Lancashire cup we lost against Ashton under line in a two leg final. I cant remember any of the other schools we played against in Wigan or how many there were. The only recollection I have was playing on a field I think might have been in or near Highfield the pitch was on a 45 angle it was light playing on the side of a mountain.
Comments by Philip G., 5th November 2018
Derek. The Sea Cadet's pitch was some distance away from Enfield Street; Behind the present-day Pram World, I think. Where's Jarvo!
Comments by t, 5th November 2018
derek, the pitch you were on about in highfield, could it be the donkey pad as it was called, it was more or less opposite, the end of enfield street and railway pub.
Comments by tom, 5th November 2018
pony field