| | | |
| --- | --- | --- |
| Wigan Rugby Players | | Views: 1018 |
| Jimmy Hooper ex-Wigan player with Heritage shirt and Willie Isa. | | Comments: 8 |
| Photo: Keith Item #: 30781 | | |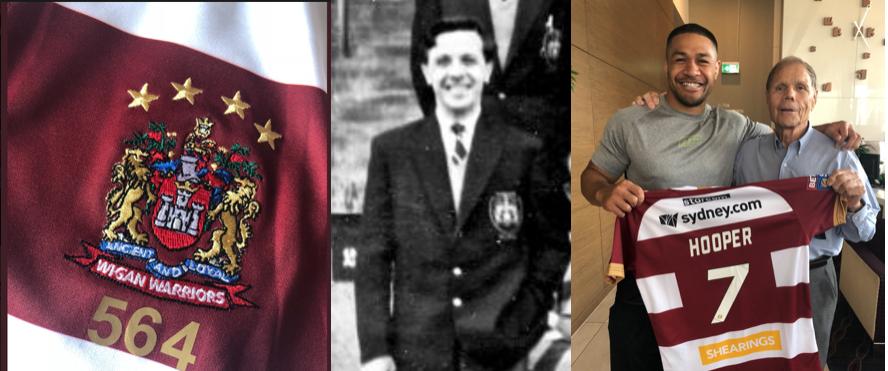 | | | |
| --- | --- | --- |
| | Image scaled down from 888px to 371px wide | Click here, or click the photo to view original |
| | | |
| --- | --- | --- |
| | Following my posting of the Wigan Cup team of 1958, and the attempts to identify others in the photo, (mainly Directors), I believe I may have come across "evidence" of another "Director" who I believe was not a Director but a player at the time. He is Jimmy Hooper, I thought he looked too young to be a Director. I also find he received his heritage shirt this February from Willie Isa when Wigan went "down under" to play in the World Club Challenge competition. It came about in the following way, a man by the name of Matt Barton recently contacted us (I presume the Wigan club) to say his neighbour, ex-pat and former Wigan player Jim Hooper (HN 564) was heading down from Brisbane for our game today. We couldnít let the opportunity pass without meeting Jim and presenting him with his very own jersey. So the photo shows Willie, Jim and the jersey, I also include the photo of Jimmy from 1958. If I'm wrong I sincerely apologise to all concerned but I believe it is the same person, J R Hooper, known as Jimmy who played for Wigan from 1955 to 1958, appearing 15 times for the club. | |
Comments by Albert., 12th October 2018
Went to school with Jimmy in the forties. We lived in a close community, in Spring View, Wigan. It is good to know that he is still amongst us, and fit, and well. If you see this comment Jimmy, may God bless, you, and yours. Albert Short. Keep well, and keep safe.
Comments by Albert, 12th October 2018
Jimmyís school photograph is on the school content. Spring View school, item 9217. Front row 5th from the left.
Comments by Albert., 12th October 2018
I apologise. Number should read. 4263
Comments by Albert., 12th October 2018
Stupid me. I have been entering the number of views, instead of the item number, which is 13820. 1946.
Comments by Albert, 13th October 2018
Jimmy also played for Blackpool, after his playing days at Wigan..
Comments by Keith, 1st November 2018
CORRECTION. Following further information from people who have better knowledge than I, the middle photo of "Jimmy" is incorrectly identified, it is in fact Jack Alstead, the club's physio at the time. However, the photo on the right of Jimmy, joyously accepting his Wigan heritage shirt, is correct - apologies all round to everyone concerned.
Comments by Jimmy Hooper, 28th November 2018

Hey Albert Short I remember both of us going to spring view school Thank you for your comments, I am going ok here in Brisbane Australia I have been here since 1964 and still enjoying it, Albert it would be great if we could keep in touch by email Cheers Jimmy.
Comments by Albert., 2nd January 2019
John, a subscriber to W.W.A. Drew my attention to Jimís message. I have emailed Jim, and he has replied. Thank you John.