| | | |
| --- | --- | --- |
| Wigan RLFC Challenge Cup Winners | | Views: 1764 |
| Wigan RLFC Challenge Cup Winners 1958 | | Comments: 24 |
| Photo: Keith Item #: 30774 | | |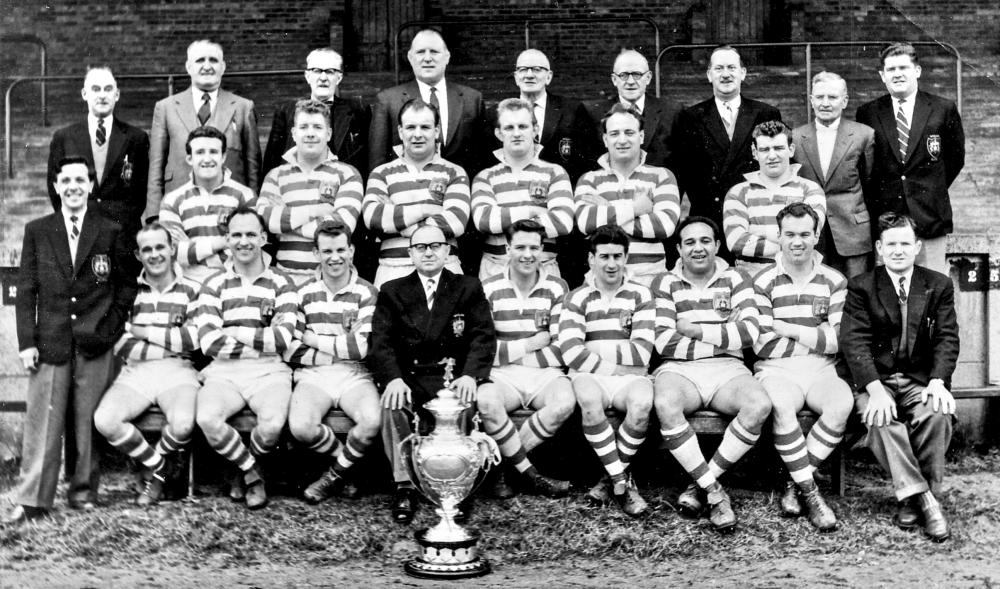 | | | |
| --- | --- | --- |
| | Image scaled down from 1000px to 589px wide | Click here, or click the photo to view original |
The Wigan team, (with the Wigan Directors), that beat a good Workington Town team at Wembley in 1958 to win the cup.
The players standing, left to right,
Bill Sayers, Frank Collier, John Barton, Norman Cherrington, Brian McTigue, Bernard McGurrin.
Seated, left to right, Rees Thomas, Jack Cunliffe, Mick Sullivan, Eric Ashton, Dave Bolton, Billy Boston, Terry O'Grady, next to him the coach Joe Egan.
I can't place many of the Directors but I think I can name a few, Joe Taylor and Tom Brown I think are 2nd and 3rd in from the left on the back row and 2nd in from right on back row is George Hesketh.
Billy Gore is seated at the front behind the cup. Other Director names from that time, Frank Fairhurst, Billy Wood and Sydney Wild but I can't identify them in the photo.
On Friday 13th March 1953, Joe Taylor, Billy Gore and Jack Wood, Wigan's club secretary, were early customers at the District Bank, on the corner of King Street, where they withdrew £3,000 in new, crisp £5 notes. Joe Taylor and Billy Gore then headed south with the money tucked in a suitcase - their mission was to sign Billy Boston which they did.
Today that translates into around £83,000 which must translate into the bargain signing of the century in any sporting sphere.

Comments by Philip G., 9th October 2018
A great photo & write-up, Keith.
Comments by John, 9th October 2018
Is Billy Wood not the big chap standing behind John Barton?
Comments by JMW, 10th October 2018
Sydney Wild is 5th from the left on the back row..
Comments by 1934granada., 10th October 2018
Third from the right, back row my great Uncle, Ken Broome.
He was the chairman of Wigan RLFC in the 1960's.
Comments by Jarvo, 10th October 2018
Great photograph. Great team and great times in rugby league...Eat your hearts out, Musclemen...
Comments by Keith, 10th October 2018
Brilliant work everyone, thank you so much. The only ones left not named are extreme left back row, and extreme left front row standing, extreme right back row and also on back row gentleman 4th in from right. I believe Billy Wood may have been an ex Wigan player from the 1930's who retired quite young after an injury.
Comments by Pw, 10th October 2018
Spot on Jarvo.A great photo of a great team.
Comments by John, 10th October 2018
Keith, I'm pretty sure you're right about Billy Wood being an ex-player. Also something in the back of my mind tells me he kept the Royal Oak on Standishgate in the 1950s when he was a director of Wigan?
Comments by John, 11th October 2018
Keith, I think the gentleman standing extreme right, back row is club secretary Jack Wood.
Comments by Keith, 11th October 2018
Thank you John that leaves just three more to identify, perhaps just two, since I have reason to believe the gentleman, standing extreme left at the front, is the Wigan player at the time, Jimmy Hooper. I will be posting what I hope is "evidence" later.
Comments by John, 11th October 2018
Keith, I don't think that is Jimmy Hooper. Just from memory of watching Wigan at the time I thought he had light-coloured hair and was of quite a chunky build. Not saying I'm right though - it's a few years ago!
Comments by John, 11th October 2018
Keith, only just seen your later posting about Jimmy Hooper. Looks like my memory is playing tricks. Ignore my message above.
Comments by Keith, 11th October 2018
John, thank you for your postings. I hope someone is able to confirm for sure that I have the right person, until then I cannot be 100% sure.
Comments by John, 11th October 2018
There's a photo on the Spring View school section of this album (item 13820) showing Jimmy Hooper as a schoolboy.
Comments by Bob Talbot, 12th October 2018

Can confirm that Club Secretary Jack Wood is standing at far right on back row. He went on to be Secretary of Lancashire Cricket Club
Comments by Bobo, 17th October 2018
Can definitely state it isnít Jimmy Hooper. Jimmy had a fair-haired crew-cut at the time, and emigrated to Australia with his wife June not long after
Comments by Keith, 17th October 2018
Thank you for your comment Bobo. If you look at the photo posted by Rev David Long, item #: 13820 of a class at Spring View school, where Jimmy is 5th in from the left in the front row his hair "colouring" is certainly not light in appearance, so I could not explain the colour change you mention. Jimmy played between 1955 and 1958 appearing 14 times for the first team before joining Blackpool Borough.
Comments by John, 18th October 2018
Bobo's description of Jimmy Hooper when he played for Wigan is spot on as I recall him. Also, to me, the features of the young Jimmy on the Spring View school photo don't look remotely like the gentleman standing on the far left of the middle row of the team photo above, even allowing for the passage of the years, and he was of a more thick-set build as I remember.
Comments by jcf, 25th October 2018
I think the gent Front Left in the Club Blazer, is Jack Alstead who was the club physio at that time.
Comments by Keith, 25th October 2018
Apologies to "Bobo" and John, I bow to your superior knowledge with regard to identifying the gentleman standing on the left at the front, who I incorrectly thought was Jimmy Hooper. And many thanks to "jcf" who has given us his name as Jack Alstead the club's physiotherapist at that time.
Comments by Donald Underwood, 3rd November 2018
Sidney Wild is 5th from left in back row
Comments by Keith, 4th November 2018
Thank you Donald, that's brilliant. It now only leaves one person "unidentified", the gentleman on the back row, extreme left. Does anyone "know" him?
Comments by John, 5th November 2018
Keith, according to the programme for the last home match of the 1957-58 season (vs Salford 12 April 58) the 9 directors at the time were: Wm C Gore (chairman), T Hesketh (vice-chairman),L K Broome, T Brown, J Stephens, J R Taylor JP, S Wild, W Wilkinson, W Wood. So I think the 2(?) unidentified directors could be Messrs Wilkinson and Stephens.
Mr Hesketh's name was Tom. He was at one time a referee.
George Hesketh was Tom's younger brother and a Wigan player around the time of the First World War and after. Hope this helps - thanks for posting the photo and your comments.
Comments by Keith, 6th November 2018
John, I could not have wished for a better result. Thank you very much indeed for the info'. As you say the two "unidentified" gentlemen are Mr Wilkinson and Mr Stephens. I've always had a problem with the christian names for the Hesketh family so again, many thanks for putting me right.