| | | |
| --- | --- | --- |
| Ephemera | | Views: 824 |
| Ready reckoner | | Comments: 5 |
| Photo: Eileen Todd Item #: 30637 | | |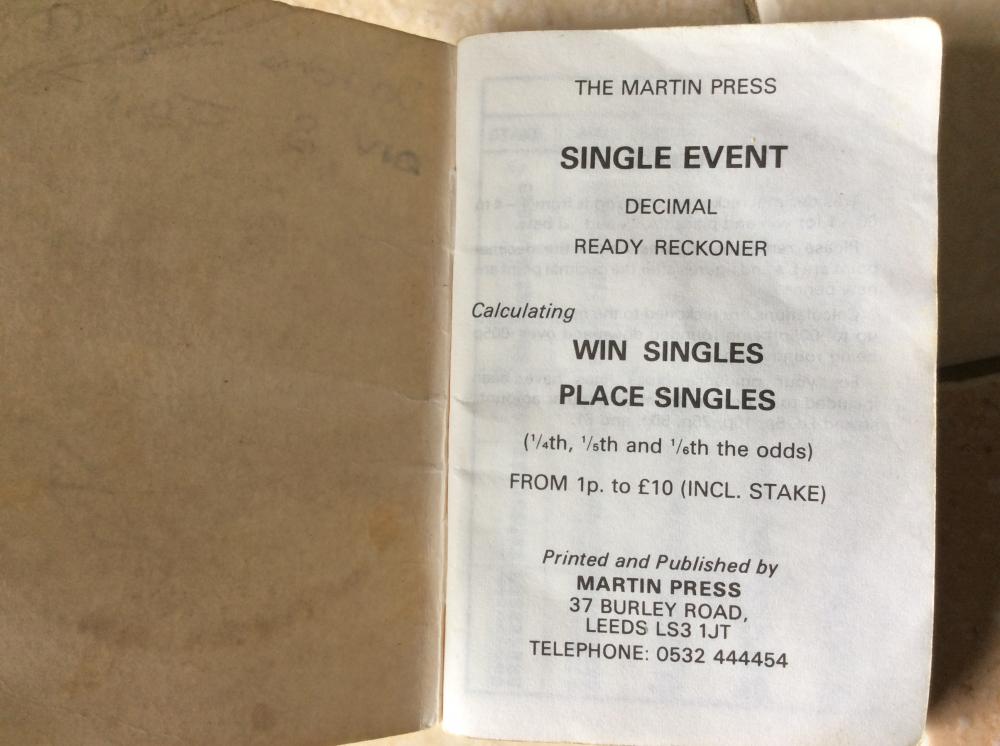 | | | |
| --- | --- | --- |
| | Image scaled down from 1000px to 746px wide | Click here, or click the photo to view original |
| | | |
| --- | --- | --- |
| | Is this the book your referring to in the postcard about horse racing? | |
Comments by Johnny, 11th July 2018
It is! Very similar to old Tom's!!
Comments by Carolaen, 11th July 2018
It always used to amaze me in the 1950s and 60s how many men (including all 4 of my Uncles) with no mathematical training and who had left school at 14/15 could quickly work out the returns on complicated bets - each way Yankees for example - in pre-decimal pounds,shillings and pence, in their heads
Comments by philip gormley, 12th July 2018
I've seen it done, as well, Carolaen. Jackie, our 'driller' who had previously worked in a Bookies, stood by his drill as he quite easily sorted out an accumulator for one of the lads. A rare talent.
Comments by Poet, 12th July 2018
And each a Diophantus at the dartboard.
Comments by Philip G., 12th July 2018
Hope you like my rhyme Eileen.

My horses four have all 'come-in!', the Ribble's still on strike
And how can I assess this slip; my 'keeping's rather childlike.

Then take your slip to Eli, there - 'neath clouds of Bruno-flake
He'll have your sum in just a mo', scoff fluster in your wake.