| | | |
| --- | --- | --- |
| Ephemera | | Views: 897 |
| Joe Kennedy - Turf Accountant. 2 The Wiend, Wgan. | | Comments: 17 |
| Photo: Philip G. Item #: 30615 | | |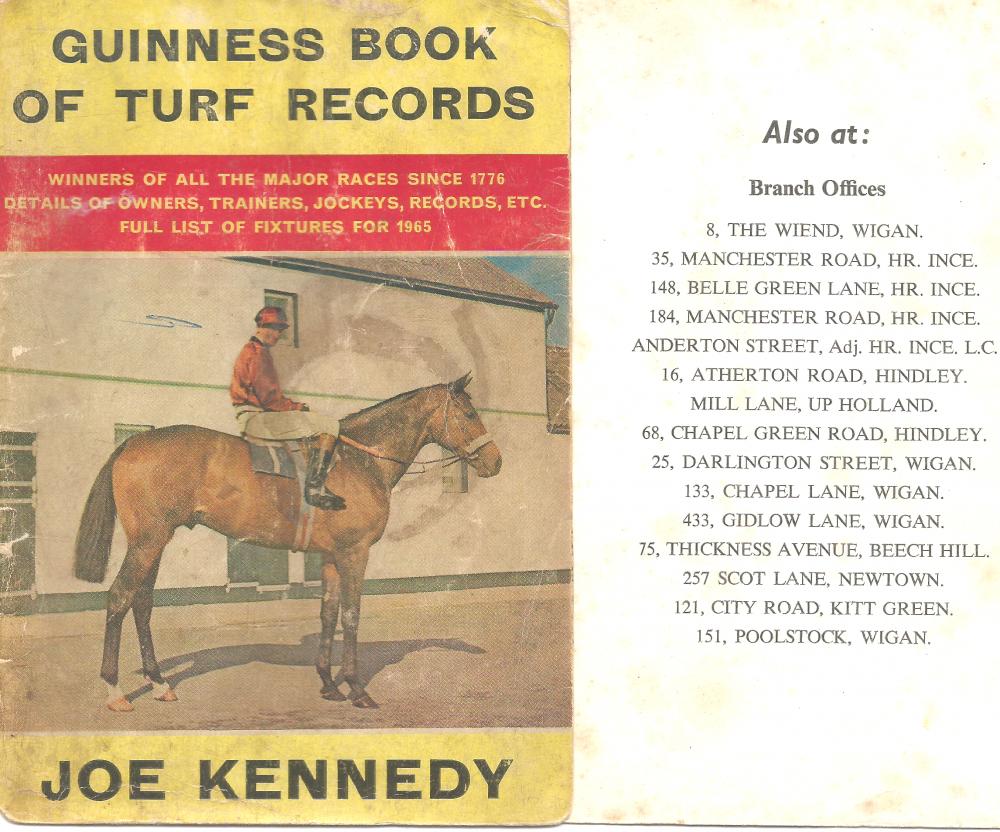 | | | |
| --- | --- | --- |
| | Image scaled down from 1000px to 832px wide | Click here, or click the photo to view original |
| | | |
| --- | --- | --- |
| | I'm not sure how this booklet came to be in my possession, but its well-thumbed condition says much for its contents. The booklet lists all the winners of each selected race up to and including 1964, and was compiled in November of that year. A smashing gift; given, presumably, during the year of Santa Claus's 1964 Epsom Derby triumph. | |
Comments by Veronica, 2nd July 2018
I bet my dad went in one of these betting shops - perhaps the one in Darlington St as he worked at the gas works. I hated Saturday afternoons - with the horse racing on the telly - I cleared off up town but then coming back later it was Football Results!
Comments by Philip G., 2nd July 2018
Veronica.
I remember one of your earlier posts in which you'd mentioned your Dad's 'fondness for a bet' - Capital, Capital. And what about the extra bit of information, shown here, for the Anderton Street shop; Next t'Labour Club. Lovely stuff.
Comments by Veronica, 2nd July 2018
Ah! But that's Anderson St in Ince Philip - don't think he would have gone there! Do you know he even had my mam putting half crown bets on each way - I wasn't impressed at all! ( I was a bit snobbish then) When I look back though - I would give anything to see both of them betting on the horses again! My dad once asked her what had she put a bet on...she replied " Curly Chance"! What she meant was ...'Quell Chance'! I roared laughing! He rubbished her bets - but if she did win it was another matter- he would accuse her of 'betting against him'.
Comments by Philip G., 2nd July 2018
Veronica. I think your Mam could have known a little more about bloodstock than she was letting on: Quelle Chance was also a successful French mare, bred in 1917.
Comments by Veronica, 2nd July 2018
Looks like she had more in common with The Queen than the same name then Philip! ;0)
Comments by Carolaen, 3rd July 2018
Veronica

A half crown each way bet (5 shillings in total plus tax of you paid it on the stake) in day 1969 is the equivalent of about £7.50 in today's money. Quite a punt on a single bet, though presumably a win would have been equally substantial !
Comments by Veronica, 3rd July 2018
It wasn't so much the betting Carolaen it was the fact she went to the betting shop. That to me then was a man's domain and I didn't like the idea of her going in one. I can remember her talking about Frankie Durr and Lester Piggot. Really I didn't think it was 'lady like' but it was harmless really - I blamed my dad for it! It was a scream sometimes because if he asked her what she'd 'backed' she wouldn't tell him! I could never understand the betting on horses! :o))
Comments by Philip G., 3rd July 2018
Mam/Mam … Ah, I see what you mean Veronica.
And perhaps 'your Mam' would also have been aware of another particular racehorse with a French connection; Sea Bird ll. Sea Bird ll won the 1965 Epsom Derby with ease; 'just pushed along', as they say. And there's crystal clear colour-film of that special victory on YouTube; Sea Bird's jockey in bottle green, and Lester ('runner-up') in what appears to have been a Wigan Rugby jersey. Thanks.
Comments by Carolaen, 3rd July 2018
Veronica I know what you mean about women not going into a betting shop in those days. My Grandmother in Aspull would have a regular bet every Saturday a 6d "Yankee" ie 4 horses with all the combinations making 11 bets and a 5s6d stake (around £8 in todays money) however my Granddad or one of my Uncles would always have to put the bets on for her.

Phillip G you are quite right in paying homage to Sea Bird -probably the best flat racing horse I have ever seen and that includes Frankel. When he won the 1965 Derby he was never off the bit and was only just getting into his stride. Pity he died at only 9. I have a great fondness for him although Flat racing is not really my thing. I used to go regularly to National Hunt meetings in the 1970s and Sea Bird's son - Sea Pigeon was a phenomenally good hurdler. I won quite a few races backing him and he remains my own favourite racehorse. Of course as a gelding he left no offspring but he did at least live to the ripe old age of 30.
Comments by Veronica, 3rd July 2018
It's all coming back to me now - I remember her doing 'Yankees' as well. She used to put my brother's name on the bottom of the slip for luck - like your grandmother she only bet on Saturdays! I never queried why my name didn't go on the bottom of the slip**! She quite often took my dad's bets for him - that's probably how she got bitten by the bug! ;0))
Comments by philip gormley, 3rd July 2018
Carolaen.
I remember your 'beauty' Sea Pigeon and how successful he had been over hurdles, but I've only just discovered that he had ran in the 1973 Epsom Derby. A great racehorse. Thanks.
Comments by Eric, 4th July 2018
Philip.you mentioned lester on the runner up to sea bird in what looked like wigan rugby colours,well those where the colours worn by the horses joe Kennedy owned.dont think that would be one,what was runner up in the derby though. Cheers eric
Comments by philip gormley, 4th July 2018

Hi Eric.
I hadn't known that Joe Kennedy had owned racehorses, and it would also be interesting to know who had trained them for him and of their 'success'. Lester came second in the 1965 Epsom Derby riding Meadow Court. The horse was owned by Mr G.M. Bell and trained by 'Paddy' Prendergast in Ireland.
Comments by dave, 10th July 2018
My Father worked for Joe Kennedy for over Forty Years as a settler and his Racehorses were Trained by Eric Cousins at Tarpoley in Cheshire .
Comments by philip gormley, 10th July 2018
Thanks Dave. I'd seen some of Cousins' charges in a field as we made our way to Oulton Park in the late 60's - I think the grey horse that my brother had pointed out was called Come On Grey.
Comments by james rudd, 10th July 2018
My mother (Mary Teresa Rudd)managed a number of William Hill betting shops in and around Wigan in the 1970,s. i recall she used to lay bets off with Joe Kennedy and coincidently owned a Betting shop on Mill Lane Upholland / next to the working mens club in the late 70,s.
Comments by philip gormley, 11th July 2018
Thanks James.
I remember your mother's 'shop and how it had been situated in a 'dinky' area close to rising ground, and a dip on Mill Lane - they don't place 'em like that any more, or do they?
Your mother must have been quite a whizz with numbers.