| | | |
| --- | --- | --- |
| Wigan Rugby Players | | Views: 1132 |
| Wigan RL's French Tour 1946-47 | | Comments: 3 |
| Photo: Keith Item #: 30584 | | |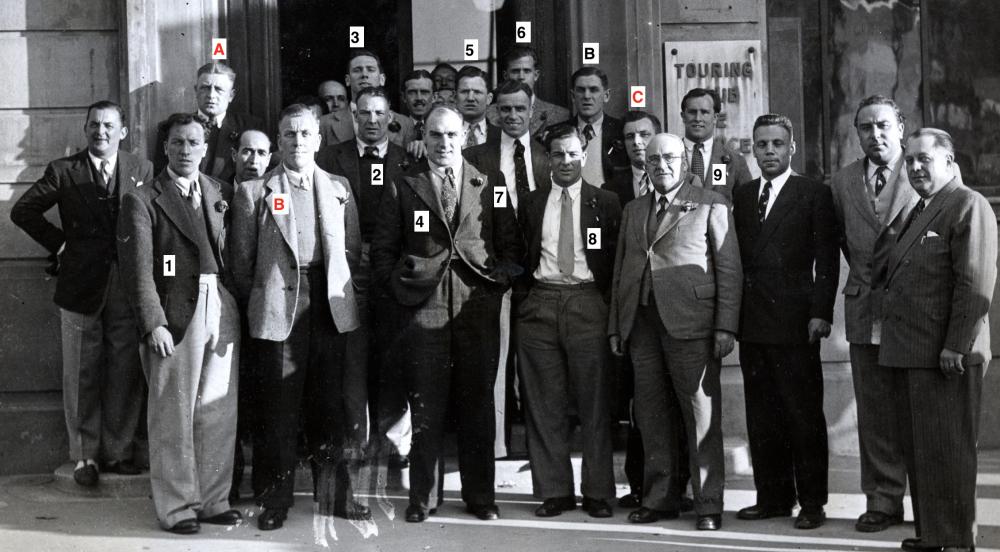 | | | |
| --- | --- | --- |
| | Image scaled down from 1000px to 552px wide | Click here, or click the photo to view original |
In the hope of promoting and supporting the French rugby league game, top clubs such as Wigan were encouraged to briefly tour and play about 3 games against French opposition such as Carcasonne and Roanne at the end of their season.
This photo would be from the end of the 1946 - 47 season since I know my father went on the 1947 - 48 Tour.
I think I've identified about 9 of them but have placed letters against the men who I believe might be part of the Wigan group, perhaps C could be Ted Toohey but it's a guess.
Here are the 9 I believe I have identified.
1 JACK FLEMING 2 GEORGE CURRAN 3 ERNIE ASHCROFT
4 KEN GEE 5 JOE EGAN 6 GORDON RATCLIFFE 7 LES WHITE
8 TOMMY BRADSHAW 9 MARTYN RYAN

Of the nine I've identified all, apart from Les White, were all Wigan born and bred - Widnes always had a reputation of fielding a team of locals (no doubt born out of economic necessity), Wigan by this time were getting pretty close to rivalling them in that department, despite their long held reputation of bringing in many imports over the years, a lot of them Welsh of course (over 100 since 1895.)

A quote from the book on Dai Davies (by Phil Melling) sticks in my mind - Dai had got to 3 Challenge cup finals and ended up on the losing team each time. In his book he recalls a conversation with Bill Horton (ex-Wakefield Trinity) when he went into Bill's pub in Weston-Super-Mare (Dai rated Bill - quote "Bill was a great fella and what with the pub he'd done well for himself") Here's an extract from the book…

"I walked into the pub and there he (Bill) was, sat behind the bar. 'Don't tell me', he shouted. 'Don't tell me. It's that little swine from Pontardawe'. 'Almost', I said. We laughed and shook hands and spent the day chatting in the lounge bar. (Dai was from the Amman Valley)

Bill asked me how long I'd played up north. 'Thirteen seasons', I said. 'And I got to Wembley in my last game'. 'How did it go?' he said. 'I can't remember'. So I told him.'We were well beaten', I said. 'Widnes outdid us. We were a bunch of wandering Welshmen on the day. (I think Keighley had about 6 or more Welsh in their side) And they were local - younger than us and all Rugby League'.

It was the "local and all Rugby League" bit that caught my attention - it did remind me that there was never any need for local lads brought up in the tradition of this game to have to adapt in any way, the game was almost second nature to them compared to the many imports Wigan had brought in over the years.
Comments by AB, 10th June 2018
Keith as I recall George Curran only signed for Wigan about 1950 when Joe Egan left'
Comments by Keith, 10th June 2018
Thank you for that reminder AB, I was struggling with the year since I know my father was in the 1948 Tour, so it was either earlier or later. George played from
1939/40 to 1944/45 and returned for the 1950/51 season leaving at the end of the
1951/52 season. Les White is present and he played from 1947 to the start of the 1950 (1 match) so it looks as if it could be 1949 but Jack Fleming finished his first session with Wigan at the end of 1946 and only returned in 1952 so perhaps it was 1946 after all, perhaps George came along as a guest player. I'm confused!
Comments by Keith, 14th June 2018
Just found an itinerary of the Wigan Tour of France for 1948, it mentions Lyon and I believe the above photo may have been taken outside the frontage to The Carlton Hotel, Lyon.