| | | |
| --- | --- | --- |
| PLATT LANE RUGBY TEAM. | | Views: 1298 |
| Platt Lane( Whelley), R.F.C. | | Comments: 11 |
| Photo: RON HUNT Item #: 29324 | | |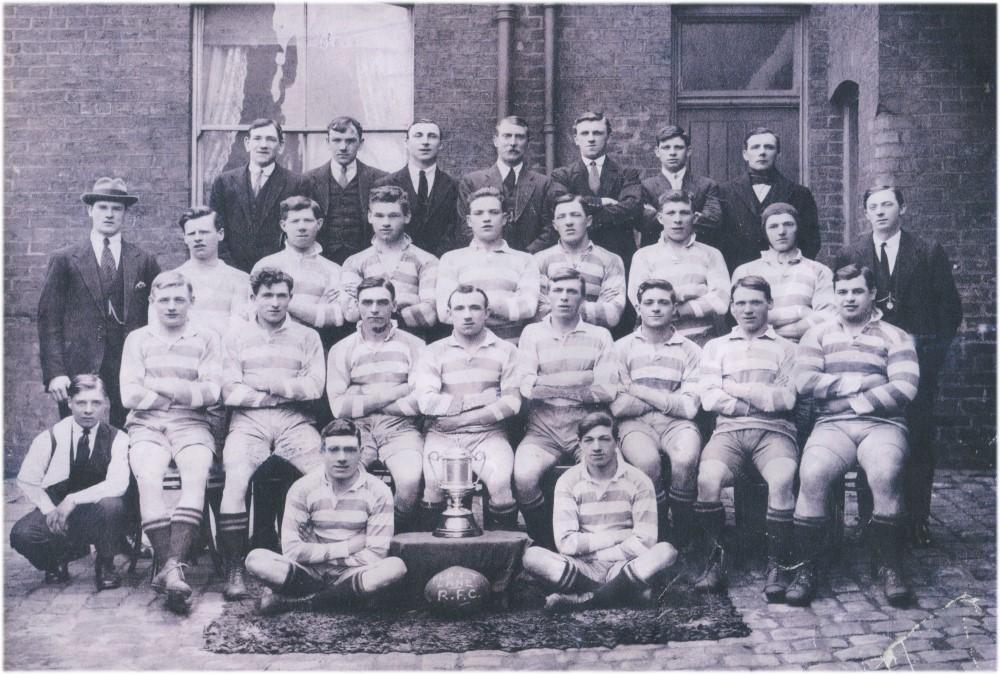 | | | |
| --- | --- | --- |
| | Image scaled down from 1000px to 674px wide | Click here, or click the photo to view original |
| | | |
| --- | --- | --- |
| | Thanks to Paul Williams for the photograph. Can anyone put a date to it? | |
Comments by Maggie K, 1st May 2017
Fabulous photo. I hope someone can name the people and what cup they won along with the date.
Comments by Scholes Malc, 2nd May 2017
where did they play? I'm sure my dad told me there used to be a rugby pitch at the top end of Durham Street off Platt Lane
Comments by Thomas(Tom)Walsh., 2nd May 2017
This may have been taken at the back of The Mission on Platt Lane.
Comments by John D, 2nd May 2017
My missus thinks the second row down and third and fourth from the left are her late uncles, Joe and Bill Fairhurst.
Comments by A.W., 2nd May 2017
Not much to go on but I would hazard a guess at 1920's to early 30's.
Comments by Alan lad, 3rd May 2017
Lad second from right top row of players favvers a young Joe Govan ?
Comments by sufer_tom, 3rd May 2017
could be behind old tudor house scholes lot of teams used it,fron of labour picture house
Comments by gideonfel, 3rd May 2017
Whelley RFC? Surely then that's Tommy Dickens in the middle front row? He was playing around then!
Comments by Albert., 7th May 2017
So many locations in the Scholes area, of a similar appearance, especially on the Platt Lane side of Scholes, in this era.
Comments by Derek H, 28th May 2017

What a pleasure it was to see this photo posted so recently. Why? because my Granddad is on the back row, second from the left, he lived in Kendrick Street before moving to Chestnut Road in the mid 30's. I guess the photo is either very late 20's or early 30's.
He managed Platt Lane Club for many years until he died in 1949.They played in black and amber stripes and the players were provided with the full strip, including many pairs of boots, which was remarkable in those days. All these items were carried to matches each week in a basketwork skip - and it is some distance from Chestnut Road to the football pitch! Names some of 'his' players who I remember went on to play for Wigan RFC included Billy Blan, Jimmy Pendlebury, Eric Ashton, Ted Toohey. Granddad would get some sort of fee from Wigan RFC which went to buy the strip which came from Oliver Summers sports shop in Wigan. Oliver Summers would always him let him have items on trust because he knew Granddad would pay when the next player was 'sold' The league they played was the Wigan Junior Rugby League and the cup is the league winners cup. I know the cup well having polished it, as well as cleaning boots, as a very young schoolboy, possibly to pass a Cub badge test! Somewhere I have a family photo of Granddad with that cup which I will try to find and up load it. Granddad was fully supported by Grandmother who weekly washed the full strip, so imagine a full washing line on a Monday with 13 jerseys, 13 pairs of socks and 13 pairs of shorts - and this was before the days of washing machines! I wonder what photo collection the photo came from? Thanks for the memories!
Comments by Derek H, 28th May 2017

In my earlier comments on this photo I omitted to write that my Granddad's name is Richard (Dick) Hesketh