| | | |
| --- | --- | --- |
| Wigan Speedway | | Views: 684 |
| Bristol v Wigan 1947 | | Comments: 8 |
| Photo: RON HUNT Item #: 29319 | | |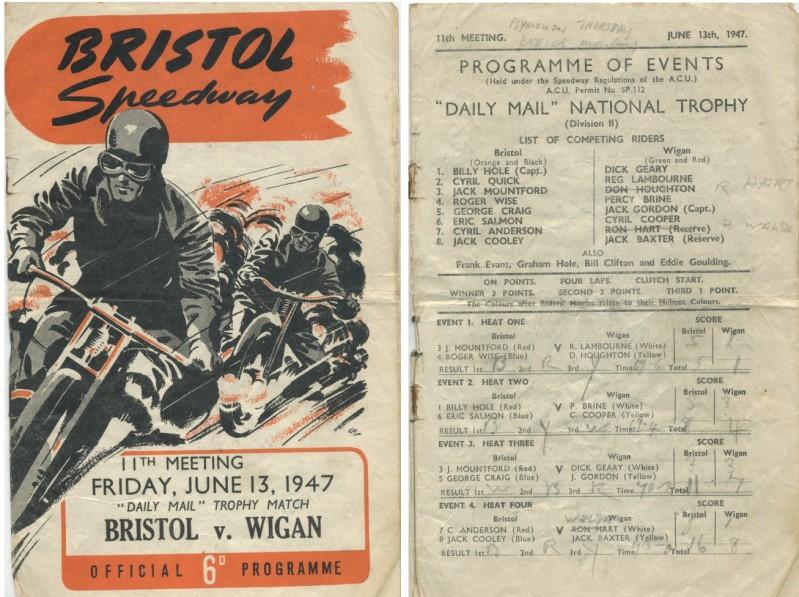 | | | |
| --- | --- | --- |
| | Image scaled down from 799px to 597px wide | Click here, or click the photo to view original |
The latest acquisition to my Speedway Programme collection. BRISTOL v WIGAN Friday June 13th 1947.
Anyone got any Wigan Speedway ephemera they want to sell. Let me know.
Comments by Philip Gormley., 23rd April 2017
Vroom-Vroom Ron. 'Full Frokkul Fiasco Wigan Speedway' mentions Laurel and Hardy's second visit to a contest involving Wigan; Bristol v Wigan on the 18th July 1947. Also mentioned are the 8,000 gate for the 1947 The North v The Rest contest held at Poolstock, and the race track at Coppull that was built by the Hart brothers. Regards.
Comments by WN1 Standisher, 27th April 2017
Whereabouts in Coppull was the race track Phillip ?
Comments by Philip Gormley., 27th April 2017
I'm afraid I can't pinpoint the exact location for you Standisher. 'Full Frokkul Fiasco Wigan Speedway' tells it as having been used as a valuable practice course for NW riders - sounds rather 'rustic', doesn't it. Maybe Mid Lancs BMX Club's online site can help you further - its course was built in a quarry.
Comments by RON HUNT, 27th April 2017
Just received my copy of 'THE HARTS OF COPPULL' Looking forward to reading it.
Comments by Philip Gormley., 28th April 2017
Ron - Maybe your recent acquisition will shed some light on the reasons why Oliver had ridden for more than one team during his career, and in particular on his apparent decision not to have joined the Wigan setup. I like his trailing leg 'thing' ... whoa!
Comments by Carolaen, 29th April 2017
What I find amazing in all these photos of speedway things, is how quickly it must have gone away. I grew up in Wigan in the 1950s and remember my dad talking about Speedway at places like Belle Vue, but assumed it had its heyday in the 1930s as no one I knew followed it or really knew anything about it and I never heard anything about a Wigan team at Poolstock even though I had friends who came from there. Anyone know why it collapsed so suddenly and completely?
Comments by RON HUNT, 13th October 2017
Carolean, Like everything else Lack of Money... It moved to Fleetwood after the WIgan track at Poolstock closed. Pity
BRING BACK SPEEDWAY TO WIGAN
Comments by Philip Gormley., 12th April 2018
Standisher. See the series of stills, on YouTube, within which there is a coloured photo of the former track. Type in 'Jack Winstanley speedway.'