| | | |
| --- | --- | --- |
| Wigan Speedway | | Views: 1118 |
| Oliver Hart | | Comments: 9 |
| Photo: RON HUNT Item #: 29318 | | |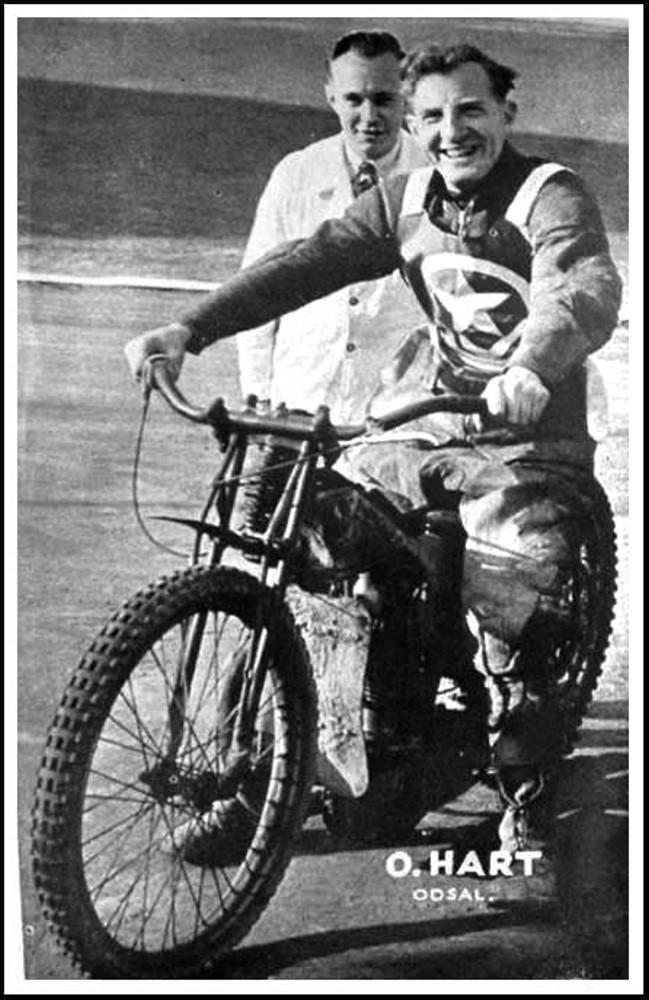 Oliver Hart

Was born in Wigan on the 13th September 1912.
Started his riding career at Liverpool (Chads) in 1936 moving to Belle Vue (Aces) in 1937 remaining until 1939 although he is recorded as having ridden for Stoke (Potters) also during 1939. There is little doubt that his short stay to Stoke was due to the declaration of World War II.

1946 saw the resumption of league speedway in the UK it also saw Oliver Hart back on the speedway machine this time for the Wimbledon (Dons) although his stay was short moving to Bradford, Odsal (Boomerangs later Tudors) where he stayed until 1952.
Oliver rode on several occasions as part of the England team between 1948 & 1951 and also qualified in 1949 for the World Speedway Championship final in 1936 as a reserve.
Both he and his brother Ron were speedway riders and I am told Oliver founded a substantial fleet of trucks and heavy transport known as Hart & Sons transport, some redesigning of these trucks by Oliver enabled heavier loads to be carried. As an ex-speedway rider he was not alone in turning to transport it would seem that many did, including riders Ron Clarke & Ron Mason. It is interesting to note that Oliver Hart joined the two Rons in taking over the promotion at Odsal running open meetings and taking over the remaining matches when Birmingham pulled out in the middle of the 1957 season.
Oliver died in 1983 and will always be remembered as the last of the leg trailers, although I expect others did use this method of riding after Hart, he was, I believe, the last to always ride in that spectacular manner.
From the Speedway Museum web site
Comments by Roy, 22nd April 2017
Ron, Oliver and Ron Harts business was based in Coppull.
Comments by DerrickCunliffe, 22nd April 2017
I remember Oliver Hart +Sons Haulage Contractors Coppull Nr
Chorley,they ran a fleet of Leyland Octopus 8 Wheel Tippers
carrying coal when coal was king it was a very busy company
during the 1960s D.C.
Comments by RON HUNT, 23rd April 2017
Strange that there is no mention of him, or his brother riding for Wigan?
Comments by AB, 23rd April 2017
I knew Oliver and his twin brother Ronnie quite well. There was another brother Stanley who was killed in a speedway accident before the war.I watched speedway in the forties and became a close friend to the Hart fanily in the seventies to this day, Oliver had a ruthless determination which made him the great speedway rider he was and Ronnie was a great character in his own right,speedway rider,Boxer. singer. Both attended Wigan Grammer school Ronnie related that in the 1926 general strike,they went to school on a small pony and trap and were promptly sent home when the pony left deposits in the School yard
Comments by Philip Gormley., 23rd April 2017
Ron - I can't find anything about Ron Hart riding for Wigan, but I have noticed a photo of the Poole Pirates team, which includes their manager Ron Hart - maybe he is Oliver's brother? Regards.
Comments by RON HUNT, 23rd April 2017
Ron Hart definitely rode for Wigan, he is on a photograph of the Wigan Panthers Team on this topic I have a couple of Speedway programmes where he is named. I'm sure that living so close in Copull, and with his brother Ron riding for Wigan, Oliver Hart would have rode for them too? I have a book about Wigan Spedway I'll dig it out and check if there is anything in it.
Comments by Garry, 24th April 2017
They ran Stopwell brakes company in Coppull.
Comments by AB, 25th April 2017
Oliver said his " Leg Tailing" was a necessity, and adopted due to an old knee injury
Comments by RON HUNT, 28th April 2017
Went to the History shop this morning to look at the old Observers and Examiners from when the Wigan Warriors Speedway started in 1947 and I can confirm that Oliver Hart rode in the very first meeting at Poolstock on GOOD FRIDAY 4th April 1947 riding in three heats. Heat 1 coming first, Heat 6 coming 1st, and Heat 10 coming 2nd, after falling. There is also a record of HART finishing 4th in a SCRATCH race, but I'm thinking this could have been Ron Hart as he was a Reserve at this meeting?
I aslo saw an advert for a CHALLENGE MATCH between Oliver Hart and Ron Clarke in aid of the Royal Albert Edward Infirmary Wednesday 4th June 1947