| | | |
| --- | --- | --- |
| Harriot Mellon of Wigan. | | Views: 907 |
| Harriot Mellon of Wigan (Later Duchess of St.Albans) | | Comments: 22 |
| Photo: Keith Item #: 31412 | | |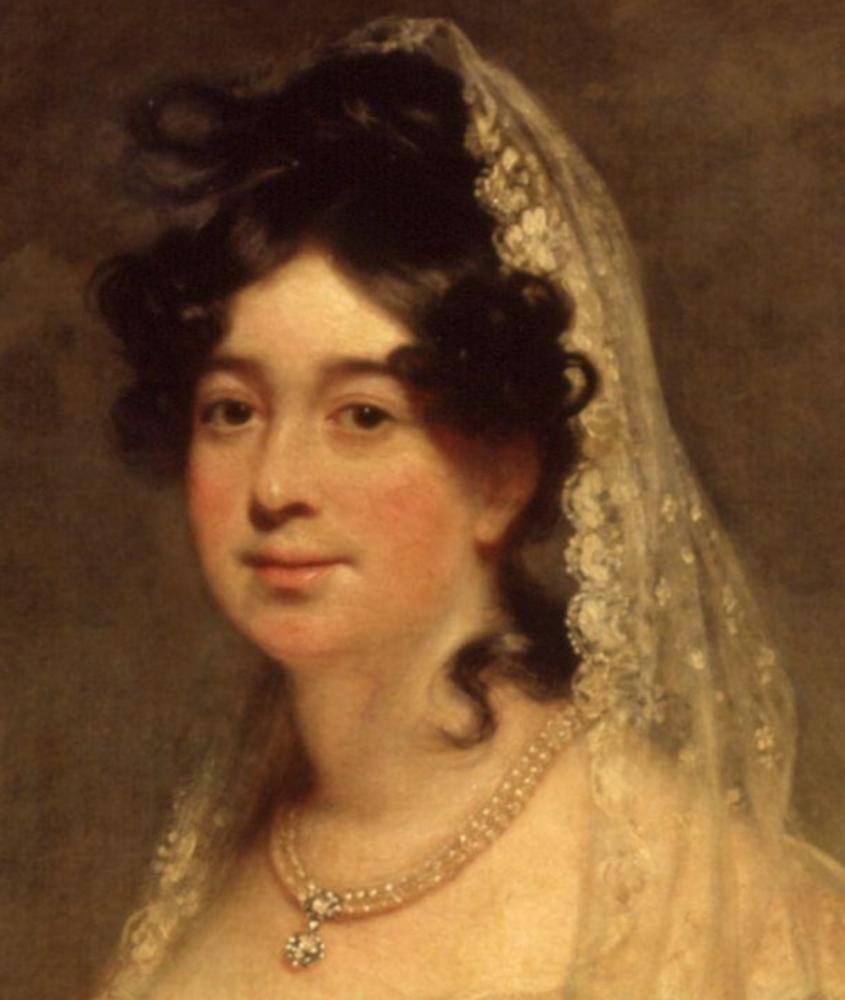 | | | |
| --- | --- | --- |
| | Image scaled down from 845px to 1000px wide | Click here, or click the photo to view original |
Having highlighted a Wigan lass "who dun good" namely, Harriot Mellon, later the Duchess of St Albans, I have now, thanks to Ron Hunt's recent posting, found out where she lived in Wigan. I have also come across a review of the following book written about her.
"Memoirs of Harriot, Duchess of St Albans". By Mrs Cornwell Baron-Wilson. In 2 vols. - Henry Colburn 1839.

The most startling revelation is the personality of her mother. I know today we talk about "pushy" mothers, forever eager to have their offspring in the limelight, but Harriot's mother took this to dizzying heights, judging by the accounts.

Here are some sections taken from the review of the book in the Morning Post of 1840. In trying to sum up how she became successful, the reviewer wrote……

"With but one steady aim through life, (Harriot's mother) viz., the aggrandisement of her child (which she pursued without deviating for any obstacle), yet her cruelty towards poor Harriot was such as to endanger the girl's life many times……strange to say, this capricious violence never abated the filial affection of her daughter".

"Harriot's good constitution and good spirits carried her triumphant over everything ; and second, that she was blessed with a perfect hurricane of a mother, who, although she made home a Pandemonium for poor Harriot, kept every other living mischief at a distance." I suppose what doesn't kill you makes you stronger.

"Friends and foes all unite in saying that the late Duchess (Harriot) was the most affectionate, attentive and obedient daughter to one of the most violent, capricious, and unmanageable of mothers that ever existed".

On more than one occasion Harriot's mothers violence towards her almost resulted in death for the poor girl and yet we had this dichotomy of the unshakeable drive to make Harriot famous and on the other hand an almost maniacal violence when the lively child upset her. On at least two occasions she thought she had killed her own daughter. It caused people to question at times that Harriot's mother was in fact her real mother.

Harriot's mother had been born in Ireland and had Harriot out of wedlock to a Captain Mellon. She married a Mr Entwistle from Wigan who, apart from being a Violinist (Fiddler) had lived in the confectioner's shop in the Church Gates passage, also known as Moot Passage. He and his wife both appeared on stage and from an early age encouraged, if that's the correct word, Harriot to do the same, paying little attention to her educational needs, as they carried her around from one production to another in a make do "carry cot", i.e. a large music case. They were strolling players.

In 1837, Harriot, by this time the Duchess of St Albans, died aged 60. She left in today's money terms £200 million. She made sure it returned to the Coutts family from where it had come after her first marriage to Thomas Coutts the banker.

Harriot Beauclerk, Duchess of St Albans (née Mellon; 11 November 1777 – 6 August 1837) was a British actress who eventually starred at Drury Lane. She was successively the wife of banker Thomas Coutts and William Beauclerk, 9th Duke of St Albans. She was widely celebrated for her beauty.
Comments by RON HUNT, 7th August 2019
FASCINATING makes you wonder how many more interesting stories involving Wiganers have yet to be uncovered?
Comments by Veronica, 8th August 2019
There's a Spanish look about her, as her mother was Irish and the Spanish invaded Ireland. That could be a reason why some of the Irish had very dark hair and eyes. Just a thought...
Comments by RON HUNT, 8th August 2019
The dark Hispanic look of some Irish people they say is due to of being Spanish descent being the survivors of the Spanish Armada, whose ships were wrecked on the Irish coast as the made their way back to Spain after being defeated by Sir Francis Drake and his buddies, in 1588
Comments by Veronica, 8th August 2019
Also the Battle of Kinsale in 1601- Spanish forces invaded Co Cork harbour town of Kinsale in response to a plea for help from Irish insurgents. What followed - ' "was one of the greatest siege dramas in world history. - an epic confrontation that deserves to rank alongside "The Alamo" and " Rorke's Drift" ". Really interesting to read about on Google!
Comments by Poet, 8th August 2019
After the last ice age many Celts migrated to Britain and Ireland from the Basque country. Many Welsh people also have the same dark looks.
Comments by Elizabeth, 8th August 2019
There is evidence of the Spanish in County Clare,in the west.Spanish Point in Clare and it has the Armada Hotel.
Comments by Veronica, 8th August 2019
None of us are without traces of the DNA of habitants of other countries - not least the Vikings. I remember my father had to have operations on both hands - it was 'Duchennes' (sic) disease. Apparently it was a significant pointer to the Vikings or Norse People, we were told. I would love to send a DNA sample off to find out where I came from long ago! I believe it is a very good service, marvellous what can be revealed about our ancestry.
Comments by Philip G., 8th August 2019
So much for Sir William Beechey to have considered as he began to paint this stonking portrait i.e., Upwards of a dozen various flesh tones.
If only, Sir William and other bygone top-notchers could be seen on YouTube.
Comments by Keith, 8th August 2019
Many Welsh (and possibly Irish) immigrants came from the Portuguese Iberian Peninsular and tended to be short, dark and swarthy. Richard Burton once remarked he was a "short arsed Welshman". Another notable figure was Cliff Morgan (from a mining family) the great Rugby Union player, described by the South Africans as "Morgan the magnificent"in the Lions Tour of 1955. One of his ambitions was to play rugby league and was very close to signing for Wigan (some say he did). He went on to achieve significant success as a broadcaster, as presenter and commentator, and rose to great heights within the BBC itself. He was short, dark and swarthy, an archetypal Iberian immigrant. I think it's worth mentioning that at a time when ex-sportsmen, never mind politicians, make vast amounts of money from after dinner speaking, Cliff, who was a brilliant speaker, never charged a penny and met travelling costs from his own pocket. Perhaps his way of giving back to the game he loved, since it was mainly rugby union clubs who invited him to speak. In his autobiography he mentioned that he never met a Conservative until he was 26 years of age.
Comments by Veronica, 8th August 2019
Well Keith I have Welsh, Irish and probably some Viking blood, nearly all my dad's maternal side were Welsh and Irish- so that may explain my being 5ft tall. , I find it fascinating.
Comments by Maureen, 9th August 2019
I too find it fascinating,I would love to know my real ancestry,my Grandma came from County Clare..my Dad was very olive skinned..so it does make you wonder,and supposedly have relatives up in the highlands..and then found out that the name McGovern is common in Argentina,that really baffles me.On the programme 'Who do you think you are' the they really go into the celebs? ancestry,it must be brilliant to have it first hand and free..lucky things.
Comments by Poet, 9th August 2019
I remember Billy Connolly's astonishment when 'Who do you think you are' revealed him to be part Indian.
I think DNA testing should be compulsory for its likely to show how similar we are rather than different.
I've seen some data giving the average genetic test for people in England. It shows remarkable similarity to the rest of Britain and Ireland with most carrying up to 60% Celtic DNA. As the Celts came from huge areas of central Europe this could include French, Northern Spanish, Southern German through to the Balkans. 40% to 60% is Norse and Saxon. The conclusion to the study was that the Viking and Saxon invasions were largely peaceful affairs that led to intermarriage and a stable population.
The same thing happened with the Romans but to a lesser extent. A bit of dark haired Italian to add to the Basque.
Comments by XPat, 9th August 2019
Interesting article online about the village of Bledington in the Cotswolds. None of the 120 villages tested had 100% Anglo Saxon DNA. They only had about 42%. Some of their DNA was from the Middle East and numerous other places.
DNA, just about 42%.
Comments by Veronica, 9th August 2019
" In the 10 Century an influx of Norse settlers appeared. This was not an invasion by marauding Norse forces as has often been pictured. These 'invaders' were already well established in Ireland and along the west coast of Scotland and their move to the North West of England was a gradual colonisation, the Norse settlement was initially on the opposite side of the River Douglas, the name SCHOLES Is a reminder of that settlement; they also established a settlement at Skelmersdale, intermarriage brought the Norse and British communities closer together and it is known that Norse culture quickly dominated." Scholes and Skelmersdale are named by the Scandinavians. From the book by John Hannavy ' History of Wigan'.
My surname apparently has Scandinavian roots 'Catterall' a place in Garstang near Preston and a village in Norway by that name spelled Katterall or similar....when travelling I'm always drawn to mountains and lakes, I have yet to go to Norway but it is a place I would love to see....
Comments by Keith, 10th August 2019
The breakthrough by Crick and Watson in 1953 of the double helix, the twisted-ladder structure of DNA marked a milestone in the history of science, largely concerned with understanding how genes work and is rated as one of the most outstanding scientific revelations of the last century.
My DNA consists of 94% Celtic (Welsh, Irish, Scottish). 50% of your DNA comes from your father and 50% from your mother.
My father was Welsh, my mother, like myself, Wigan born and bred so how can my DNA have such a high Celtic content? Simple, after tracing my mother's maternal family history side I found they originated in North Wales.
I then learned that her illegitimate grandfather was Scottish and from my father's side of the family that our paternal line started when four brothers landed in Fishguard (presumably from Ireland, probably Cork) in the 17th century. So no problem with my DNA reading despite being born and brought up in Wigan, nor the fact that my DNA contained 0% English.
Genealogy is not everyones "cup of tea" but once hooked it's difficult to leave alone.
Comments by Veronica, 10th August 2019
Did you have your DNA tested through the Ancestry site Keith? I have looked on the Internet and there 's quite a few 'agencies' or laboratories that do the testing. It's a bit bewildering who to choose. I must get round to having it done.
Comments by Poet, 10th August 2019
A fascinating science when dealt with rationally but very dangerous in the hands of racist bigots and petty nationalists.
Comments by Mick LD, 10th August 2019
Funny how things pop up . . .
Presently reading an article about Liverpool's old Theatre Royal, which tells of Harriet Mellon appearing in a play there in the 1790s.
Apparently a sailor in the audience was so indignant at the treatment Miss Mellon's character was receiving from the villain of the piece, that he leapt from the gallery onto the stage, and chastised the actor in question.
Comments by Veronica, 11th August 2019
Mick Ld: Thats not much different to audiences becoming 'carried away' by the skill of good actors. Remember in the Scholes Pictures as kids 'booing 'and ' hooraying' at the 'goodies' and 'baddies'. Even today some people really believe that actors who portray characters on film are one and the same! It's seems idiotic, but that's the case! It must have seemed more so in those days.
Comments by Keith, 11th August 2019
Hi Veronica, I got my DNA test as a Christmas present from my eldest son, and it was with MyHeritage. I agree its confusing, not only that, the type of test adds to the complexity. Much of it goes above my head, no matter how many times it's explained.
Well done Mick LD, a very interesting addition to Harriot's story. I wonder if a blue plaque fixed to the wall in Church Gates is in order?
Comments by Keith, 15th August 2019
Looks as if the newspapers of any decade found a lot of mileage in Harriot's story, She passed away in 1837 and yet nearly 60 years later this was printed in 1894. I paraphrase…..

"In any list of peers or men of title who have married mistresses, the name of the 9th Duke of St Albans must have place. He took as his wife, Harriot Mellon. the widow of Mr Thomas Coutts, the banker.
She had enjoyed considerable popularity in may prominent parts, and had captured the heart of the octogenarian banker. She was just half his age, but afterwards made things square by being double the age of her next husband. She was the the daughter of an irish peasant girl and a light of heel, Lieutenant Mellon of the Madras Infantry."
Comments by Veronica, 15th August 2019
I wonder if she would have been remembered so well if she hadn't been married to a rich banker from Coutts or the Duke of St Albans Keith? It's very much like the celebrities of today - people are interested in the lives of the very rich and like knowing about their comings and goings. It's the same thing with Lily Langtry and her association with Edward the Vll. She was born in Jersey, the daughter of a clergyman, became a courtesan and actress, was famous and filthy rich. I walked miles to find her grave in Jersey when I was there after reading her biography. I also saw her portrait painted by Millais. She bore an illegitimate child by Prince Louis of Battenberg, the father of Louis (Dickie) Mountbatten (of Burma fame). There were signposts pointing to her grave, although there was nobody about when I did find it.... It seems celebrity is everything! Apologies for going 'off track'.