| | | |
| --- | --- | --- |
| Jack Bowen 1943 | | Views: 739 |
| Jack Bowen at 6 Cheltenham Avenue, Lower Ince circa.1943 | | Comments: 17 |
| Photo: Keith Item #: 31025 | | |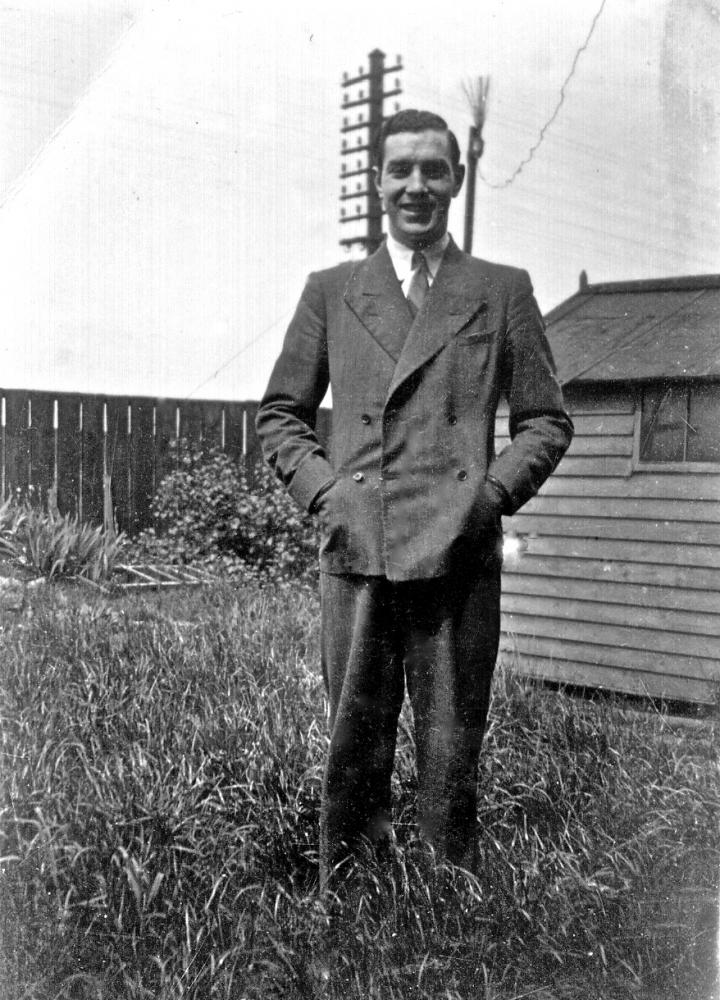 My late father standing in the back garden of the house we were living in during the war, at 6 Cheltenham Avenue, Lower Ince. Dad (Jack Bowen) played loose forward for Wigan RL from 1938 to 1948 but because of the war lost 3 seasons.
He spent time in Iraq, Egypt, the Gaza strip, India and Palestine. He was demobbed in time to play in Wigan's last league match of the 1946-47 season.
He never played in the "A" team but at the behest of the Directors who wanted to know after his demob if he was fit, he did and scored two tries - it was his only appearance for them.
The Directors probably didn't realise that my father had played fairly regularly while in the Forces which kept his fitness "topped up".
After playing 149 games for Wigan he left at the end of the 1947-48 season when his 10 year contract was up. He intended to retire but at the behest of his friend Emlyn Jenkins, who was coach at Leigh at the time, he played another season for Leigh and was chosen that year to play again for his country, Wales, aged 33.
After his rugby retirement my parents became tenants of two pubs in Wigan for the next 24 years, the Crispin Arms, Birkett Bank and the Wellfield Hotel, Beech Hill.
He lived long enough to eventually be presented on the pitch at half time with his Welsh International cap at the JJB stadium on March 25th 2005, which coincided with a record crowd at the stadium at the time, of just over 25,000 to watch Wigan beat St Helens, it just happened also to be his 90th birthday. The Wigan crowd, as ever, were very appreciative in their response.
Ken Coslett, a fellow Llanelli man, and of course a famous RL player, (St Helens & GB) made the presentation.
We'd kept it a secret and it was a wonderful surprise for my father, he was Wigan's oldest living player at the time. His four grand children were in the crowd to watch him receive his cap.
Dad died just one month short of his 94th birthday in 2009, he'd been playing a mean game of snooker at his local club and he was totally "compos mentis", his memory undimmed to the end. He passed away peacefully surrounded by his family after a short illness.
Comments by Thomas(Tom)Walsh., 11th March 2019
Keith ,your Dad was a true gentleman of the game ; and well respected licencee of The Crispin and later The Wellfield . Everybody had a kind word about him and your Mum.
Comments by Keith, 11th March 2019
I meant to point out that the rather stout fence at the end of the garden hid a "secret" - a rather steep drop down to the main London, Midland and Scottish railway line into Wigan, so climbing the fence was not encouraged. It wasn't needed since trying to climb it usually resulted in a handful of splinters
Comments by Albert.S.., 11th March 2019
Lovely story Keith. May your dad's soul rest in eternal peace, and happiness. Was No 6 at the top of Cheltenham Avenue, or towards the bottom?. We we moved to Winchester Grove, in 1950. Opposite to the Phillips family.
Comments by Keith, 11th March 2019
Thomas, I appreciate your kind comments very much, thank you.
Comments by Keith, 11th March 2019
Thank you Albert, we looked directly down Winchester Grove so I assume we were at the "bottom" of the Avenue since the other end rose up towards Westwood Lane where the road bridge crossed the railway line. One abiding memory was at the end of the war (not that we were aware of the war) being outside (we were always outside in those days) and being alarmed to see a very low flying fighter plane, including the pilot who we "saw" clearly as he seemed to skim the chimney pots of the houses. He was flying parallel to Cheltenham Avenue. Now of course this is 70+ years ago at least, and memories are susceptible, but on reflection he did seem to be following the railway line as a guide!
Comments by Handsomeminer, 11th March 2019
It was right at the bottom last house before the bend ,it was my aunties house at the time of the photograph she lived there until about 15 year ago ,Kieth my aunty Annie always spoke fondly of your mum and dad
Comments by Keith, 11th March 2019
Hello Handsomeminer, you "shared"- "Auntie" Annie with me, - not forgetting "Uncle" Jim as well! Annie was at my wedding in Newcastle-upon-Tyne in 1967 and the next time we met up was at my father's 80th in 1995. Jim and Annie were lovely people and I know my parents regarded them as real friends, we were fortunate to have known them.
Comments by Handsomeminer, 12th March 2019
Morning Keith I never met uncle Jim he passed away before I was born but by all account he was a real gentleman
Comments by Albert.S., 12th March 2019
Keith. Prior to that Keith I lived in HenryStreet, Spring View. Like you. One night 1941/42 my dad, Mr Harris and I, I was seven/eight we were watching them bombing Liverpool. You could see the brilliant flashes across the flat land, the other side of Springs Branch. We saw a bomber with its engine on fire (must have been a German) It just banked over sideways, and crashed in the distance.
Comments by Andrew, 12th March 2019

You must be very proud - a fine man, and a fine photograph to remember him. Thank you for sharing his story
Comments by Veronica, 12th March 2019
A very interesting story and I imagine he had many stories to tell of his adventures during the war - and what a handsome man he was.
Comments by Graham Taylor, 13th March 2019
Great story Keith, I remember your dad fondly living only 50 yards from the front door of the Wellfield. He was a gent of the old school and was well respected in Beech Hill.
Comments by Keith, 14th March 2019
Thank you all for those kind comments. My sister and I could not have wished for better parents. Veronica, one story my father mentioned was that he often acted as a Driver to Officers in his Regiment. One day he parked outside the King David Hotel in Jerusalem which housed, amongst other things, the Headquarters of the British Army that his Officer visited - the following day most of the Hotel was demolished by a bomb planted by the Zionist underground organisation and sadly 91 people were killed, despite warnings no evacuation was made.
Comments by Albert.S., 15th March 2019
I remember that happening Keith, such a devastating, and malicious barbaric act. One of the officers at Pemberton Police Station had served in the Palestine Police. Joe Dewhurst. May he rest in peace.
Comments by Veronica, 15th March 2019
It's hard to imagine more stoical generations than our parents and grandparents. It strikes to the core what they lived through and lived with after both wars. Always making the best of things whilst living on a knife edge. 'Enjoying' bittersweet times, expressed noteably in the music and to some extent the films of that period. Conducting relationships through letters and hoping for the best. Yet it was real life for them - very hard to imagine. Thanks for sharing one of your dad's stories Keith - there must be more I'm sure where that came from. A dad to be proud of.
Comments by Jim Rawson, 22nd March 2019

Hi Keith, On top of what my dad [Jim] and Mum [Annie] told me about your Dad, I had the pleasure of playing snooker with him in the Bellingham Club. He was a great guy and when I asked him which WRL player he rated the best ever - his answer was Ellery Hanley. Regards, Jim