| | | |
| --- | --- | --- |
| beckett family | | Views: 1006 |
| 1951 General Election | | Comments: 12 |
| Photo: Keith Beckett Item #: 30641 | | |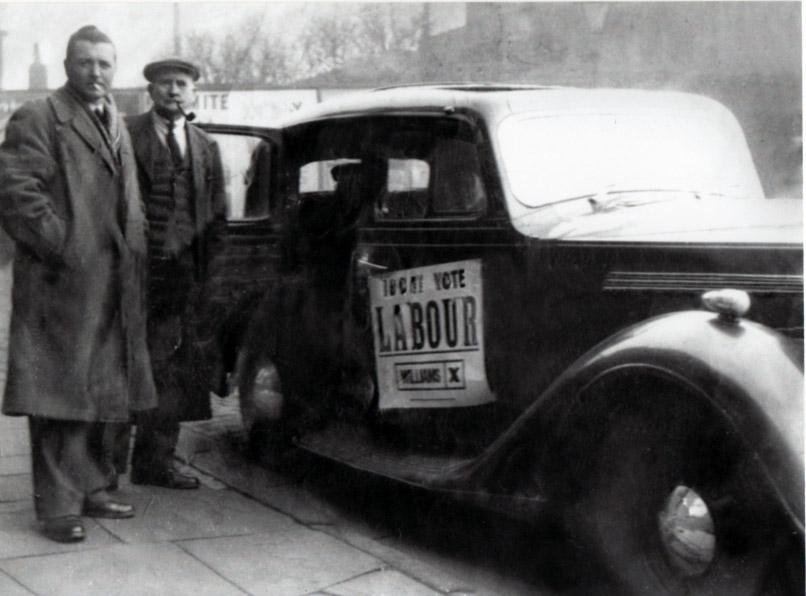 | | | |
| --- | --- | --- |
| | Image scaled down from 806px to 596px wide | Click here, or click the photo to view original |
A free lift for people to vote at the 1951 General Election. My grand father Edmund 'Ted' Beckett is on the right.
Ronnie Williams was elected for the Labour party having won the seat in 1948 after the death in office of William Foster at the age of 60.
Ronnie died in office at the age of 50 in 1958.
The Wigan MP's appointment began to look like a poisoned chalice with William Foster's predecessor also having died in office.
Hopefully the trend was concluded with the death of Roger Stott in 1999 at the age of 56.
Comments by AP, 12th July 2018
Is that one of the cars built during the post WW2 steel shortage, when they could not roof them in metal?

I had one of those.
Comments by DerekB, 12th July 2018
AP, I think the roof features an open sun roof. The car is a Vauxhall.
Comments by Veronica, 12th July 2018
As a child of the fifties I can remember myself and my childhood pal chanting 'Vote,vote for Ronnie Williams...' and marching as well! We must have started early in Scholes! Just reading his name in the caption brought it all back to me.
Comments by RON HUNT, 13th July 2018
Veronica it went
"VOTE VOTE VOTE FOR RONNIE WILLIAMS HE WILL SURELY WIN THE DAY IF YOU DON'T LET HIM HIM WE'LL KICK YOUR DOOR IN AND YOU'LL NEVER SEE YOUR DAUGHTER/MAMMY ANYMORE
Comments by Veronica, 13th July 2018
Thats it Ron - I knew there was more to it but I couldn't just remember it all -but I still recall the tune! I remember the vans/cars with the loudspeakers urging everyone to vote,vote, vote for Ronnie Williams coming along the cobbled streets! ;0))
Comments by Spud, 14th July 2018
I lived in wall gate and I can remember singing that song great times
Comments by John G, 14th July 2018
Ron/Veronica: That's what you call a big twist on Democracy and free speech. Trump would be proud of that slogan, just add we are going to build a wall and your there.
Comments by Ray, 14th July 2018
The version we sung as kids in the 1950s went...
VOTE VOTE VOTE FOR MR ATTLEE
THROW OLD CHURCHILL IN THE DOCK
FOR ATTLEE IS THE MAN
AND WE`LL HAVE HIM IF WE CAN
AND WE`LL CHUCK OLD CHURCHILL IN THE DOCK
BY HIS Cxxx AT 1 O CLOCK
Comments by Poet, 14th July 2018
Bit too Stalinist for my liking. Left wing zealots are as dangerous as Rightist ones.
Comments by Albert, 18th July 2018
Always recognise a Vauxhall, with the chrome groove along each edge of its bonnet. I heard his electoral speech in 1951, when he gave it in the Wigan Hippodrome.
Comments by Albert, 19th July 2018
I remember the Tory's ditty. " Back Churchill, and Win. Back Attlee and Clem". The quote was prominent in one of the newspapers, probably one of the Tory press..