| | | |
| --- | --- | --- |
| Jackson family of Hindley. | | Views: 1229 |
| " Golden the light on the locks of Myfanwy " | | Comments: 26 |
| Photo: . Ozymandias . Item #: 29779 | | |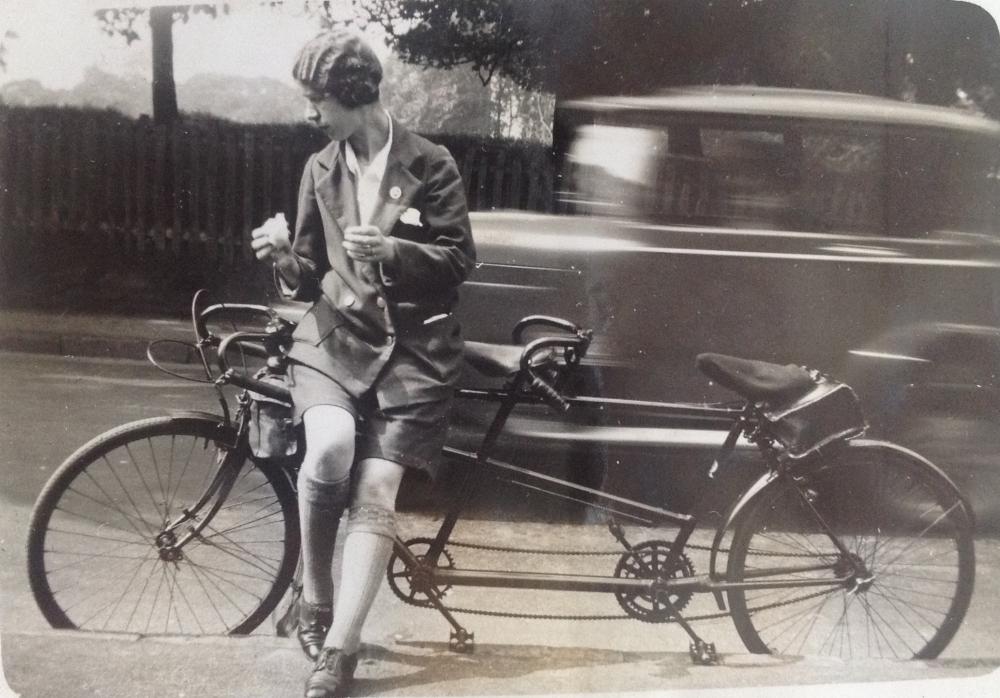 | | | |
| --- | --- | --- |
| | Image scaled down from 1000px to 698px wide | Click here, or click the photo to view original |
Mary Ethel Wilson ' shoots the breeze ' at Stockton Heath, sometime during the year of our Lord 1929. whilst..... " Balancing bicycle leant on the verge."
All text encapsulated within speech marks is attributed to Sir John Betjeman CBE.
Respect is also due to the mysterious geezer who calls himself ' poet '.
Comments by Poet, 12th October 2017
This wonderful sequence of cycling photos compliment the nostalgia in Betjeman perfectly. Thank you for posting them Oz. My best to you mate.
Incidentally is it me or has the handbrake failed on that car?
Comments by DTease, 13th October 2017
Mis Ethel Wilson is battling uphill
But her legs have turned to putty
Half way up she stops to rest
And eat a sugar butty.

Can somebody add a verse?
Comments by Poet, 13th October 2017
"I'm sure there was a car to my right
When I looked a second back
What could have made the car take flight
I hope the brakes intact"
Comments by . Ozymandias ., 13th October 2017
This driver stopped to buy ten cigs
But never thought to put
The handbrake on his pride and joy
And now it's in the cut.
Miss Ethel seems a bit surprised
To see it whizzing past her
Omitting to put handbrake on
Is asking for disaster.
The owner needn't worry though
GDoubleyolk's on this case
Four blow up DTease dolls inside
Should bring it to the surface.

Sorry, best I can do at short notice. Apologies to Poet also for pinching his well observed idea.
Comments by GW., 13th October 2017
Oh' why does my butty taste of soap,
a mess from within my pocket.
Oh' now i remember,
it's been through the wash,
it's wrapped up in
my laundry docket.
Comments by . Ozymandias ., 13th October 2017
Pw looks with longing
At the tandem he once rode,
He swapped it for a fiddle
Now despair's his heavy load.
If he were riding yonder tandem
Nowadays, just think,
He'd breeze up Greenough street
At teatime, merely in a blink.
He'd sail past all the cars at Rose bridge
Queueing in a line
Be home in time to watch
' Eggheads ', with Jeremery Vine.

Yeah, I realise it's a bit contrived, but my pizza's burning, and I'm a wagon driver, not a blimmin' poet.
Comments by Philip Gormley., 14th October 2017
DTease asks for help with rhyme
I see no reason why
I've read his piece
It's rather sweet
And soothes a baby's cry.
Comments by Veronica, 14th October 2017
A favour to Dtease
It could be Miss Ethel suffers from bunions and stops at the pavement to rest her tender feet -
Carries on eating her butty stuffed with cheese 'n onions
But her rear end an'aw is sore from the blithering bike's hard seat
Comments by Julie, 14th October 2017
Poet, Are you making the case for Seymour? Well done if you are. It is far better when an actor takes hold of a part and states this is mine.
Are we looking at , Philip , Foggy, and yourself as Seymour? I can actually run with that , how about you? With Muchness. Ps Divine lunch!
Comments by Poet, 14th October 2017
Begging your pardon Julie but I haven't the faintest idea what you're on about.
My best to you luv.
Comments by Pw, 15th October 2017
Thanks Ozy. Never had a poem written about me.
Comments by H., 15th October 2017
Poet, last of the summer wine.
Comments by Poet, 15th October 2017
More of a real ale man myself H.
Comments by Philip Gormley., 15th October 2017
Veronica B (Goes To town).

Shopping, Dear?

Yes, just a couple of things.

Then off you go and don't be late
The bus is on its way
Your journey would be short
If sat with Mrs. Gray.

I see your point and kindly thought
I'll look for her at first
My journey would be long
If sat with Mrs. Hurst.

I'm on my way to Market Hall
Its roof of untold span
I'll get there soon and join the fray
And talk with John and Fran.

Bernard's stall is quite a show
He'll patter "This way, please"
I'll take the plunge and hear some more
Then ask for Cheddar cheese.

George's plants are selling fast
He'll have some more today
I'll clear the lay when I come home
They bloom so well in May.

'Bruno' swigs his tea at Chanda
His glare is wild and mean
I'll pass with head down low
And stride as hiker keen.

Janka's figures will be seen
Her dancer sells quite well
And looks so cute with plaited hair
I'll place with Wedgwood Bell.

Your charm and beauty have no equal
My heart is set aside
The bus awaits you at our gate
Rooney's just off-side.

My driver smiles I know him well
He lives not far away
I see just one along Port side
It's homely Mrs. Gray.
Comments by Veronica, 15th October 2017
Thank you Philip I'm just like Pw I've never had a poem written about me- it makes me sound quite refined! Picking and choosing who I sit near! :o ))
That is a poem to be sure.
Comments by Philip Gormley., 15th October 2017
Veronica: I'm glad that you like it, thanks. The thrill of market surprises eh?
Comments by Veronica, 15th October 2017
I still have some pieces of Wegewood hidden away Philip till they come back in favour !See loads of it now in Charity Shops . I never took to the 'ball gown figurines' though.
Comments by . Ozymandias ., 15th October 2017
Congratulations GW, I understand your poem has just recently been nominated for the ' Pullet's-egg ' prize for poetry.
Comments by Philip Gormley., 16th October 2017
Veronica: You've every reason to keep hold of your Wedgwood pieces, and you might also like to keep a look out for fake versions of Janka's Hungarian peasant dancer - you never know.
Comments by Veronica, 16th October 2017
I won't part with the Wedgewood Philip and if I see any in the Charity Shop again I will splash out and take it with me on the next voyage!
Comments by Philip Gormley., 17th October 2017
G 'Winker' W (Accepts the Challenge).

In he strode with Repsol plume
His Honda safely parked
The Simms Road Inn laid welcome
For a stranger who chose to bark.

"My bike is fast" he told the room
And swiftly changed his place
He puffed his chest and curled a lip
Then dared a manly race.

Winker sits with friends of old
And folds a tattered cuff
He like his pint and Andrew's meals
But has no like of 'puff'.

Winker's 'Bonnie' is old and huge
And seen-off all before
Its shift from top is quite a site
Like Etna's raging roar.

The course is set by those who know
While Andrew moves a crate
A Marshall's sent to clear the course
The manly 'two mile straight'.

Ozy holds his starters flag
And urges stronger hearts
He sees below a gleaming light
It's one of Whups's darts.

The road is cleared
Then Ozy sends them off
The stranger takes the lead
After aping smarmy doff.

Winker hits the rising ground
And eyes his trusty clocks
Their needles offer more
He's at the Harbour's stocks.

The college roof is now in sight
And its girls are out in force
They wait for hero Winker
His 'Bonnie's' on its course.

Here they all are
The girls all wave and scream
A Marshall turns the riders
Hondas lost its gleam.

Winker takes the well-earned lead
A farmer hears him coming
He swats an irksome fly
His Paisley scarf still blowing.

An errant nun has broken ranks
She's decked his path so fine
Winker casts a downward glance
It's Calvin's latest line.

On he goes with fervent drive
To take the chequered flag
He stands his bike by car park's bloom
Then smokes a well-earned 'fag'.

The Honda's here with shortened thrust
It came from far behind
The beaten stranger leans his bike
Then shares some Winker kind.
Comments by GW., 20th October 2017
Ah' your a card. [ and a gentleman Philip ]
Comments by Philip Gormley., 20th October 2017
G.W. Hope your keeping well - take care.
Comments by Veronica, 20th October 2017
I'm just stuck for words at his talent GDub!
Comments by Philip Gormley., 20th October 2017
Veronica: There'll be another meteor shower, just after midnight. South East, and just to the left of Orion's Belt. Here's hoping for a clear sky. The Night Sky: Wigan World has everything - It'll be High Physics, next.
Comments by Veronica, 20th October 2017
Well I hope it's not cloudy Philip as its raining hard in Howfen at the minute. My back bedroom window faces south so I would have a good vantage point!