| | | |
| --- | --- | --- |
| Jackson family of Hindley. | | Views: 981 |
| De Trafford farm Hindley. | | Comments: 7 |
| Photo: . Ozymandias . Item #: 29768 | | |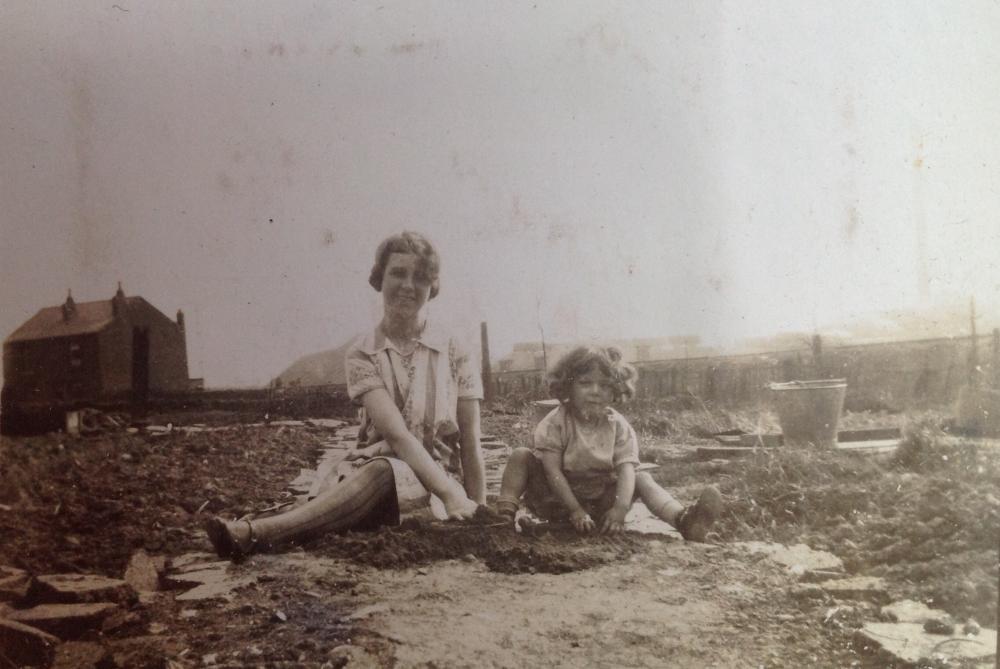 | | | |
| --- | --- | --- |
| | Image scaled down from 1000px to 669px wide | Click here, or click the photo to view original |
| | | |
| --- | --- | --- |
| | Miss Ethel Wilson, ( or possibly Mrs Ethel Jackson at this point, as I'm not entirely certain about the date of the photo ) entertains her young niece on land adjacent to De Trafford farm. The embankment of the Amberswood East curve can be discerned to the right of the picture. I have no idea what the buildings just visible beyond the track may have been, nor the name of the colliery to which the dirtrook in the distance belonged. I'm guessing that the building who's gable end can be clearly seen would have been one of the properties that stood in Orrell St. at that time. There's a fair amount of guesswork going on here, so please feel free to correct me if you think I'm in error.....As if such an invitation were necessary. | |
Comments by Howard P, 8th October 2017
I suspect I've seen enough of De Trafford of late.
Old Trafford sounds much better.
Comments by DTease, 8th October 2017
Howard P, we eagerly await your contribution.
Comments by Howard P, 9th October 2017
I suspect I've just said my contribution.
Comments by Pw, 9th October 2017
Oz, there is not much I can add to your comments.The railway line was quite a gradient from Amberswood to the then Hindley and Platt Bridge station( Hindley South).The pitruck behind Mrs Jackson looks like the one past the signal box coming out of the station on the G.C. Line to Wigan Central,they were the highest pit rucks in that area.The brick building I also assume is one down Orrell St.I have no idea about the other buildings if that is what they are.The only buildings I remember down Orrell St.were the two rows of small terraced and then some pens,mainly pidgeon fanciers and some allotments.There is a photo on walking days.St.Peters Hindley(5),#:26663 which was taken from the dole office down Liverpool Rd.looking across to Orrell St. asI remember it in the early 50's.You can see the pitruck I am on about behind the second banner.If you look over the head of the chap on the right you can see the signal gantry on the Amberswood curve which must be near where the farm was.On the right hand side of the road heading towards the railway line my Grandad had some kind of pen with horses etc and some kind of wood business so he could have known the Wilson family.
Comments by DTease, 9th October 2017
Howard, if you don't like this photo put one of your own on.
Comments by Chris Southworth, 9th October 2017
The buildings and pit rucks behind the railway embankment are what was left of Strangeways Hall Colliery. This pit had 5 shafts,it was the largest pit in the Hindley area and closed in 1936. The two youngest and deepest shafts, one was called Dukes Pit and the other Trafford Pit.
Comments by . Ozymandias ., 10th October 2017
Many thanks to Pw and Chris Southworth for your informed comments, your knowledge of the area being obviously far more comprehensive than mine. I'd assumed that the photograph had been taken looking South, or South East, across Liverpool road and it occurred to me to wonder, whether or not the building, partially obscured by the little girl's hair, may possibly have been the now defunct and converted Strangeways public house. The low angle of the shot however, combined with it's inherent haziness isn't particularly helpful to the identification of the building. In any event, the location of De Trafford farm can surely no longer be in doubt.

Regards. Ozy.