| | | |
| --- | --- | --- |
| King Street & King Street West, Wigan | | Views: 1104 |
| Old Town Hall | | Comments: 22 |
| Photo: RON HUNT Item #: 31908 | | |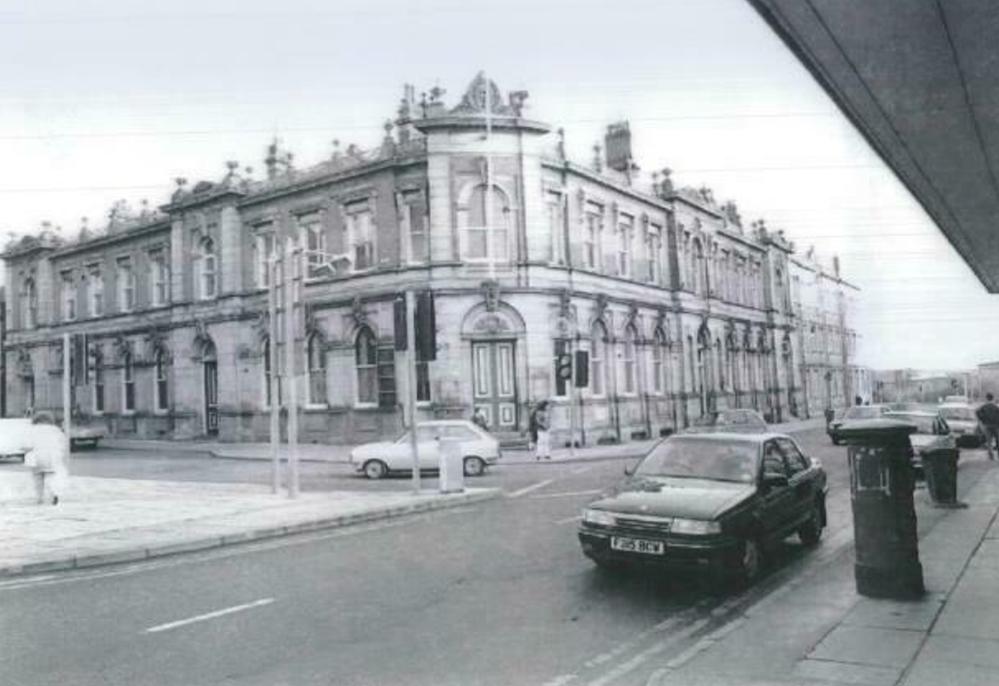 | | | |
| --- | --- | --- |
| | Image scaled down from 999px to 686px wide | Click here, or click the photo to view original |
| | | |
| --- | --- | --- |
| | Looks like LENNONS supermarket on the right of the photo? So it's 1960's | |
Comments by DerekB, 12th February 2020
Not 1960s. The white car in centre of picture looks like a Ford Fiesta and the Mk1 of this model only dates to the early/mid seventies, The car in front of the mailbox is even newer.
Comments by Mick LD, 12th February 2020
The car next to the pillar box has an 'F' prefix Ron, so it has to be after 1988.
Also a Ford Fiesta turning into Rodney St.
Comments by Karen, 13th February 2020
Lennons was there long after the 1960s. I went to work there after I left school in 1978.
Apart from anything else you can see on this photo that the Derby Arms and all the shops on Darlington St have been demolished so it has to be 1980s.
Comments by RON HUNT, 13th February 2020
Ooops typo meant to put 1980's
Comments by A.W., 13th February 2020
Lennon's was Kwik Save by around 1988 - 89, I was working in the area and we used to get milk there.
Comments by Albert.S., 13th February 2020
Has any development taken place on the land, where the Town Hall was situated?.
Comments by Garry, 13th February 2020
Albert it's now a carpark.
What a beautiful building the old Town Hall was, it was indeed the Buckingham Palace of Wigan.
Wigan Council should be ashamed.
Comments by Donald Underwood, 13th February 2020
I agree with Garry.I attended in my youth the monthly meetings of the Council in a very handsome Chamber.I also was a guest at the reception inaugurating the Mayoralty of Arthur Lowe of Victoria House in 1949.
Comments by Albert.S., 14th February 2020
The location would be the ideal place for the building of a theatre, to attract good artists nationally, and even internationally. Wigan would seem to be a major, important town, lacking in that amenity
Comments by Jo, 14th February 2020
A beautiful building demolished for what? A disgrace to the planners
Comments by Veronica, 14th February 2020
If it was the 80's there was still time to stop the deterioration and make something of the building. When you think that monstrosity at the top of Millgate was built and this was left to rot! Wigan was known for its beautiful buildings, a sin and a shame this wasn't left, plenty office space in there.
Comments by John, 15th February 2020
Albert, why wasn't the Ritz building used as a theatre?
Comments by Albert.S., 15th February 2020
John.I believe that a lot of the large towns, like Peston, Blackburn, etc. have purpose built theatres. It would seem that where the Ritz was situated , the planning authorities had ideas of their own, as to the development of that land.
Comments by Xpat, 15th February 2020
Hi Albert , I think it's more obvious than that , the issue has always been
in favour of London , and every other place has to bow to it . As Wigan fights for one single theatre, in London they just grow . Wigan , like many other northern towns, will always be regarded as ' those others '.
What they forget is 'those others,' built the nest the 'special ones' perch on!
Comments by Helen of Troy, 16th February 2020
It leaves me speechless that a building like this should become a car park.
It must be that successive planners at WMC want to make their mark so they will be remembered....I should think they will be remembered, for demolishing a town.
Comments by MikeW, 16th February 2020
The council offloaded the building many years ago and it was not in their procession when it was demolished. The new owners ignored repeated concerns from the council regarding its condition council and the risk to the public it presented. Ultimately the council stepped in arranged the demolition and chased the owners through the courts to recover the costs.
Comments by Angela, 17th February 2020
It was Lennon's in 1988 as my tantrum prone two year old threw herself on the floor in there much to my embarrassment. My Grandmother didn't bat an eyelid and said "leave her, she'll be up in a minute" and she was.
Comments by Chris Dickinson, 19th February 2020
Am I right in thinking that Kwik Save remained here until around 1992 before they moved on to the newly built retail park on Gower Street, Newtown. I'm sure the current location of Home Bargains was originally the site of Kwik Save. I may have dreamt this up but can someone please put me right if I'm mistaken. I also vaguely remember there being a Kwik Save in Lower Ince at the side of the railway that closed around the same time (now the site of Redbrook Rise).
Comments by Garry, 19th February 2020
The only company I can think of who shared the business with Kwik Save Lower Ince, is Arctic Freezer foods and MFI before moving to Chapel Lane. Kwik Save shared other concessions with other companies within the building too, ie shoe save etc.
Comments by Anne, 19th February 2020
Anyone remember Liquor Save in Kwik save.
Comments by Garry, 19th February 2020
Home Bargains was indeed on Gower Street after Kwik Save.
Comments by Maureen, 22nd February 2020
Hello Chris Dickinson,you are correct Home Bargains is built on the Kwik Save site...I'm almost sure it is the original flooring as well.