| | | |
| --- | --- | --- |
| FRAMES TOURS | | Views: 836 |
| FRAMES TOURS | | Comments: 16 |
| Photo: Frank Orrell Item #: 31865 | | |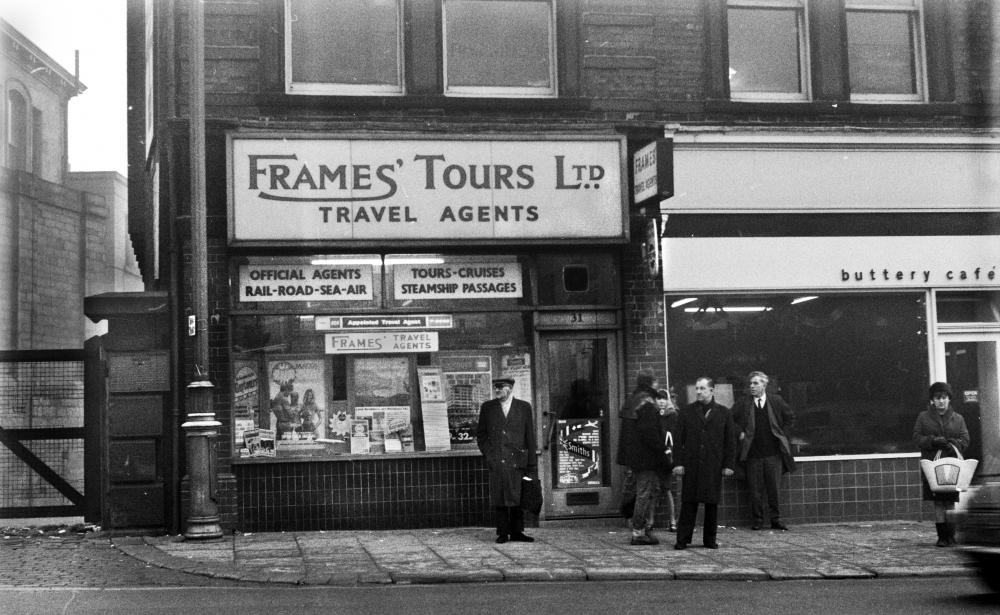 | | | |
| --- | --- | --- |
| | Image scaled down from 1000px to 615px wide | Click here, or click the photo to view original |
| | | |
| --- | --- | --- |
| | Frames Tours shop and the Buttery cafe next door in 1967. I think the location is Wallgate but I stand to be corrected | |
Comments by Mick LD, 1st February 2020
Definitely Wallgate, Frank.
Comments by Elizabeth, 2nd February 2020
Across from Wallgate station.The Buttery did a roaring trade at dinner times.
Comments by Eric, 2nd February 2020
Use to get free coach tickets from here,for the coach to Blackpool Mecca ,same year as the photo 1967. Happy days
Comments by Alan H, 2nd February 2020
Directly opposite Wallgate station.
Comments by Tony Topping, 2nd February 2020
Yes across the road from Wallgate Station. It's a pie shop now. Brilliant photos as ever Frank
Comments by A.W., 2nd February 2020
Remember Frames well, and the Buttery cafe next door which had a Juke box!
Comments by Philip G., 2nd February 2020
I like the bouncy style of Frames' worded 'goods' - it's a bit like the style used by the girl at the start of TVs 'Are You Being Served?' as she pattered almost all of what Grace Brothers had to offer.
I don't remember Frames' shop, nor the shop to its right, yet the cold un-inviting gate to the left of Frames' was most depressing; It never seemed to have been opened, there was neglected grass in the vicinity and I seem to recall the gate having been decked in a 'what's in the tin'? type of green (Not a patch on the splendid green of my, then, Qualcast Panther lawnmower.).
Comments by WN1 Standisher, 2nd February 2020
I think the ginnel to the left leads towards Northwestern Station
Comments by Tony L, 2nd February 2020
Correct Frank Orrell and Mick LD. Frames is now a fast food takeaway and the Buttery cafe is Galloways bakers. The gates on the left of the photo were for the old BR goods yard.
Comments by RON HUNT, 2nd February 2020
My friend Dave Twist worked there and was later the manager.
Comments by Albert.S., 2nd February 2020
What firm had the travel agentís at the bottom of Library Street, opposite the Pavilion Cinema, was it Barnes?. I arranged my air tickets with this firm, to go on my honeymoon, to Jersey. Flew from Blackpool, Sept, 1961. Silver City Airways.
Comments by Ray, 2nd February 2020
The gateway to the left of Frames Tours led down to the
railway goods yard, with many railway sidings and a building
which was Fyffes banana ripening rooms. From the mid 1960s,
the Fyffes building was occupied by Robert Baillie Transport
until about 1976, when it was demolished, and the new MFI
warehouse was built on the site. I believe the building became a Go-Kart track, and then a gymnasium/fitness centre.
Comments by Alan H, 2nd February 2020
Once again , Albert, you are correct. It was Barnes travel agency. What a memory you have.
Comments by Chris Dickinson, 3rd February 2020
Mr Joe's!!!!!
Comments by Albert.S., 3rd February 2020
Memory still pretty strong Alan H for an eighty six year old. Thank God.
Comments by Jarvo, 3rd February 2020
Trainspotting days goin in theer wi Eric Farrimond for a meat and potato pie and a cup of tea. Bliss.