| | | |
| --- | --- | --- |
| Haigh Hall | | Views: 845 |
| Rhododendrons | | Comments: 14 |
| Photo: DTease Item #: 31481 | | |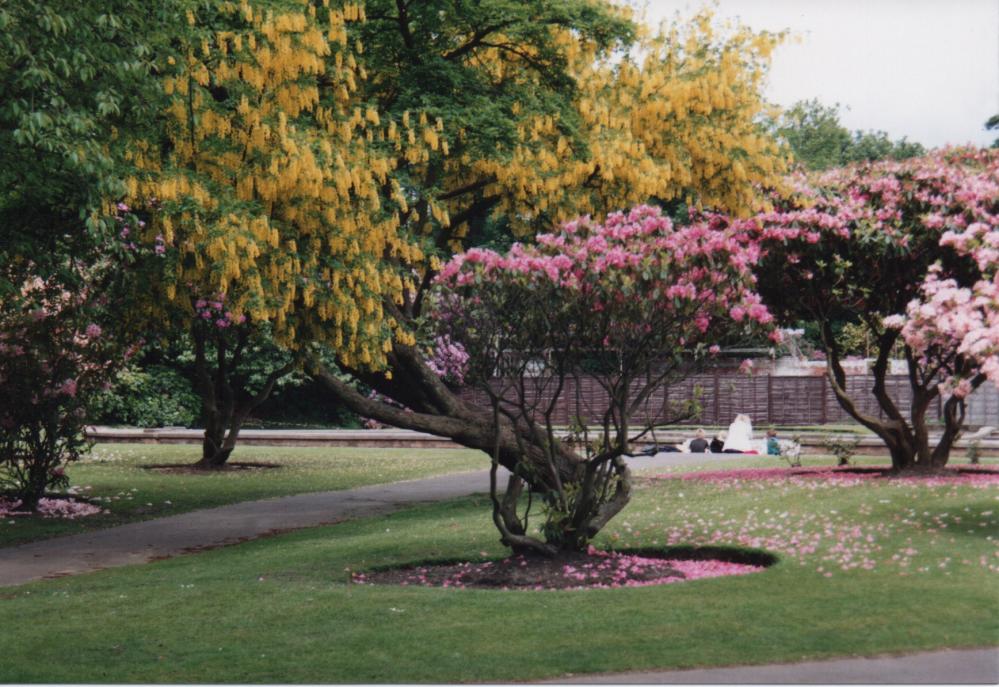 | | | |
| --- | --- | --- |
| | Image scaled down from 999px to 687px wide | Click here, or click the photo to view original |
Rhododendrons near the Goldfish Pond.

July Ď95
Comments by Alan, 29th August 2019
Very nice...could have been taken yesterday.
Comments by DTease, 29th August 2019
No it couldnít
Comments by Eddie, 30th August 2019
The yellow blossom trees are laburnum.
Comments by . Ozymandias ., 30th August 2019
I realise that I have mentioned it previously, and I vow not to mention it again, but in my opinion you've most certainly got an eye for composition there DTease..
I'll admit that I personally know nothing at all about art,.......or photography either if it comes to that, assuming of course that both of these don't fall within the same category, but I do flatter myself by thinking that I can recognise good composition when I see it .
Good composition being it would appear, the thread that links , if not all , then certainly the vast majority of your photos.
I reckon you may have become misdirected , somewhere amidst the process of negotiating life's rich tapestry, whilst simultaneously providing food for the table. ......But we only get one shot at life unfortunately.
What I'm trying to say here is that with the right equipment and possibly a modicum of guidance , you could quite well have made a good living at photography ,... instead of investigating insurance fraud claims and the like, in Queensland and the Northern Territories ,.....for a pittance.

All the best mate. Ozy.
Comments by DTease, 31st August 2019
Ozy, you are right about me being misdirected, also misunderstood, mistaken and cruelly misused. As for my ďRich TapestryĒ itís now akin to my once luxurious head of hair, wearing thin and fraying round the edges.

As for photography, I took it up after I, as the song goes ďLost out to redundancyĒ in 1994. After three months of daytime Telly brought on a severe bout of insanity I purchased a bike and a camera and took myself off to all the places that I had frequented as a child. I followed the Whelley Loop Line from Ince to Adlington. I carried my bike up the steps of the Wutchy and rode it across the top. I rode the canal bank from Haigh to Riley Green, Rivington became a favorite destination. Itís amazing the nooks and crannies you can get into with a bike. Like Mick Byrne is doing now, I took hundreds of photos of everything I saw and I loved every minute of it.

Going through some of them to put on here has brought back many happy memories for me. Iíve enjoyed looking at them again and, hopefully a few people out there have enjoyed them as well.
Comments by XPat, 31st August 2019
Iím more impressed with those who had cameras ! My greatest possessions as a chlld was snake belt and a pen knife , you just had to have a pen knife . Now you would be arrested . I did have contact with a camera as a teen , but the whole process of rolling on a film ( can you imagine that now). completely confused me , and I certainly did not have the same mind set to take pictures like this . In fact , I donít remember any occasion when one of my friends, no matter where went , taking a picture .
Somebody did take pictures of me , but I was always head down , looking
and adjusting my pen knife .. I think as a child , I was convinced I would one day be Jeremiah Johnson , but was searching for Alaska in Wigan somewhere .
. Sorry DTease , I know this is codswallop ! Thank you for posting .
Comments by . Ozymandias ., 31st August 2019
So ! ..., you managed to watch daytime telly for three months without ending up in a rubber room did you DTease ? .. My respect for you knows no bounds .

Regards. The Whizzer .
Comments by Veronica, 31st August 2019
Few people owned cameras where I lived in the fifties. The only photos I have as a child were either school photos or the ones taken on Whit Monday after the walks by a neighbour who lived around the corner. When I finally bought a camera from a Catalogue as a 14yrs old, it was expensive to buy and develop films,tiny pictures to boot - and nearly always 'blurred'. I would love to have seen a baby photo of myself, I believe there was one,but my mother gave any photos taken as a child to relatives! Strangely- It's as if something is missing from my life ! The first thing I did when I had children was to have them photographed professionally! It's so nice to look back at them after all the years have passed!
Comments by DTease, 1st September 2019
Thatís OK XPat, has it happens iím A fluent speaker of codswallop myself. In fact, I tend to speak more codswallop than anything else. Just a few glasses of the strong waters is all it takes to have me speaking codswallop all evening.
Itís been a pleasure for me to see how popular codswallop has become since Brexit came on the scene. For some reason most Politicians seem to have a talent for it.
Comments by Veronica, 1st September 2019
Same here - I always answer to codswallop!
Comments by Mick, 1st September 2019
Nice chatting to you this morning Ozy.
Ive just look for the age of my bike and remembered I had made a video when it new and it will be 5 years old in November
Here it is at the top of Wigan Park steps

https://youtu.be/MDhvKIhrpEQ
Comments by Philip G., 2nd September 2019
DTease, I'd taken similar paths on foot and by car, when geared-up with graphite pencil cartridge paper and a sketching stool and, as you had done, found each journey to be time well-spent. Long may they continue.
I like your mention of the celebratory ride across the top o' Wutchie - Fine is a little bit of swagger.
Comments by DTease, 2nd September 2019
Philip, at times the bike carried me and sometimes the roles were reversed and I carried the bike but we both eventually made it from one side to the other.

When you walk or ride along the canal bank and you come across a Kingfisher in all its glorious colour or a Heron standing absolutely still while waiting for his next meal to come swimming by, you want to make time stand still so that you can relive the event over and over.
People who have the talent will paint the scene, but if, like me you are lacking in that department, you can do it with a camera.
I wouldn't by any means claim to be a Dave Oy (I only wish I was) but if I can take a picture now and then that pleases ME then that's good enough for me.
Comments by Philip G., 2nd September 2019
Thanks for your response, DTease.
I hope that you'll continue to post more of the photos from your collection, and especially those that bear the same magical 'cast' as all of your's shown previously.
I'd mentioned, on here, to Mick Byrne that he might like to consider 'snapping' the egg-laden nest of a bird belonging to the hedgerow, next year, at which time you might also like to consider the same target; Years-old growth around the base of a tree would also be a good place to start - And you wouldn't have far to climb. Regards.