| | | |
| --- | --- | --- |
| Station Road, Wigan | | Views: 2010 |
| Station Road | | Comments: 39 |
| Photo: DTease Item #: 31474 | | |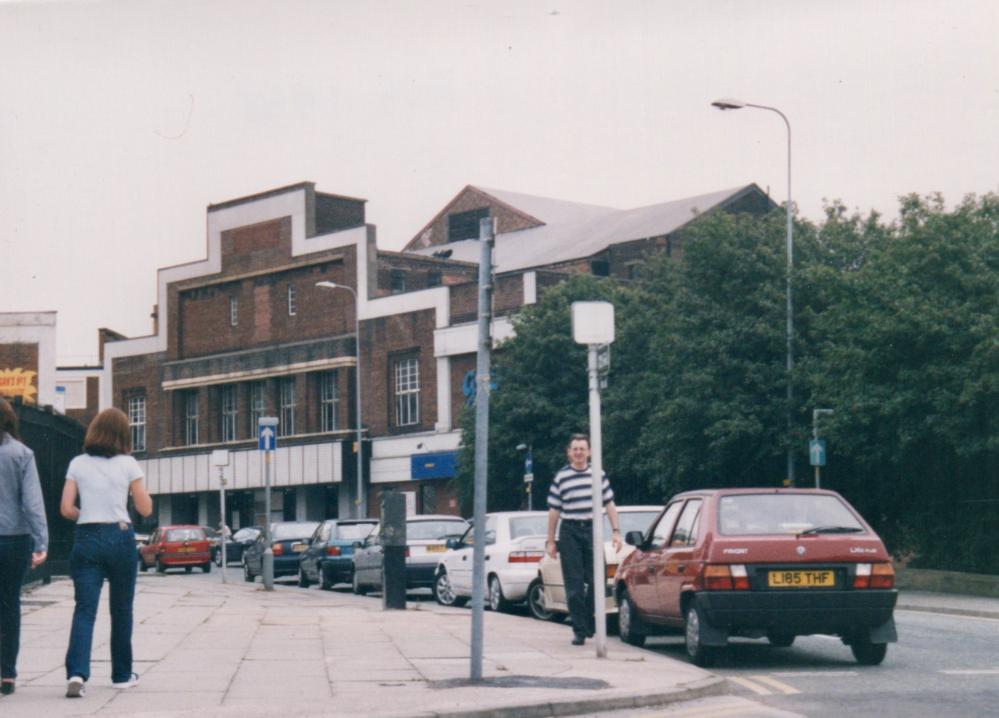 | | | |
| --- | --- | --- |
| | Image scaled down from 999px to 718px wide | Click here, or click the photo to view original |
The former Ritz Cinema on the former Station Road.
To the left of this photo was the site of Wigan Casino, well known to Northern Soul fans.
Comments by Mr X, 26th August 2019
This photograph was taken after August 1993 as the maroon car is a L reg Skoda Favorit. Wigan Casino only existed for eight years from 1973 to 1981, the building was formerly the Empress Ballroom and was destroyed by fire in 1982 or 1983 and demolished a short time later. The space was then occupied by a car park, and when the old Morrisons in Hope Street closed in 1986, the temporary Morrisons was a prefabricated building, and later became Wigan council offices. And then there is the Ritz Cinema and bingo hall that is where Poundland in the Grand Arcade is now. Station Road and Watkin Street are gone forever, and who remembers Wigan's third railway station after North Western and Wallgate that was Central Station and closed in the mid 1960s.
Comments by whups, 26th August 2019
when was this took ? .
Comments by Maureen, 26th August 2019
Sorry..D'Tease,I must correct you there if I may..it was originally the site of 'The Emp which I attended every night except Wednesday...now aren't you glad you know that. ha ha.
Comments by Veronica, 26th August 2019
Too true Maureen that was our glory days before the Casino was even thought of. I must say I did go to the Casino to watch the cabaret and eat chicken in a basket on a Sunday night it would be 1968/9....
Comments by DTease, 26th August 2019
Youíre right of course, it was originally the Empress Ballroom.
Comments by Veronica, 26th August 2019
Ps the Casino I'm talking about is the one entered on Millgate which was quite 'posh' ( sans chicken in a basket) not to be confused with Northern Soul Casino which came after my heyday, the one Mr X is referring to.
Comments by whups, 26th August 2019
your talking about mr "ms"on millgate . when was it took ? .
Comments by tommy39, 26th August 2019
veronica it was the palais
Comments by Tom, 26th August 2019
Went to see tom Jones at the casino the entrance was in millgate it wasn't a big place .he did his act on the dance floor great act to see .it was in the 1960s
Comments by Philip G., 26th August 2019
I like the girl's sober clothing and hair. Gradely.
Comments by tuddy, 26th August 2019
Wigan Casino existed well before 1973, the Emp had changed its name to the Casino in the 60s. the Northern Soul all nighters started in 1973.
Comments by DTease, 26th August 2019
Whups, this was taken about 21-22yrs ago.

I took a lot of photos at that time but iím afraid I wasnít very good at keeping track of where and when.
Comments by dave johnson, 26th August 2019
Mr X the Casino first opened its doors Friday the 27th August 1965.
Comments by Veronica, 26th August 2019
I saw Tom Jones around 1967/68 in the main dance area of what was The Emp. I also had my hen night in 1969 at what was The Emp, that was the last time I ever went there.....
Comments by Owd viewer, 26th August 2019
Met my wife at wigan casino before northern soul, when thy had live groups playing.
Comments by jackI, 27th August 2019
Veronica, I think the Millgate entrance was The Palais.I too remember eating chicken in the basket sitting on the balcony. Posh.
Comments by Helen of Troy, 27th August 2019
Ahh....manys the time I queued with my sister outside the Ritz, it had such a glamourous interior to the eyes of a young girl.
Comments by Barrie, 27th August 2019
Going through my 1962 diary recently and found a comment I made saying that from late March 1962 The Ritz cinema was being renamed "ABC Wigan". For months afterwards,I still called it the "Ritz".
Comments by Maureen, 27th August 2019
I used to think the Ritz foyer was lush..and had many great Saturday mornings singing "We are the boys and girls well known as minors of the ABC".
Comments by Veronica, 27th August 2019
Yes both you and Tommy are correct Jack... Thanks- we thought we were sophisticated when we went to the Palais didn't we.. Hahaha. I used to go to the Garrick in Leigh as well. Some very good shows.
Comments by A.W., 27th August 2019
Barrie, I was quite a small child when the Ritz became the ABC but I honestly never knew anybody call it anything but "The Ritz".
Comments by Tony Sharp, 27th August 2019
I remember going to see Sandie Shaw in the "posh" part of the Empress with one of my mates. If I am correct it was called the Crawford Lounge, and was very small, with the table at which we were sat being right on the edge of the dance floor.
Comments by XPat, 27th August 2019
Can someone clarify for me please , Why did Wigan Casino close ? Iíve heard all kinds of stories, but have never known the truth . Was it financial,
drugs , the lease ran out , a new owner , new project? Would love to know the exact reason . Thanks for the post DTease .
Comments by DerekB, 27th August 2019
Although they had separate entrances in Station Rd and Millgate the Empress and The Palais were both accessible from one to the other from inside. On the Friday night late dances in the winter season they had a live band and bars open in each and you were able to wander from one to the other via the balcony inside the emp to the balcony in the Palais. The emp was by far the most popular and always had the best band. If you didn't work for Eckersleys mill you were very lucky to get tickets for their annual staff dance.
Comments by Pw, 27th August 2019
There was also a gambling casino inside which had blackjack tables, roulette,craps etc which you played with chips.
Comments by Tom, 27th August 2019
Friday night's at the emp was the biggy at the end of the night they announced the last waltz , save the last Dance for me .
Comments by Veronica, 28th August 2019
That was true Derek B about both entrances. I remember having a wander with friends from one place to another, dancing in the Emp and then in the Palais. Chubby Checker's record ' let's Twist Again' was all the rage at the time and we were 'Twisting' away in the Palais I was only sixteen at the time, I can even remember what I was wearing as it was the first time I had ever been to The Emp! Happy times indeed...
Comments by jack, 28th August 2019
Bill Blackledge and his orchesta.
Comments by Maureen, 28th August 2019
Yes Jack,Bill Blacledge..the Emp was my second home,I practically lived for it,Friday nights Electrician ball,police,plumbers etc,I went to them all..I recall we had our own little lockers where we would keep our dancing shoes to change into,my a Dad said I don't know why you don't just take your pajamas to slip into...every night when I got home (always before Eleven )my Mam would have boiled an onion with butter waiting for me..no wonder I never caught a cold. They weren't just happy days..they were glorious days.
Comments by Veronica, 28th August 2019
So you had a ball at every ball Maureen - I could never stop late though - a bit like Cinderella, but I had to be home for eleven, even after age 21 ! I can see myself racing down the steps near the Ritz and along Crompton St and up Scholes, breathless at the front door! Must have killed many a romance stone dead! But did manage a few dates for some nights afterwards! ;@))
Comments by Owd viewer, 28th August 2019
Wasn't the beachcomber never the casino?
Comments by Maureen, 28th August 2019
Veronica..I certainly did have a ball,plus I practically lived on the doorstep so no rush for a bus.
Comments by Tom, 28th August 2019
Remember the conga and the okay cocky every body joined in.great to remember
Comments by John, 29th August 2019
Before Bill Blackledge it was the Ken Hewitt orchestra. Ken lived for a time in Mabs Cross House.
Comments by Al, 2nd September 2019
Not one hulking, blacked out rear windowed SUV/4x4 anywhere. Today a shot like this would be full of them.

I remember going to the Ritz in Sept of that year to watch Jurassic Park. I remember there being a fairly large queue leading from outside and there was those cardboard standees in the foyer area; I bet they'd fetch a few bob today. I came out and lost my coat as someone must've nicked it. Last film I saw at the Ritz was Independence Day in 1996.
Comments by . Ozymandias ., 3rd September 2019
The last film that I saw was that one with Johnny Depp in it , the one where he was sailing about in a glass heatproof oven dish . I think it was called Pyrex of The Caribbean or summat similar .
Comments by DTease, 4th September 2019
Or was it that one about the rescue dogs Ď 101 Salvationsí
Comments by . Ozymandias ., 4th September 2019
I have to say that one of my all time favourite films has to be the one starring Marlon Branflakes in " On the Watercloset " , or possibly his earlier film depicting industrial unrest in a chocolate factory , " Mutiny of the Bounty ".
Comments by Albert.S., 10th September 2019
Ritz Cinema built 1937/38. Iíve mentioned this before somewhere. When the Italians surrendered, it was flashed up on to the screen, there was an uproar of cheering, and clapping. I believe it was sometime in 1943. The Regal Cinema, in Lower Ince was built, just before the outbreak of war. The cinemas were a God send, In relieving the dreariness, and weariness of the general public. Air warnings, and the black out, just to name a couple.