| | | |
| --- | --- | --- |
| Haigh Hall | | Views: 1069 |
| Up In Smoke | | Comments: 9 |
| Photo: DTease Item #: 31472 | | |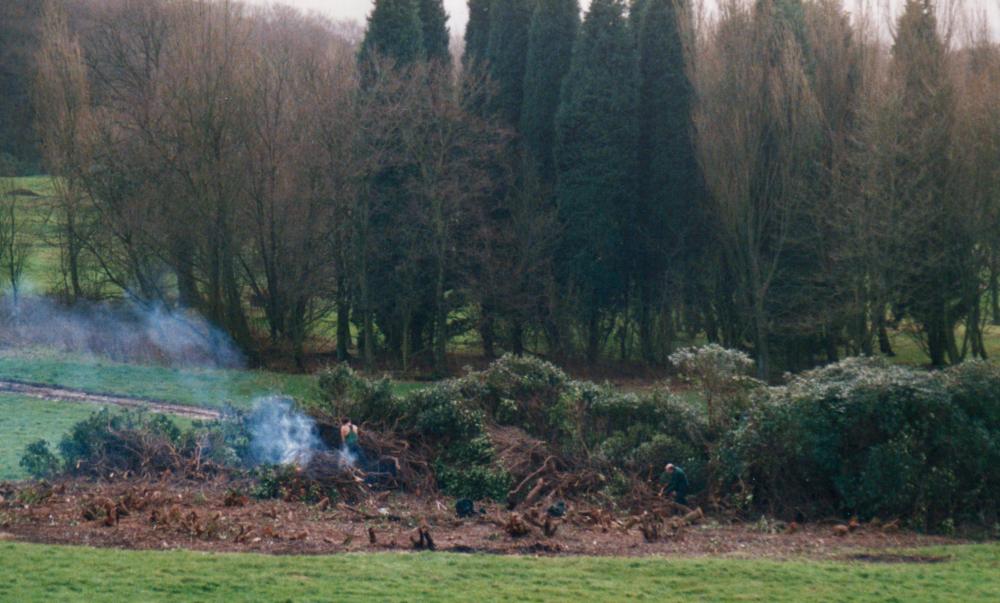 | | | |
| --- | --- | --- |
| | Image scaled down from 1000px to 603px wide | Click here, or click the photo to view original |
| | | |
| --- | --- | --- |
| | Where the rhododendrons went. | |
Comments by Zoonie, 25th August 2019
Best place for them I say
Comments by Janet ( jouell ), 26th August 2019
Why were they cut down?
Comments by Kathleen, 26th August 2019
Janet ( jouell ) - Rhododendrons aren't native to theis country they were brought over as an ornamental plant but they are very invasive and have run wild.
This describes just some of the probems they cause. "Rhododendron grows into huge bushes with thick vegetation that blocks out sunlight and smothers most other wild plants and trees, stopping them from growing or regenerating. Its leaves are toxic to animals and repels wildlife from earthworms to birds. Many bushes have become infected with the highly pernicious tree disease called sudden oak death that threatens many types of trees and shrubs. Outbreaks of the disease in the UK, especially on larch trees, have often been linked to Rhododendron ponticum."
Comments by DTease, 26th August 2019
Janet, we were told that they were diseased and yet there are thousands and thousands still flourishing all over the country.
I think it was just the case that someone amongst the powers that be decided that he or she just didnít like them and so they had to go.
Comments by Terry, 26th August 2019
That's correct Kathleen. They got rid of all the rhodedendrons round the Chinese gardens on Rivington Pike about ten years ago and now native wild flowers and plants like bluebells and campions are growing where they used to be. You can see a lot more different birdlife there as well.
Comments by Janet ( jouell ), 26th August 2019
Thank You Kathleen and DTease... Going back 50 to 70 years ago, when going to Haigh Hall on a Sunday was a real treat.. Seeing the rows of beautiful Rhododendrons was the beginning of the magic of the day for me.. The last time I went to Haigh Hall was 4 years ago on a visit back to England.. I have to admit, I could have cried, it wasn't a patch on what it used to be.. I have been told a lot of work has been done , but you have to be a oldtimer, to know the real beauty, that Haigh Hall grounds used to be..
Comments by Don, 27th August 2019
Some interesting information, Kathleen. Can I just add the roots of these pests produce toxins, which poison the soil around them, preventing other plants growing and even honey produced from their nectar is poisonous?
Rhododendrons are subject to Schedule 9 of the Wildlife and Countryside Act, which places restrictions on where they can grow, and makes it an offence to plant them in the wild.
They are known in many circles as the Countryside Killer, for the effect they have.
In between introducing Rhododendrons, Japanese Knotweed, and Himalayan Balsam to this country, our ancestors have a lot to answer for.
Comments by Bob, 27th August 2019
The Amazon burns , but we quote Countryside acts and procedures.
If the Amazon goes , you need not worry about the roots or pests connected to rhododendrons, that , I can assure you !
Comments by jack, 28th August 2019
Don, are the rhododendrons sold in garden centres a different type?