| | | |
| --- | --- | --- |
| Parish Church, Wigan | | Views: 1374 |
| Graveyard | | Comments: 15 |
| Photo: RON HUNT Item #: 31470 | | |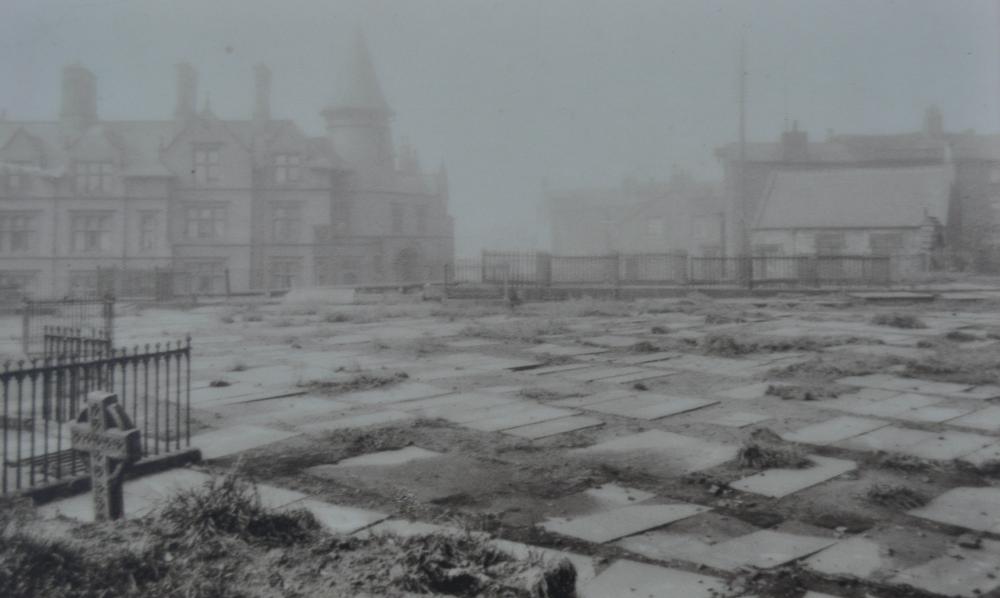 | | | |
| --- | --- | --- |
| | Image scaled down from 1000px to 598px wide | Click here, or click the photo to view original |
| | | |
| --- | --- | --- |
| | The parish church graveyard prior to the land being turned into a garden. | |
Comments by Veronica, 23rd August 2019
Much better 'grassed over' but I wonder what happened to the stone slabs with all the names on. You wouldn't have lingered there very long on a summer's day. I suppose the graves are still there hopefully undisturbed. I don't remember the graveyard looking like this.
Comments by Josh, 23rd August 2019
Seeing it on old maps is one thing but seeing the graveyard as it was is amazing. Where are these monuments/headstones now? Did the graves get interred somewhere?
Comments by Helen B, 23rd August 2019
Anyone know what date approximately this was taken? I have lots of Ancestors who were buried here. Wigan Cemetery, Ince, began around 1856.
Comments by Mick LD, 24th August 2019
The information below, from a Messageboard post on this site, might be of use . . .
.
"The burials are still in the area around Wigan All Saints no exhuming took place, although there are no longer headstones to represent the graves apart from a few that still remain close to the church. Inscriptions on every stone was copied and a record of 308 graves was carefully prepared and completed in 1906.In pursuance of the Open Spaces Act 1905, notice was given in July 1909, of the intention of the Corporation to apply for a faculty, and in August 1909 copies of the notice were sent by registered post to those persons known to be next relatives of any one whose name was on the stones.The last burial took place in the churchyard in 1904 and by order in Council dated 11th July 1905, the churchyard was closed for burials.It was apparently in a desolate and shocking condition and in 1909, under a special agreement between the Rector and Wigan Corporation, the latter undertook to lay out the churchyard as a garden and to take over the responsibility for maintaining it. Though it still remains the property of the Church and is under the jurisdiction of the Church authorities. With a few exceptions, the old gravestones were buried, the churchyard was re-laid and in 1911 was opened as a garden".
Comments by Veronica, 24th August 2019
The thought occurred to me that the garden was laid in or around 1909 and the War Memorial was erected in the early 1920's. How desolate and much more mournful had it still been that awful graveyard. Many people came to the service commemorating the fallen from the Great War to honour the dead on that first occasion, it wouldn't have been much comfort for the families and friends in those depressing surroundings I would think. Every family in one way or another was touched with tragedy. Just as well the garden was created...if only for that reason alone. I imagine in those early days relative's could at least have somewhere to sit awhile and think of their lost loved ones in a peaceful atmosphere.
Comments by Mick LD, 25th August 2019
A morbid footnote to my comment above . . .
About seventy years ago, my late mother worked at the same place as someone who had worked on the job of converting the graveyard to a garden, when he was a young chap.
Although no exhumations took place, they did come across a number of shallow burials during the course of the work (they used to fit coffins in wherever they could, once upon a while, with little regard to the depth of the grave).
Although this had happened forty years earlier, my mother said this chap had no other topic of conversation, other than uncovering these old graves, and was avoided by all his colleagues, who regarded him as a 'creepy old ******'.
Comments by Veronica, 25th August 2019
Mick I worked in the small claims Court buildings in 1991 for twelve months. In the summer I used to eat my sandwiches in the garden there, if I'd known that tale - I wouldn't have bothered!
Comments by Mick LD, 25th August 2019
Just think what lay beneath your feet, while you were eating your egg and cress, or cheese and tomato, Veronica!
Comments by Eric R., 29th August 2019

Mick LG - Reference your comment of 25th Aug., is the list of gravestones available?
Comments by Mick LD, 30th August 2019
Eric R - unfortunately the only information I have regarding the gravestones is that contained in my post above, which was a quote from the Messageboards on this site.
The Museum/History Shop on Library st may be able to help you (01942 828128).
Comments by Tom, 30th August 2019
I worked in wigan laying New water mains near the crofters pub and hallgate, we dug about 6ft down and the earth had turned sour it smelled terrible they reckon people who were poor were buried outside the church grounds and the more well off were buried in the church grounds so it was a lot bigger grave yard than the photo ,it believe it was down to wallgate.
Comments by Eric R., 30th August 2019

Mick LG - VMT for tracking your comment. I have sent to Wigan History Shop as suggested, will advise result.

Also comment by Tom - that does ring a bell.
Comments by Mick LD, 31st August 2019
Best of luck, Eric R. Sorry I couldn't be of more help, but I'm a bit out of touch with local studies resources, nowadays.
If the History Shop can't assist you, hopefully thsy can point you in the right direction.
Comments by Eric R., 6th September 2019

For MickLG., and Tom - Mick LG - VMT your comment of 30 Aug 19. Wigan History have done a run through their records, and are only able to confirm Burial Date. I also bear in mind Tom's comment. I have been given a pointer which I am following up.

I will come back to you with any result. I will also be copying to Ken R., and Canadian side of family.
Comments by Eric R., 6th September 2019

For Ron HUNT please - Ron Many thanks indeed for your picture.

EricR