| | | |
| --- | --- | --- |
| Mesnes Park | | Views: 838 |
| Mesnes Park, 1950s | | Comments: 11 |
| Photo: DTease Item #: 31435 | | |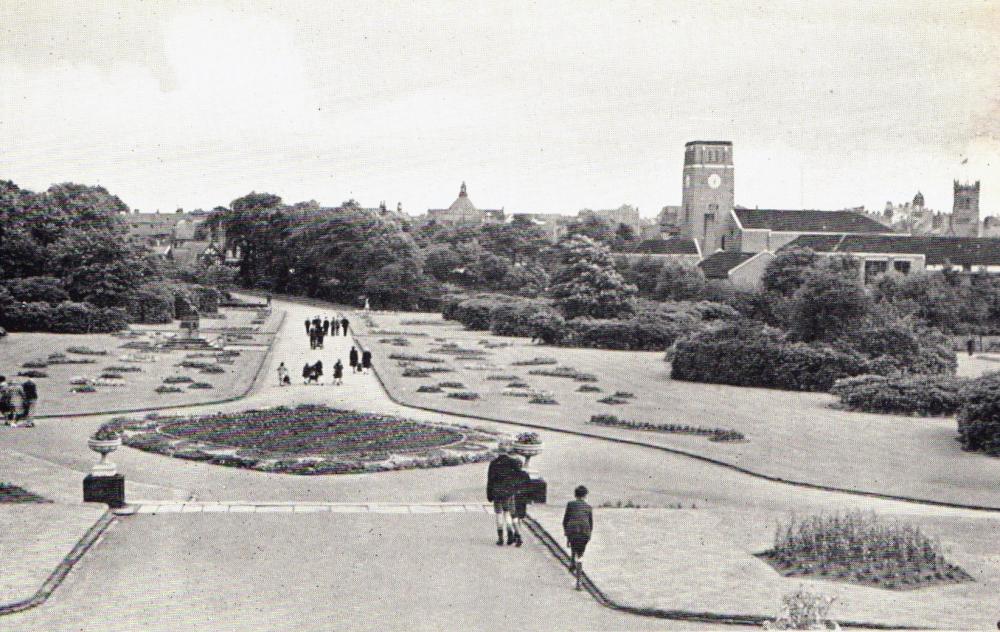 | | | |
| --- | --- | --- |
| | Image scaled down from 1000px to 632px wide | Click here, or click the photo to view original |
| | | |
| --- | --- | --- |
| | Short trousers and long stockings, chapped legs and scabby knees! Happy days. 1950s. | |
Comments by Jarvo, 14th August 2019
No scallywags or hoodies within a shout of the place. Peaceful park life: tea and ham sandwiches and then the No7 bus home. A land I knew long ago...
Comments by Veronica, 14th August 2019
They are all going in the same direction , I make it 6 o'clock, time for home.
Notice how the young lads are keeping to the path - not daring to walk on the grass. The flower beds are much more elaborate then and more of them. The park had more gardeners on the premises I imagine in those days. It was a treat to go there, simple pleasures then...
Comments by Philip G., 14th August 2019
Happy days indeed, and days when the shriek of 'Bunter!' halted the progress of a soon to be filled chip butty and Robin sought the hand of Marion on T.V.
I say, DTease, this photo of yours had been a bit of a yed scratter when trying to identify the season: A nip in the air, Swarming canopies, almost silent flower-beds . . .
But the darting Harry Wharton (Fuelled by his morning Horlicks) on his 'Racer with dug-down handlebars' eventually led me to believe that your photo had been taken during a late-summer morning - I couldn't just gawp at your photo, could I.
Comments by Mr X, 14th August 2019
This view of Mesnes Park has hardly changed over the years. The grammar school, parish church and Queens Hall towers are still there. I don't know what building the other tower is and where it was, but don't think it was Crank and Burton's near the old market, demolished for the Galleries shopping centre. In the 1950s the most famous policewoman in Wigan known as Big Amy would often be seen in Mesnes Park.
Comments by Garry, 14th August 2019
I agree totally Jarvo, People had respect then, safe and happy. Well done DTease.
Comments by Arthur, 14th August 2019
Now all you see is beer cans thrown in the bushes.
I think this is a marvelous photo of a great era in and around Wigan and so pleased I was around at that time.
Comments by Helen of Troy, 14th August 2019
Thats how I remember the park, lots of flower beds & certainly there was ..No Walking On The Grass....they had metal signs on the edges of the grass informing you of that....must have relaxed the rule for Easter because I rolled myself & the hard boiled eggs we coloured down a grassy slope near the cafe.
Comments by Maureen, 14th August 2019
During School holidays I would take the children to the park..sit on the grass near the swing area and just feel at peace with the world,stay there the whole afternoon until tea time came..I wonder why people have lost pride..throwing litter down etc,not caring how they look,keeping to the rules wherever they go...we've lost a lot along the way somehow.
Comments by Veronica, 14th August 2019
Only today Maureen I picked up a tray of partially eaten food, complete with plastic spoon and condiments ( sauce etc) and took it to a litter bin only a few yards away. My blood boils whenever I pick stuff up - I feel like cursing the culprits and hoping they break a limb! I was on a coach last week waiting to move off in Bowness. A car was pulling out and the door opened and a load of food wrappers were dumped on the ground. The place was heaving with various nationalities...A car park attendant walked across and picked their filthy rubbish up within minutes. There is just no excuse for it... It's sickening what some folk do.
Comments by Garry, 14th August 2019
Maureen 10/10 agreement.
Comments by Mick LD, 14th August 2019
Mr X - the other tower was Hope street Congregational Chapel, demolished 1973/1974.