| | | |
| --- | --- | --- |
| Standishgate | | Views: 1071 |
| Ron's Pic Of Standishgate. | | Comments: 14 |
| Photo: Mick LD Item #: 31419 | | |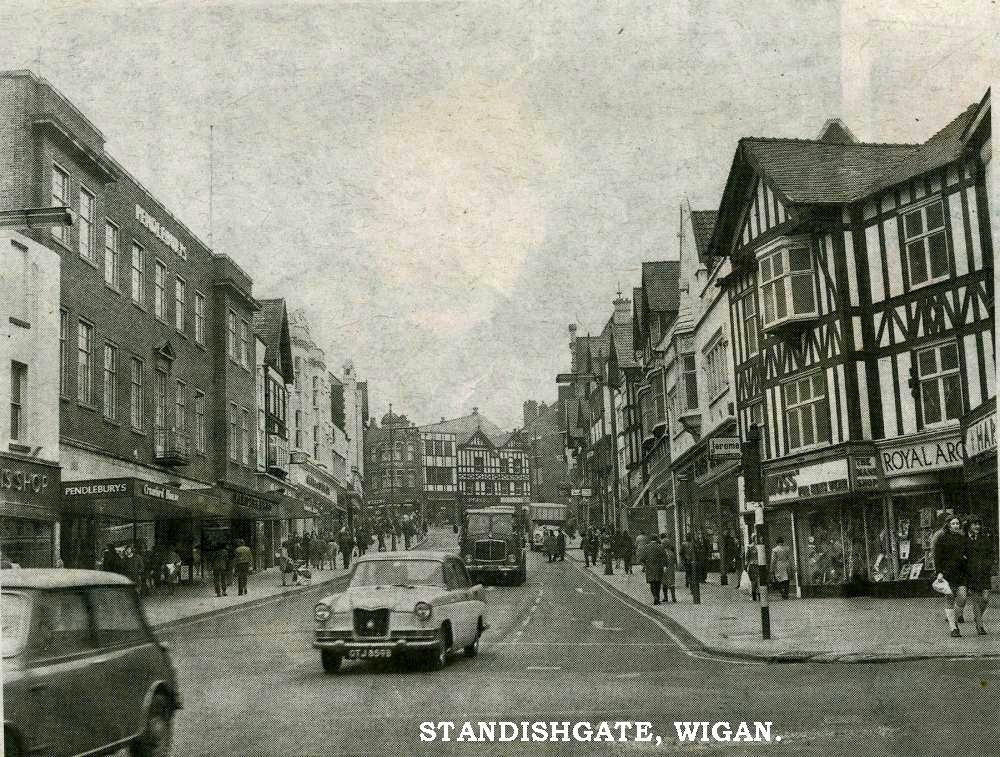 | | | |
| --- | --- | --- |
| | Image scaled down from 1000px to 757px wide | Click here, or click the photo to view original |
| | | |
| --- | --- | --- |
| | Just tweaked the contrast a bit, Ron. | |
Comments by Veronica, 10th August 2019
That's much better. Apart from the traffic on the road and lots of shoppers and name changes, it doesn't look too much different in the actual layout.....or am I dreaming....?
Comments by RON HUNT, 10th August 2019
I must have driven up and down here hundreds of time yet I can't remember doing it? I can remember my dad picking up my mother from M&S on a Saturday after work, and parking in the entry opposite the store, which ran through to the Market.
Comments by Philip C, 10th August 2019
In reply to DerekB 's comment on the previous photo re the colour of the buses.......and so was the signage in and around town
Comments by . Ozymandias ., 10th August 2019
Good photo that . I'm trying to figure out roughly the year that it was taken.
The Wolseley is telling me that it was post 1964 , although that isn't necessarily an indication of the exact year that the photo was taken .

Also , I'm not precisely sure when they closed off Standishgate to vehicular traffic , or Market street either if it comes to that , although I do know that I was driving down Market street in the mid to late eighties .

I also recall driving up Standishgate in an eight legger Guy Invincible in 1969 . Don't ask me what I was doing there , as I wouldnt have a clue , especially being as there was a perfectly good motorway available for me to use not that far away . Suffice to say , I would have had a good reason to be where I was .

The reason that it sticks in my mind is the fact that just near Woolworth's , a rather attractive young lady in her mini , or whatever , rolled back into me , breaking my offside headlights .

She approached me , almost in tears , extremely apologetic , and fluttering her , by this time , moist eyelashes .... My response being something along the lines of .... " Ay , don't worry about it love , happens all the time ,....we've loads of spare headlight lenses back in the stores anyroad ".

We hadn't actually , and I ended up having the cost of the replacement lenses docked from my already meagre wages.

Occasionally over the years , the memory of the incident has come back to haunt me and I've wondered whether or not , assuming the roles were reversed , and I'd rolled back into her mini , whether fluttering my eyelashes would have had the same effect on her as hers did on me . I doubt it somehow.

We're all a bunch of mugs us blokes.
Comments by Ken R, 10th August 2019
Ozy, what happened to the young lady. Everyone is probably on tip toes and scratching their head, no romance???
Comments by Mr X, 10th August 2019
Until 1963 when the M6 motorway opened vehicles from the south and midlands went through the centre of Wigan to get to Preston, Blackpool and up to Scotland.There is a Mini and behind is a BMC Farina, that looks like a Wolseley, Riley or MG Magnette in two tone that was more upmarket than the cheaper Austin Cambridge and Morris Oxford models.
Comments by . Ozymandias ., 10th August 2019
No idea Ken . Just ships that pass in the night I'm afraid . Perhaps she still occasionally comes up Standishgate on her zimmer frame , and reflects upon what might have been , whilst remarking to her teenaged granddaughter,..."" ee!, I remember when I rolled me mini back into a big waggin here " , " an' you could go out an' leave yer door unlocked then , an' do the full week's shoppin' , have a couple of games of bingo , and still have change from ten bob ...........an' did I tell you about that time when I once rolled me mini back into a big waggin outside Woolworth's? "
Comments by RON HUNT, 10th August 2019
Ozy the year was 1972 it's on the original photo.
Comments by . Ozymandias ., 10th August 2019
Seems a bit odd that Ron , as the vehicle which I erroneously identified as being a Wolseley appears to be sporting a registration plate with the suffix B , which according to my source of information would appear to indicate that the vehicle was initially registered in 1964 . I harbour little doubt however that Mr X will provide us with the answer to the conundrum .

Regards. Ozy.
Comments by Ray, 11th August 2019
The car behind the Mini is a Riley, registered in 1964.
Same body shell as the Farina designed Austin, Morris,
Wolseley, and MG. Ray.
Comments by . Ozymandias ., 11th August 2019
Sorry Ron , my mistake , I misread your post reading the year as 1962 instead of '72 .
My apologies . Regards. Ozy.
Comments by DerekB, 11th August 2019
Ozymandiss, sadly, if the incident with the young lady (attractive or otherwise)occurred today there would be a good chance you would be met with a torrent of foul mouthed abuse from her and no acceptance of it being her fault.
Comments by Alan, 18th August 2019
B reg 1964 cars were still about in 1971.
Comments by Garry, 18th August 2019
The car behind the mini is indeed a Riley and the lorrie AEC.