| | | |
| --- | --- | --- |
| Ince | | Views: 490 |
| Ince Hindley & Westhoughton Turnpike Accounts for 1836 | | Comments: 4 |
| Photo: PF Item #: 31414 | | |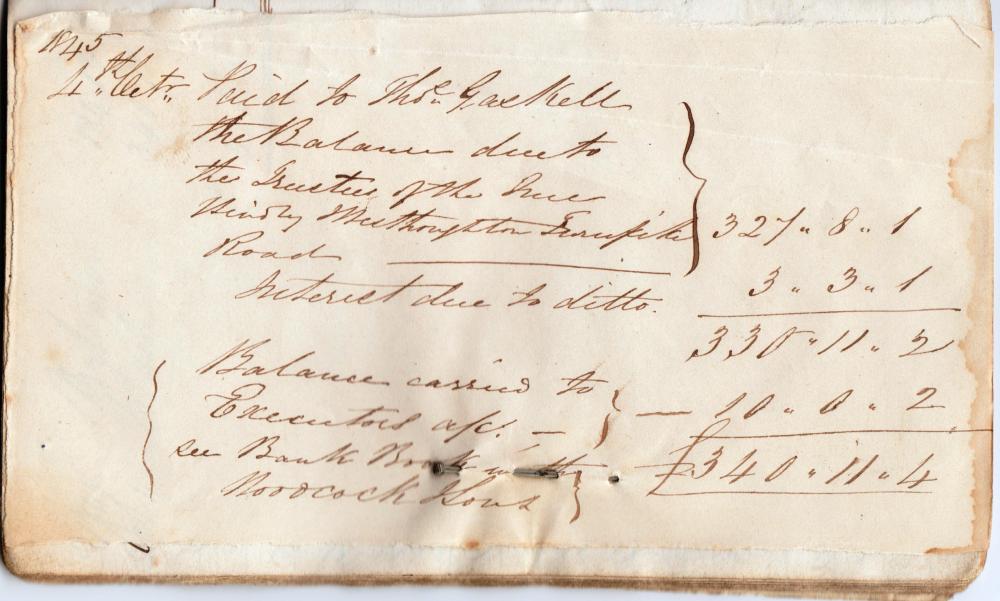 | | | |
| --- | --- | --- |
| | Image scaled down from 1000px to 601px wide | Click here, or click the photo to view original |
Found in the Account Book of William Gidlow, banking with Thomas Woodcock & Sons.
The Gidlow family owned various collieries and the New Hall Cotton Mill in Ince

It is possible that the turnpike started at Ince Bar (hence the name) and included Pennygate Toll House in Ladies lane (now demolished). It is also a possibility there may have been a toll gate at the Bird i'th Hand in Hindley.

From the late 17th century, Parliament increasingly took responsibility for repairing and maintaining roads from local authorities. Turnpike Acts authorised a trust to levy tolls on those using the road and to use that income to repair and improve the road. They could also purchase property to widen or divert existing roads. The trusts were not-for-profit and maximum tolls were set. The 'turnpike' was the gate which blocked the road until the toll was paid.
By the time the last was passed in 1836, there had been 942 Acts for new turnpike trusts in England and Wales. By then, turnpikes covered around 22,000 miles of road, about a fifth of the entire road network.

In 1836, William Gidlow was the Treasurer, Henry Gaskell (Clerk) and the surveyor was Richard Mather receiving annually £10, £10, and £15 respectively


Comments by Alan, 8th August 2019
Mm...nice to know!
Comments by Elizabeth, 8th August 2019
Yes I have heard th

Yes, I have been told before that there used to be a toll-gate at the Bird 'ith Hand and that a Jacob Hurst was the keeper.
Comments by chris southworth, 9th August 2019
The Ince, Hindley and Westhoughton turnpike was the main road from Wigan to Bolton, that is, the present A577 to the Bird ith Hand then the A58 up Castle Hill and on to Bolton via Westhoughton. There wasn't a tollgate at the bird,although there is a photo showing a gate. No tollgate is marked on the 1849 map. The tollgate was at the top of Castle Hill just past the junction with Sandy Lane. That is shown on the map. The Pennygate tollgate was a private toll because Hall Lane used to be a private road owned by whoever owned Hindley Hall through the years and the money collected helped to pay for the upkeep of the lane.
Comments by RON HUNT, 9th August 2019
Chris thanks for that interesting bit of info. Now that's got me looking into Wigan Toll Roads<g>