| | | |
| --- | --- | --- |
| Market Square | | Views: 1343 |
| Market Square | | Comments: 30 |
| Photo: RON HUNT Item #: 31347 | | |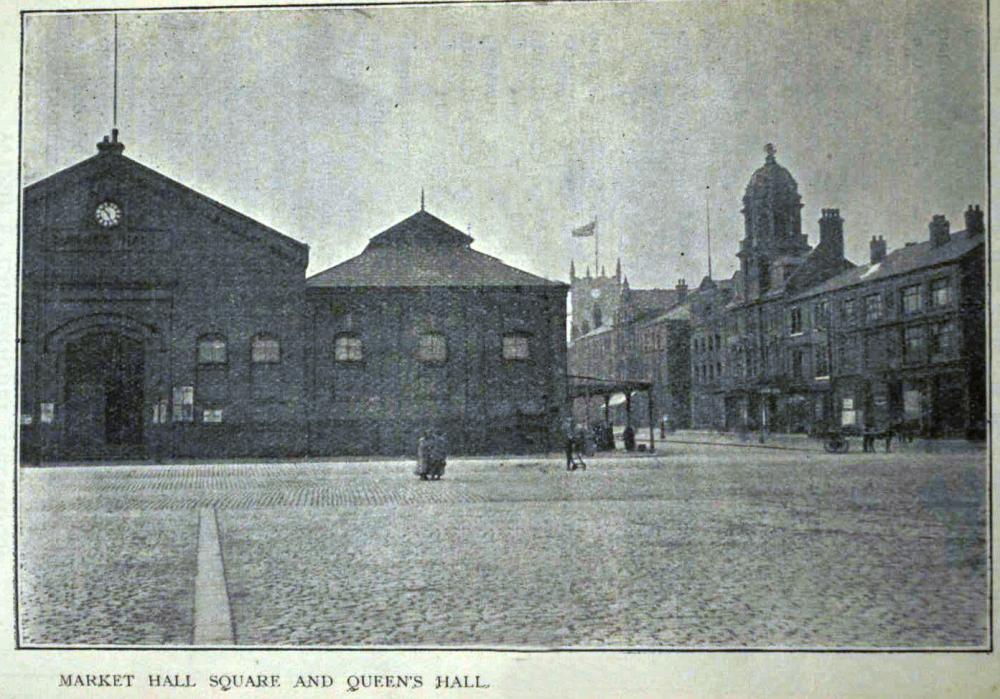 | | | |
| --- | --- | --- |
| | Image scaled down from 1000px to 699px wide | Click here, or click the photo to view original |
| | | |
| --- | --- | --- |
| | Picture taken from the 1901 Wigan Year Book | |
Comments by Veronica, 15th July 2019
It looks like it could be a Sunday it's so quiet looking and tidy. What a good space for 'entertainments' and suchlike considering what is there now - Morrisons which is now closed - it's such a waste of a good Market Square. Whatever were they thinking about! The Square at least could have been saved.
Comments by bewley, 15th July 2019
Set of buffoons Veronica.
Comments by Albert.S., 15th July 2019
On an earlier photograph of Market Street, Dave Lewis asked a question relating to a shown building, looking at this photograph, it could be a photograph of the Wigan Parish Church. Angles are deceiving.
Comments by Julie, 15th July 2019
Bewley , But which Ďbuffoons Ď allowed it to happen? Nowt to do with me as per usual . Itís always the same on WW , time and time again . If somethingís broke it wasnít me! This is what politicians do . Itís that bod over there , the chap with the cap . I was just checking the underside .. did you see it ? No , i was doing the step . You canít play hopscotch as well as having line out . WW has to stop blaming everyone, but not me !
Itís such a cop out , blame the Council, blame the Government, but nowt to do with me ! I was over there checking the chickens , which house was this ? Iím normally with ...
Comments by Veronica, 16th July 2019
If everybody had got petitions up, bombarded the Town Hall with protests, barricaded the Councillors in and held them to ransom - it's all hindsight Julie. It was meant to be progress and nothing would have stopped it. Anyway my generation was more concerned with the' Summer of Love'and 'Peace man'....and Flower Power wondering how they could raise the money for a ticket to San Francisco or tiptoeing through the tulips. The clever ones went to University away from Wigan and didn't come back! We were young and enjoying our youth! Anyway I should imagine all these plans went on behind closed doors. Probably the older generation ( all dead and gone) trusted the people concerned no doubt!! Did you protest Julie at the bottom of those steps... I doubt it girl...
Comments by Veronica, 16th July 2019
Ps don't be under the impression we were enjoying ourselves so much that we were work shy. I don't think there were many 'Doleys' about then, we enjoyed plentiful work . In fact going to work was almost a pleasure! ;@))
Comments by Helen of Troy, 16th July 2019
I would think that the answer would be be found in the planning offices of WMC. Not many of us have much say when it comes to planning decisions, we can only go so far Julie but not much comes of it in my experience. So in the end people just let.....THEM....get on with it.
Comments by bewley, 16th July 2019
Veronica, we tried to stop the Orrell link road but it`s still coming they just moved the goal posts and made it that you had to go to meetings held by the council within your own ward, it`s called divide and rule.
Comments by Veronica, 16th July 2019
Has there ever been a situation where councillors have backed down! It's a very long time since I lived in Wigan - just 50 years. But I still come to town to shop as Wigan is my spiritual home. In my experience Bewley - councillors are a law to themselves in most towns..
Comments by . Ozymandias ., 16th July 2019
I've already made my feelings known on the subject of the now non existent market square, so I won't elaborate on that one, but on the subject of work bordering on being pleasurable , then I'm prepared to admit that there have been occasions , most notably in the early days of my working life it has to be said , when I experienced difficulty in getting to sleep at night in anticipation of the pleasure of the following day's work .
Was it just Veronica and me that experienced this feeling ?....surely not.

It may sound a bit daft now, and to be honest, the feeling did pass after a year or two, but it was great while it lasted.
I just wish I could go back,..but then.. don't we all ?, as the only thing that interrupts my sleep these days is my prostate problem unfortunately

I often wonder what keeps the Snapchat generation awake at nights though.
Maybe it's the prospect of having do some kind of voluntary work in a charity shop in order to maintain their benefit status.......or could it be that they haven't received as many ' likes' on Facebook as they anticipated?.... or is that me being just a little bit unkind ? ........Answers on a postcard.
Comments by RON HUNT, 17th July 2019
I heard from a market trader there is talk of demolishing the Market Hall and turning the land into a car park.!!! I told him we had one 40 years ago, and they demolished that to make the Market Hall and anyway why a car park, who comes into Wigan shopping these days? The problem being the people who run Wigan Council have no affinity to the town and in a couple of years will be off to pastures new. I would like to find out how many of the people who run the council where born in Wigan.
Comments by Barrie, 17th July 2019
In reply to Veronica about "council backing down" the answer is yes! Here on the Wirral the Labour run council voted to spend £26 million pounds investing in "private golf course development in Hoylake. That was until this years local elections when they lost overall majority. The idea has now been scrapped. People power does work at times.
Wigan & Wirral have a lot in common regarding footfall in the town. Stores closing and the council wring their hands in despair but they won't drop the car park charges or restrictions to improve the situation.
Comments by Helen of Troy, 17th July 2019
Not just car parking charges Barrie but the owners of shopping malls (malls, what an awful word!) will not reduce rents & councils will not reduce business rates, they seem to prefer to leave units empty & because of that less people frequent these malls.
Comments by Veronica, 17th July 2019
It should work all the time Barrie - people power! Ordinary citizens know best..they know their own towns. Some of the councillors have sprung from nothing and rise up to make momentous decisions. There should be a system were votes are taken from ordinary folk who live in the towns about town planning and such. Not just voting for candidates at election time and trusting them to make the right decisions! I suppose that would be out of the question though as paradoxically that's why the candidates are chosen in the first place.! They can do whatever they want once they get in..,,
Comments by Carolaen, 17th July 2019
Helen. Without getting too political it's a myth that Councils set businessrares. National Government are threatened on the Valuation Office calculation. The Carmarthen collected by the local Council (who then get all the blame) but they have to send them all to central government in one big pot. They then generously decided mucho give back to each L.A. as a grant.
Comments by Janet ( jouell ), 17th July 2019
I left the UK 40+ years ago.. It breaks my heart to see the Wigan of today, it isn't even a shadow of what it used to be... All kind of entertainment,Pictures, Dancing, Theater, Loads of big name entertainers. You could buy anything from Prams, Wedding dresses, Fishing tackle, Molds and clay for pottery, anything you needed you could get it in Wigan.. It is a sad place with not much going for it now, unless you like sitting outside on the pavement drinking,or inside the pubs drinking, need a new phone or a cup of coffee.. That is all I saw in Wigan last time I was over...
Comments by Carolaen, 17th July 2019
Goodness knows what happened with my comments above ie Councils "threatened" and Carmarthen !!! etc. Combination of predictive text and typing on a tablet on a moving bus. Anyway the issue I was raising is that local Councils may well have a multitude of faults but Business Rates is fair and square at the Governments door. They set the rates and hand out the money as grants to LAs but make the LAs responsible for collecting. In other words LAs get all the abuse and yet have no say in what the rates should be or the ability to hang on to the money that's collected.
Comments by Maureen, 17th July 2019
Joelle,you've hit the nail on the head lass, the old character full Wigan is no more despite what some people think.the old Wigan was brilliant,I personally don't find any joy at all in going to our town centre.You only have to look at the cafes now to realise that it's all pretentious foodies that like to enjoy saying that they've paid a fortune for a meal...you have to find shoes in Supermarkets that are mostly rubbish,any one like you on a long awaited visit to Wigan is going to be very sad to see the state of our town..and I agree with you on everything you mention..it takes someone like yourself that's come home to see the change in our town,very sad.
Comments by Mick LD, 18th July 2019
Now let's be fair, Janet ( jouell ) - you're also well provided for in Wigan town centre, if you want a tattoo, a body piercing, 'vaping' equipment,or want to put a bet on.
Comments by Veronica, 18th July 2019
I suppose we should be grateful we've still got the Parish Church as a land mark! It's strange that's still standing ! Even Oliver Cromwell's cannons couldn't demolish that building. ( Yes I know only the tower remains of the original!) ;@)
Comments by Amanda, 19th July 2019
Here we have another 'how wonderful Wigan used to be' comments section. In the real world, the Market Hall was a nightmare. Every time it rained the wooden blocks used to rise up as water got in underneath. It was rat-infested and unhygenic as well. Shopping trends have changed over the years as we all know so the same shops that were around in the 50s and 60s lost their customers to specialist 'out of town' shops (fishing tackle) or supermarkets which paying lower rates could cut their profit margins. If everything had stayed the same, prices would be around 20% higher because small shops in the town centre would have had to charge more to cover their costs. That is life. I agree that losing an open space like the Market Square was wrong and it should have been relaid in cobbles again and kept as the open market area and for special events. It would not surprise me if they did knock the market hall and even the Galleries down and put some other useless building up because nobody actually puts a proper plan in place. Councillors are not qualified to make business decisions regarding rents (market stalls) etc so the system we have in this country is far from ideal. As stated above, business rates are set by central Government and the council have to work with what they are given. The recent spate of store closures are usually down to high rents charged by property companies who don't have the sense to reduce rents and fill units. It has always been the British way to increase costs rather than be creative. Wigan is just like anywhere else outside of tourist areas (except Blackpool which is a mess too). Old Wigan was just as bad as current Wigan. Town planning has always been a hotch-potch and I doubt it will ever change.
Comments by Veronica, 19th July 2019
I am sure the old Wigan is still preferable to today's Wigan - no contest! They wouldn't even have had to re-pave the Market Square - the stone cobbles/sets last centuries - they can still be seen in many European towns and cities after hundreds of years wear and tear. Opinions differ of course but this forum is about old Wigan and the more old photos are posted the better. It's all about remembering - a useful and historic record, as opposed to a soulless and empty town... Similar to many others up and down Britain sad to say.
Comments by Albert.S., 19th July 2019
Lots of comments are reminiscent of the old adage. All of the people will agree with you some of the time. Some of the people will agree with you all of the time, but not all of the people will not agree with you all of the time.
Comments by Veronica, 19th July 2019
Very wise Albert...we wouldn't be human if we didn't disagree.,
Comments by Julie, 19th July 2019
Far simpler Albert . Some people like change , others donít . I am more concerned by Wigan being left behind . Itís not really the land of opportunity for our young people either is it . So , where do we want Wigan to go in the future? Do we isolate ourselves as this little northern industrial town of the past ? Historically, I donít think even the Romans really landed on it , just maybe went though it . My understanding it was an area of some land settlements , but nothing really to shout about . Correct me please do . I think the name Wigan was a Celtic name from somewhere, but even those that study this are not sure . So why would even tourists bother coming to Wigan which would boost Wiganís growth .
Maybe , we donít want Wigan to grow, just remain as it has always been .
I realise that this is a forum for memories and times of the past , but where does Wiganís future fit it that . My basic knowledge of economics, which is zero , tells me Wigan needs investment to grow , or it is going nowhere .
The pictures posted on here are a historical record to value , because they show our experience of the past . History , is there to learn from . This is fine, but it seems we want to keep our thoughts and projections in the past instead of having expressions where we want Wigan to go on the future .
Are we a town of the past going nowhere just treading water in the past ?
What industry do we want to build in Wigan ? How do we change Wigan so people from across the globe decide to visit us . Do we want shops with only Wigganers inside ? Do we honestly want build a Wigan where children are born in Wigan then die in Wigan , with the knowledge nowhere else exists ? Enlighten me Wiganners. Yes , this is a forum for memories of the past ! But, share with me for a moment , where you see Wiganís future going . Where is the investment needed going to come from for its growth . Where should that investment go ? Or is the answer just stay in the past of remember . Many on here will have grandchildren and great grandchildren. Forget your concerns for IHT . For their sakes , urge them to leave Wigan forever . They will never look back and thank you for it . Wigan , Iím sorry , is going absolutely nowhere! The whole concept of this forum is massively for the past , with nothing for the future . Yet , all claim to love Wigan . I am of the same age as many on here and hold the same memories. But , I also want the Wigan I love , to go forward into the future and succeed. We can only do that by bringing massive investment into Wigan . You cannot do that with an attitude of negativity and holding your entire consciousness in the past .
Comments by Veronica, 20th July 2019
It's Wigan Council you need to get in touch with Julie as Wigan World can't sort it! It's still in the same place down Library St or the Glass House Library might be able to help. Good Luck !
Comments by Maureen, 22nd July 2019
Julie,as Veronica says and I agree that this forum isn't for you..I really do not know why on earth you read the comments if they rankle you so much.please do as has already been suggested and get in touch with Wigan Council..this forum isn't for you.
Comments by Poet, 22nd July 2019
Speak on Jools . I tend to disagree with you but that don't make me right. Regards
Comments by Veronica, 23rd July 2019
There used to be a man who stood on Lord St Southport who held a placard with dire warnings on it - a lot of it was mumbo jumbo....he persisted till he was hoarse and blue in the face for a long time,until a day came and he was no longer there. I never saw anybody stop to listen.....You can listen to a message a few times until it becomes so tedious it's irrelevant...it's almost like 'Brexit'! It seems to be politics, politics Julie, it's the same thing over and over again - why not go with the flow and be a bit more nostalgic. Most of us are pensioners too old now for rattling our sabres and looking for investors to rescue Wigan and whatever else you suggest - that's my opinion anyway. If I was as concerned as you are about Wigan I would join the party I voted for and voice my message there.
Comments by . Ozymandias ., 27th July 2019
There used to be another bloke in Southport as well that I remember . I was only about five or six at the time but I remember him quite clearly . He was an elderly chap , but then , when you're only five years old , everyone seems elderly don't they ?
He used to sit beside a small sand dune at the end of that narrow sandy path, the one that used to run alongside the old wooden Big Dipper.

The first time I saw him was when they took us kids on a bus outing from infant school in the very early 50s. It may have been the year of the queen's coronation thinking about it , as I remember stopping on Ashurst Beacon and watching a Boy Scout running round and round a big pile of wood that was waiting to be lit to form a line of beacons across the country.

Both of the poor lad's legs appeared to terminate at the knee joints and his trouser legs were pinned back with safety pins.....I'm talking about the chap in Southport here by the way, not the Boy Scout ,... pay attention !....so I assume he must have been a veteran of one those wars that were meant to prevent us from being bossed about by foreign powers....but let's not go there again eh?

He used to fashion relief models of animals in the damp sand of the dune that he sat beside , decorating them with glass rhinestones , and the teachers would drop a few pennies into his cap.
I wonder if anyone else remembers him ?

Nothing to do with Wigan market square I know....I'm just saying , that's all.