| | | |
| --- | --- | --- |
| Market Place, Wigan | | Views: 617 |
| Market Place Map after 1870 | | Comments: 6 |
| Photo: Keith Item #: 31341 | | |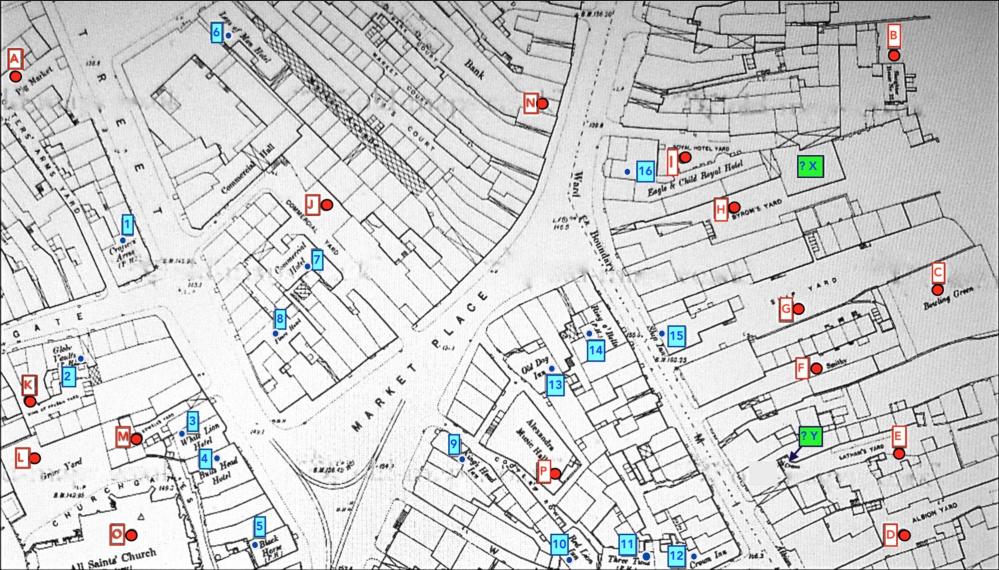 | | | |
| --- | --- | --- |
| | Image scaled down from 999px to 570px wide | Click here, or click the photo to view original |
A map of Market Place, part of Market Street, Standishgate and Millgate, Wigan from around 1870. I have listed the pubs, although there were many others in the town, also the various yards and one or two other features.

1 Crofters' Arms
2 Globe Vaults
3 White Lion Hotel
4 Bull's Head Hotel
5 Black Horse
6 Legs of Man Hotel
7 Commercial Hotel
8 Fleece Hotel
9 King's Head Inn
10 Red Lion Inn
11 Three Tuns
12 Crown Inn
13 Old Dog Inn
14 Ring o' Bells
15 Ship Inn
16 Eagle & Child /Royal Hotel

A Pig Market
B Slaughter House no.22
C Bowling Green
D Albion Yard
E Latham's Yard
F Smithy
G Ship Yard
H Byrom's Yard
I Royal Hotel Yard
J Commercial Yard
K King of Prussia Yard
L Grave Yard
M Cowell's Yard
N Bank
O All Saints' Church
P Alexandra Music Hall (later The Empire)

?X Site of Wigan Theatre?
?Y Cross? word not clear

The fish stones are absent, they were taken away in 1866, and the old Town Hall is also absent, this was demolished in 1869 so the map is later than that date.
Comments by Albert.S., 14th July 2019
It would seem, by the write up relating to Mr William Simm, that when this chart was made, the Town Hall, and Police Station had already been constructed in King Street.
Comments by Mick LD, 14th July 2019
Albert - the King St town hall/police office was built 1866 - 1867.
Comments by JJP, 14th July 2019
What year was Station Road created, anyone know ? can't see it on this map !
Comments by GeorgeB, 15th July 2019
The Market Hall was built in 1877, so perhaps the maps dates from around 1870 up to 1877.
Comments by Albert.S., 15th July 2019
Mick.L.D. When they built those buildings Mick. They built them to make them last. When were those buildings vacated?. It seemed quite a while for them to be demolished. Has anything been erected since they were demolished?.k
Comments by Bob, 27th July 2019
It's the OS 1890 1:500 map series