| | | |
| --- | --- | --- |
| View from Swinley 1828 | | Views: 1316 |
| View from Swinley 1828 | | Comments: 25 |
| Photo: Keith Item #: 31265 | | |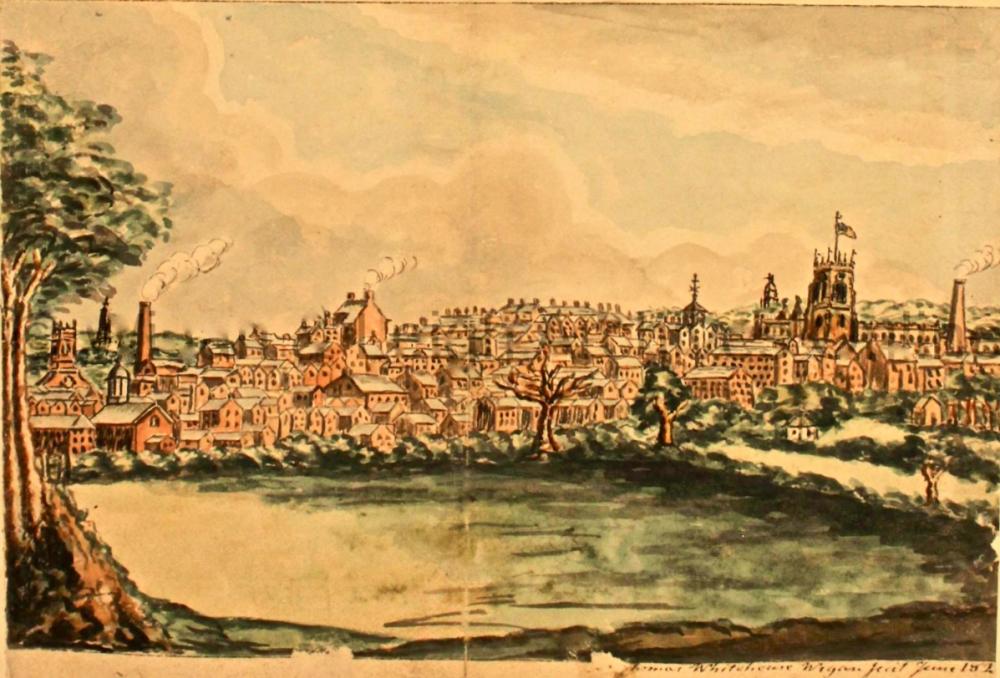 | | | |
| --- | --- | --- |
| | Image scaled down from 1000px to 678px wide | Click here, or click the photo to view original |
Courtesy of the Wigan and Leigh Archives Online, archives.wigan.gov.uk
This is a view from Swinley, sketched by Thomas Whitehouse in 1828, nearly 200 years ago. He has a number of Wigan views from that time and they were published in a book in 1829. Many are to be seen online at the above link.
Comments by Veronica, 12th June 2019
It looks very crowded for the time.. With regards to housing. Fascinating picture though.
Comments by Keith, 12th June 2019
Veronica, the population of Wigan at that time in the mid 1820's was around 65,000, not far from the population I understood it to be in the 1950's of around 70,000. So the town was pretty well developed at that stage I would have thought.
Comments by Mick LD, 12th June 2019
Looks like the artist may have painted it from the reservoirs that were in the Coppull Lane/New Lodge areas in the early 19th c.
Comments by GeorgeB, 12th June 2019
I believe those reservoirs were originally constructed to provide water for Haigh Hall.
Comments by Mick LD, 12th June 2019
GeorgeB - the reservoirs were actually part of the Wigan Water Works, which were established in the 1760s, by Act of Parliament.
The supply depended on natural pressure, and a report from the early 19th century stated 'the supply therefore, is seriously deficient in quantity'.
Comments by Keith, 13th June 2019
Don't know if this helps, but in Donald Anderson's book on the history of Haigh Hall he writes. "Piped water was brought to Haigh in the middle of the 18th century from a reservoir constructed in Coppull Lane Wigan by a private Company, which also supplied those who were willing to pay for it in Wigan. The pipes were of elm, consisting of 6 foot (2 metre) tree trunks bored through the centre. Some of these were dug up in Wigan Lane during the 1930's. £32-19-7 (about £7,000 in today's money) was paid on account of the water works and on January 10th 1749 Thomas Entwistle was paid 2 shillings and six pence (about £30 in today's money) 'for damage done in his meadow by bringing the water to Haigh' . Nothing is mentioned of pumps which would be required to force the water up to Haigh.
Comments by Keith, 13th June 2019
I'd like to add to my previous comment having seen this also in the Wigan and Leigh Archives. I wonder if this could be the same "Thomas Entwistle" living in Wigan described as, Fiddler, Painter and Engraver, father to Thomas Entwistle who was also a Fiddler and married Miss Mellon, mother to Miss Harriot Mellon who was a performer of boys and girls characters on the stage at Wigan. As she grew to woman's estate she was introduced on the London boards by Mr Sheridan. Mr Coutts the rich Banker who married her. When he died he left her a large property and she became Duchess of St Albans."
From the web the following...Harriot Beauclerk (née Mellon), Duchess of St Albans (1777?-1837), Actress and banker. "As the illegitimate daughter of travelling actors, Harriot Mellon's beginnings were humble, and in her youth she too entered the theatre. Widely admired for her beauty, she attracted the attention of the wealthy banker Thomas Coutts. She became his mistress and when his wife died they married. This made Coutts's family furious. Despite criticism, they were happily married, and when Coutts died ten years later Harriot inherited his vast fortune and his partnership in the bank. Harriot married the Duke of St Albans in 1827, but on her death she left her fortune to Angela Burdett-Coutts, the granddaughter of Thomas Coutts. With this money, Angela was to become one of the greatest philanthropists of the Victorian age."
Two portraits and a cartoon of Harriot follow this description which also seems to indicate that the Entwistle's must have been using their violin skills on the stage.
Comments by Mick LD, 13th June 2019
Thanks for that Keith.
The original waterworks came about as a result of a private Act of Parliament, after the matter was raised in February 1764, when Parliament was told the inhabitants of Wigan were 'greatly distressed for want of good spring water'.
This was to be remedied by piping water from a 'common called Wigan Lane'.
It was ordered 'That leave be given to bring in a bill for supplying the Borough and Town of Wigan in the county of Lancaster with fresh and wholesome water'.
The supply piped downhill to the town was often poor and spasmodic, so heaven knows how they managed to get it so great a distance uphill to Haigh, but it certainly looks like they did so.
Like you, I have been unable to find any record of pumps being used.
Comments by Cyril, 14th June 2019
With the position of All Saint's church on the sketch couldn't this be the lodge at the side of Pagefield mill and rear of Mesnes Park.
Comments by Jeff, 14th June 2019
Cyril. Pagefield/Rylands mill and the lodge next to it weren't built until forty years after this picture was painted.
I have a copy of this and The original uncropped painting has the title "Wigan Lancashire from Swinley" written at the bottom of it by the artist.
The two tall buildings that can be seen to the left of the parish church are the old town hall and the old Moot Hall. If the painting had been done from the location you suggest, the view of them would be more or less blocked by the parish church.
Comments by Kevin, 14th June 2019
Mesnes Park wasnt there when this painting was done. There was a pit there.
Comments by Veronica, 14th June 2019
Does anyone know what church the one on the left of the painting is?
Comments by Cyril, 14th June 2019
So if it hasn't been sketched from around what is now the rear of Mesnes Park and is sketched overlooking New Lodge and Coppull Lane then all those buildings would be of Whelley and Scholes, otherwise if sketched from the Whelley side All Saint's church would be on the left, unless it was the artistic license of Wigan from Swinley.
Comments by RON HUNT, 14th June 2019
The original drawing has 'WIGAN FROM SWINLEY' written on it.So it was probably drawn from round about the location of Rylands Mill looking at the location of the Parish Church
Comments by Jeff, 14th June 2019
Cyril. If you were standing at the top of Coppull Lane, near where the Swinley pub is now, looking due South, this is the view you would have. Scholes and Whelley would be over to your left across the Douglas Valley.
Look at a map, or look at the view across Tesco car park, which is more or less on the same bearing.
Comments by Cyril, 14th June 2019
If it was sketched from the location of Coppull lane then it would show St George's church which was built in 1781 and also the rear of St Mary's church built in 1818, neither of these can be seen nor can the course of the River Douglas. Compare this photo from off The Album showing the location of All Saint's church from the boer war statue.
Comments by Cyril, 14th June 2019
I didn't put on the link to the comparable photo on my other post: http://www.wiganworld.co.uk/album/photo.php?opt=5&id=14551&gallery=Mesnes+Park&offset=40
Comments by Veronica, 15th June 2019
So would the church steeple be St Catharine's to the left. I believe it dates back to 1813 or so. I can't make out which church the other is.
Comments by JackH, 15th June 2019
Veronica - work started on St Catherines in 1839 and the building was finished and consecrated in 1841.
Comments by Keith, 15th June 2019
Hi Veronica, I thought St Catharine's Church was built around 1840, the school (which I attended) a year or two later, so I checked on Wikipedia which states, "The church was built in 1839–41 and designed by the Lancaster architect Edmund Sharpe. It was a Commissioners' church costing £3,180 (equivalent to £280,000 in 2018)". It seems then that the church came 10 years after this sketch.
Comments by Chris, 15th June 2019
1841 St Catherines celebrated its 150th anniversary in 1991.
Comments by Eric, 15th June 2019
Could that be st michaels Veronica.?
Comments by Chris, 15th June 2019
St Michael's was only built 50 years after this was painted and was in the opposite direction anyway . Its site would have been behind the artist.
Comments by Kevin, 15th June 2019
St Michael's wasn't there then and if it was it couldn't be on this picture because its in opposite direction.
Apart from anything else St Michael's is higher up than parish church. According to map contour lines its 20m higher.