| | | |
| --- | --- | --- |
| Aspull | | Views: 935 |
| The Painted Lady | | Comments: 11 |
| Photo: DTease Item #: 31256 | | |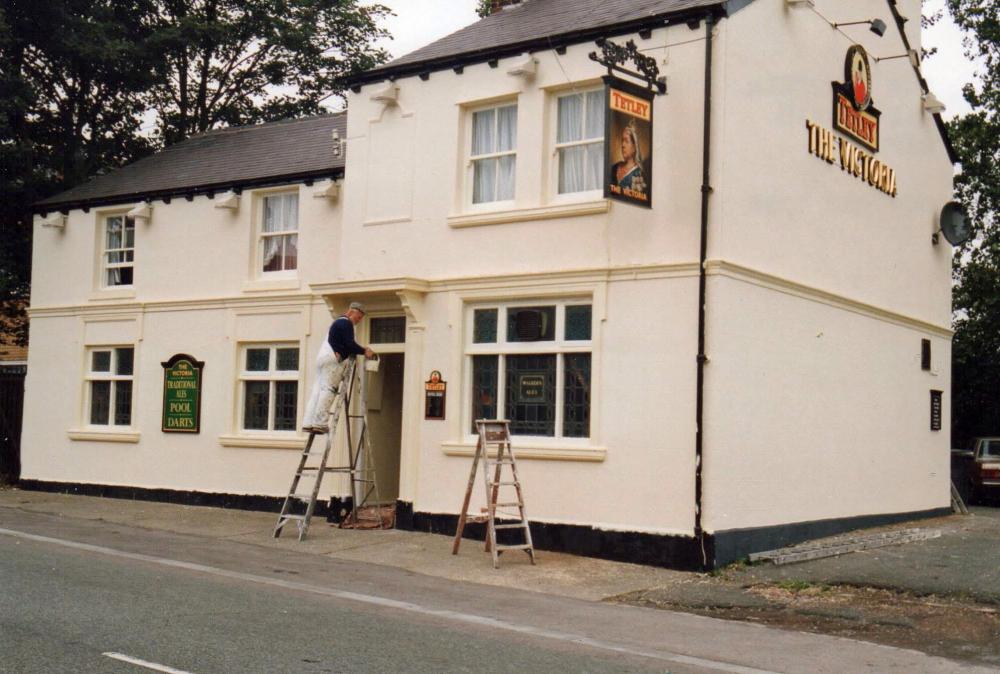 | | | |
| --- | --- | --- |
| | Image scaled down from 1000px to 674px wide | Click here, or click the photo to view original |
The Vic, Haigh Road, Aspull gets a coat of paint.
I suppose the Huntsman on the sign wouldn't be politically correct these days.
Comments by Veronica, 5th June 2019
It's much nicer than the other 'Old Vic'! Doesn't look like there's anybody rushing about 'wannin' to tawk to one anovver'!
Comments by Eddie, 5th June 2019

This pub holds many pleasent memories for me from the late fifties.
Comments by Poet, 7th June 2019
Huntsman! I'd always thought that was Richard Tauber.
Comments by philip gormley, 7th June 2019

Aye, Poet, . . . The monocle.
Comments by Poet, 7th June 2019
Whilst on the subject of single vision Phil, it's sad, is it not that yet another British icon as disappeared under the yoke of political correctness?
Apparently , Tetley were so terrified that anti-hunting protesters would boycott their pubs it was decreed Joshua had to go!
Perhaps, if the powers could have seen beyond the darkness of their one track minds they may have rebranded him as Herr Tauber , and watched the hoards of light opera fans flood in to sup their undoubtedly delicious ale.
Comments by Philip G., 8th June 2019
It's a great pity that that the portly image of Joshua's jolly toper had to go, Poet, as it was instantly recognisable and to an artistic extent appealing. But let's not get too disconsolate about the old boy's departure and, instead, muse on what could have been. Aye, What about 'Saturday Night at the Queen Vic' - Starring Herr Tauber!'. What a Rave that could have been, in fact, I imagine him now, singing those wonderful songs 'We'll Gather Rhodo's In the Plants Again', 'The Whispering of the Haigh Plantations', and his finale ('my hankie at the ready') 'Adieu Mein Kleiner Gardeofizzier'. Oh, for those nights when cigs were Cool.
Comments by Poet, 8th June 2019
And a rendition of 'do you ken John Peel' as a rousing finale and tilt to the brewery perhaps Philip.
Comments by Philip G., 8th June 2019
Ah yes, Poet, the offered brew more palatable by far.
Comments by DTease, 8th June 2019
Philip, you bring back shades of Josef Locke singing 'The Goodbye Song' and all the audience waving him off to fight the 'Foreign Foe' with their hankies.
Comments by Philip G., 8th June 2019
That's the song, DTease! . . . Adieu Mein Kleiner . . . . Well done!, Sir.
And, like yourself, I've witnessed the hankie-waving as the song was being sung (In the now extinct Billinge 'Legion). What a night that was! And what a song!
Adieu da da, da da d . . . Oh, you're getting me going now, shipmate.
Comments by nyce horse, 9th June 2019
Tenants on notice, sold to a developer.