| | | |
| --- | --- | --- |
| New Springs | | Views: 665 |
| Turn left for Leeds | | Comments: 10 |
| Photo: DTease Item #: 31239 | | |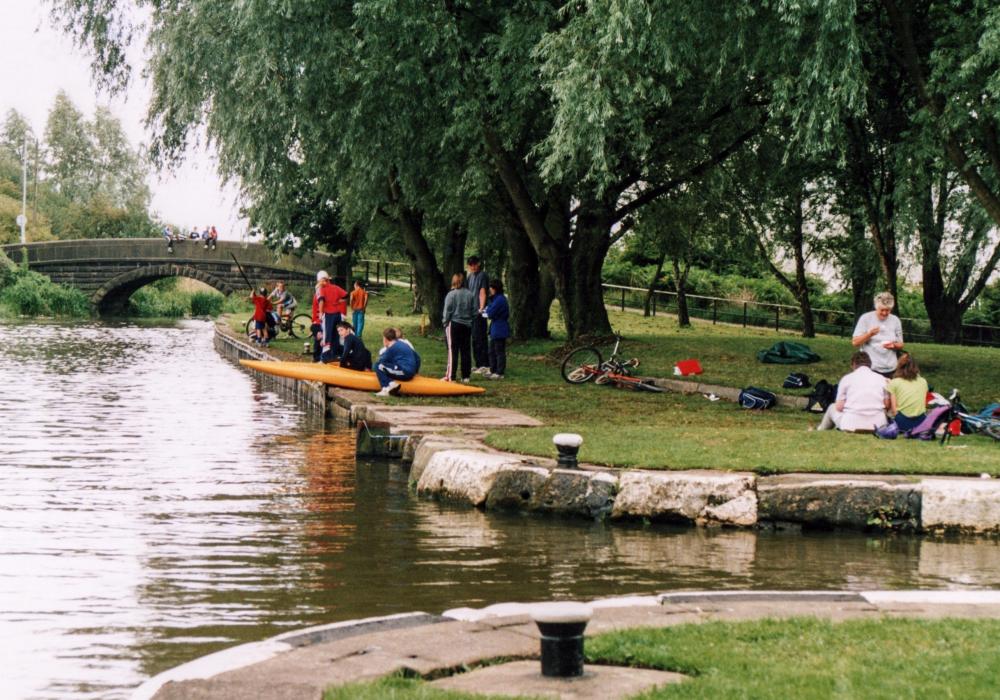 | | | |
| --- | --- | --- |
| | Image scaled down from 1000px to 700px wide | Click here, or click the photo to view original |
| | | |
| --- | --- | --- |
| | I like the kids sat on the bridge. Haven't we all sat on a bridge like that dropping stones into the water and watching the ripples spread out? | |
Comments by Philip G., 30th May 2019
We probably all have DTease. And the young lad wearing a crimson Tea shirt? . . . I'd like to think that he'd been setting-up his fishing tackle, un-aided.
Comments by Mick, 30th May 2019
Plenty of water in the canal as well
Comments by Poet, 30th May 2019
I'm reminded of the public information films focusing on teaching youngsters to swim.
' I wish I didn't keep losing me birds'.
' Then learn to swim young man. Learn to swim'!
Best not mention a certain bearded Antipodean.
Comments by Philip G., 30th May 2019
Poet.
Remember the TV 'ad' in which the young chap confessed to being a non-swimmer, and the young lass then telling him 'You're not my scene man'. Poor lad.
Comments by . Ozymandias ., 31st May 2019
In common with most on here, I've passed this point on numerous occasions, mostly either on foot or by bicycle, but occasionally, in the distant past, by boat, propelled in a forward thrusting motion by the ubiquitous bomb proof Seagull two stroke outboard motor...( good old Seagull,... good boy,....SIT! )
Ron Dawber's recent photo reminded me however of an incident that occurred in the mid 70s when I was pulled by the plod just around the corner from this spot for riding my Kawasaki KL 250 motorcycle on the towpath, in contravention of local bylaws, for which I received a fine of ten pounds. A sum which at that time would probably have provided the deposit for an apartment in Acapulco with a bit left over for a couple of Piña Coladas.
I uncomplainingly rendered the fine unto Caesar however, notwithstanding at that time I was completely unaware that it was an offence to ride a motorbike on the towpath, and that furthermore, I'd unwittingly strayed onto said towpath in an erroneous attempt to regain my ancestral homelands several miles west of Wigan, in the wild and rugged Savannah beyond Stubshaw and Bryn. A land they call Xanadu.
The really galling part of it all though, is that the very same week, the road manager for the Three Degrees, who at that time was up on a charge of attempted murder, had his case dismissed on some technicality or other.
.....i.e....I got done a tenner, whereas he got away Scott free. ( where on earth does that term come from by the way ?).
So I'm guessing that the difference between guilt and innocence all boils down to little more than whatever one decides to plead....Would that be correct?
Comments by DTease, 31st May 2019
Happens all the time Ozy, obviously you forgot to wear your Pinny and roll up your trouser leg before presenting yourself in front of the Magistrate. If you had he would have known that you belonged and you would probably have got a commendation for doing your public spirited duty by patrolling the canal bank.
Comments by . Ozymandias ., 31st May 2019
I " suspect " that once again you're probably correct DTease. Unfortunately in those days I was a mere trusting innocent who hadn't as yet stumbled upon his theory of extraterrestrial governing forces. Even today, I'm not exactly ' on the square ', as it were, and probably never will be as a result of my recent diatribe regarding external ruling bodies, I therefore don't see that there's much point in me hanging around waiting for the postman to arrive in the morning to deliver my invitation to join that illustrious circle.

All the best mate. Oz.
Comments by Julie, 1st June 2019
Ozy, Pure delight!! Some people can just flick off a sentence and take the reader to another world.
Comments by Joe Harrison, 2nd June 2019
Am I right, or wrong, in thinking that this is the entrance/exit point for the old Wigan Rowing Club.
Comments by DTease, 6th June 2019
No Joe, this is Top Lock, New Springs where the canal comes up from Wigan to join the Lancaster Canal. Under the bridge only goes for a short distance and is known locally as "Th'owd arm". Turn left for Leeds.