| | | |
| --- | --- | --- |
| Plantations and Plantation Gates | | Views: 1149 |
| When you need to think. | | Comments: 18 |
| Photo: DTease Item #: 31232 | | |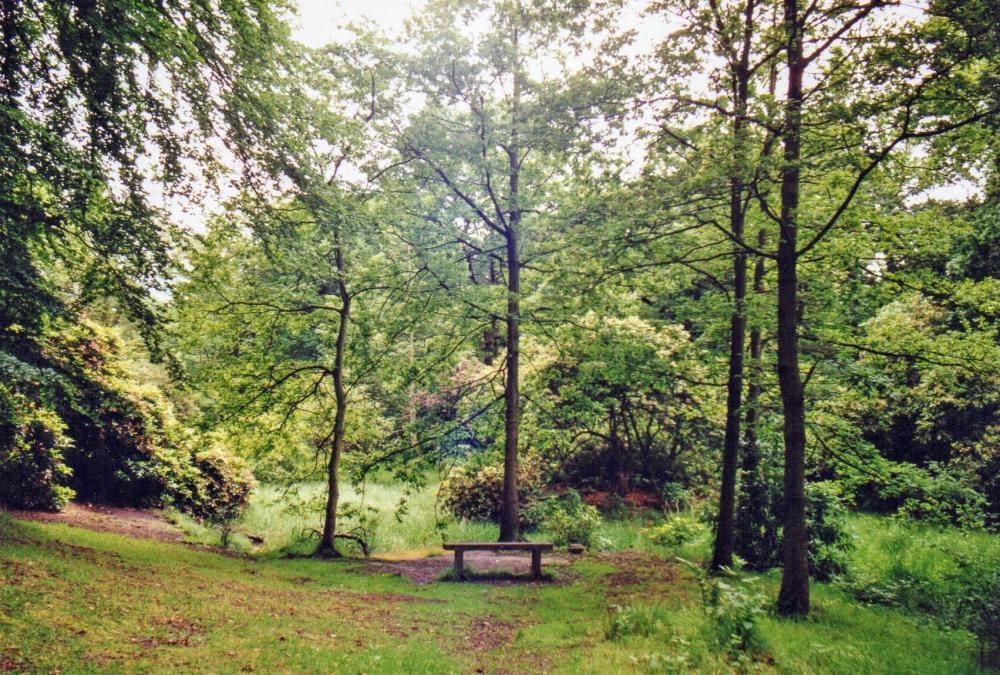 | | | |
| --- | --- | --- |
| | Image scaled down from 1000px to 675px wide | Click here, or click the photo to view original |
| | | |
| --- | --- | --- |
| | A place for quiet contemplation - Lower Plantations. | |
Comments by Maureen, 23rd May 2019
At peace with the world...can't beat it.
Comments by Veronica, 23rd May 2019
Yes green is a very calming shade - probably why Actors and Luvvies retire to the Green Room in between scenes....It's a hard life learning all those lines! I remember when we had a Shakespeare production ( best not go there!) :0))
Comments by Maureen, 23rd May 2019
Just imagine if all the trees all over the world were a different colour,we'd probably all be raving lunatics.
Comments by Albert.S., 23rd May 2019
Many years ago, an elderly gentleman, who at that time was my neighbour, always classified the colour green, as Godís colour.
Comments by Veronica, 23rd May 2019
Well Maureen they do say there's 40 shades of green - I will find out if it's true as I'm soon to be visiting the land of my ancestors. Killarney, Dingle Peninsula, Trallee, Tipperary, the Ring of Kerry and Dublin. I will let you know....
Comments by Veronica, 23rd May 2019
Albert that must be true - that's why St Patrick was sent there!
Comments by Philip G., 23rd May 2019
Nice photo DTease. I think it safe to say that most welders will prefer their goggles and masks to have a green lens/s: The welder choosing the darkest shade (solar eclipses beautiful) of green first as he, or she, decides which will allow a clear view of the weld zone. Other colours noticed are 'red', and 'blue'.
Comments by fw, 24th May 2019
Marion sat with Robin , why Will sat in a tree.
Robin then kissed Marion, to which she said Glory Be.
I'm sorry did I shock you with my passion and desire
No tis yonder watcher whose eyes that spy on fire.
He watches for the Sheriff,
Well he will not find him 'ere so drop him with a arrow if you wish to call me dear.
But my love he's from the forest as green a wish to find,
Then tell him to sling his hook and not leave his rear behind.
Robin then shot an arrow that hit above Will's head
If tha throws another at me I'll chuck a brick instead.
Dear Will you are my brother would I wish a harm on thee
Tis may be the case but I tell thi I nearly fell from t tree.
Together we'd have caught you to fall on softly bed,
To which Marion replied , Oh Sod this I'm going home instead..
Comments by fw, 24th May 2019
ile sic
Comments by Elizabeth, 24th May 2019
I'm sure you will love it Veronica.My favourite is County Clare.
Comments by Veronica, 24th May 2019
fw may I ask - from where do you come - are you From Where? ;0)
Comments by Philip G., 24th May 2019
Nicely FW, and here's another for 'World's back porch.

Leave that 'shank alone my friend
And jolly Friar, round.
Please go and harvest yonder green,
Then swirl your pestle's pound.
My merry men are spit'n fithers,
And glum of deepened strop,
But Friar's ferment always lifts -
Come gracious Nettle Pop.
Comments by Veronica, 24th May 2019
Been there Elizabeth and Galway thanks.
Comments by Poet, 24th May 2019
I love how everyone gently swears in Ireland. Once in Galway I was served some soda bread at breakfast and enjoyed it so much greedily asked for more. When the waitress had disappeared a tiny old lady on the next table leaned across and declared, ' They never give yer enough fekin bread do they luv'.
Comments by Veronica, 24th May 2019
I love the soft Irish brogue Poet - and it's not too difficult to mimic! It must be all in the blood!
Comments by Albert.S., 25th May 2019
It is sometime very difficult to translate when someone uses a strong Irish. brogue, or any other brogue. This event was related to me many years ago, as to its authenticity I am not aware. The English driver, asked a gentleman of the Garda if it was alright to park his car in that particular place, in that road. The reply was in a strong Irish brogue. ď No, you canítĒ . The driver was somewhat confused, as to whether, or not, he had been insulted.
Comments by Veronica, 25th May 2019
The Northern Ireland accent is quite harsh - if you think of Rev. Paisley. I don't know why that is - unless it's something to do with a mix of 'English' and Scottish. I prefer the soothing tones of the South.
Comments by Ken R, 26th May 2019
Good for you Poet, you would never think of swearing in print.