| | | |
| --- | --- | --- |
| Plantations and Plantation Gates | | Views: 1409 |
| Bridge over troubled waters? | | Comments: 16 |
| Photo: DTease Item #: 31221 | | |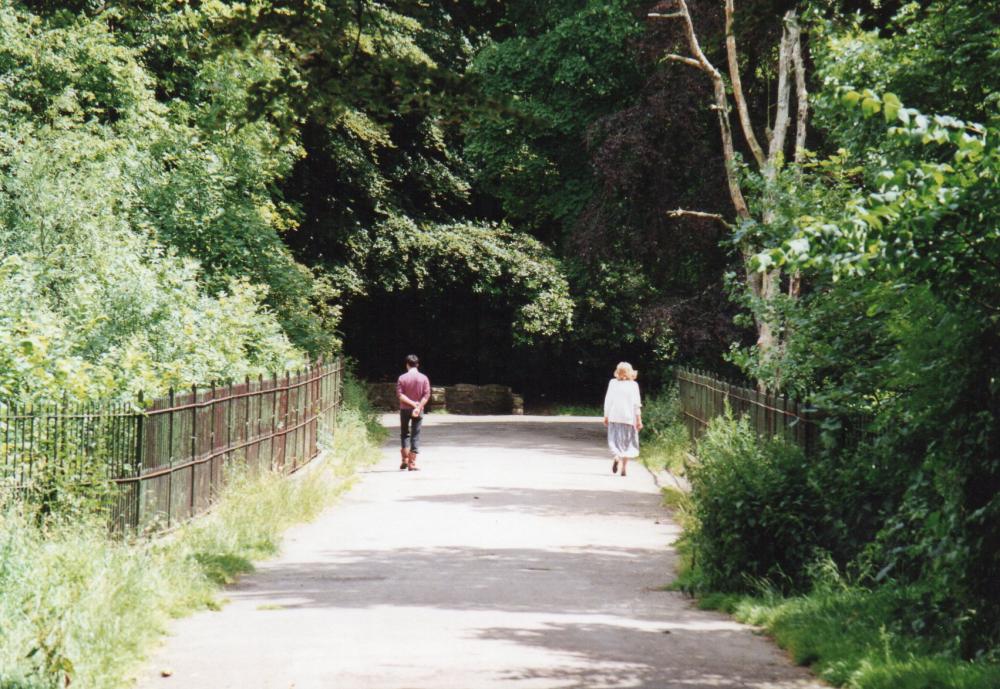 | | | |
| --- | --- | --- |
| | Image scaled down from 1000px to 689px wide | Click here, or click the photo to view original |
| | | |
| --- | --- | --- |
| | Bridge over the River Douglas, lower plantations 1993. | |
Comments by Helen of Troy, 13th May 2019
An apt title for the photo DTease !
Comments by Veronica, 13th May 2019
Wonder if they made up in the end, or did she tell him to take a running jump ( in't river) ! I think we've all been there.
Comments by Alan, 13th May 2019
???
Comments by John G, 13th May 2019
Do you ever get the feeling we are drifting apart. By the way you could have put your trainers on instead of those things.
Comments by Veronica, 13th May 2019
These boots were made for walking ..... And that's what they'll do.....
Comments by Philip G., 13th May 2019
My sorry words, you cast aside,
And hold your distant pitch,
As I of candour, early said,
Misread your mother's twitch.

Mother has so many friends
Yet nods when they're not there.
Now I, in soft shoes - open top,
Say "Give your boots some air!".
Comments by Ken R, 14th May 2019
DTease, this could provoke a world war if allowed to grow unchecked. Come on POET, get your brain going and help out.
Comments by Veronica, 14th May 2019
Don't know why there's no sun up in the sky,
Stormy weather,
Since my man and I ain't together
Keeps rain in' all the time......
Comments by Poet, 14th May 2019
What brain's that Ken?
Hope springs eternal and things are never as bad as they seem.
They merely stand apart that's all,
Like Scafell Pike and Scafell merely stand apart.
No matter what caused the sprawling gulf that lies between,
Nothing can erode those paths that link them,
Or of what has been.
Comments by GW., 16th May 2019
Call me a romantic but I'm thinking ships in the night . He's lost his car keys and she turned back seconds later to help him find them and his misplaced mojo.
Comments by . Ozymandias ., 17th May 2019
Several years ago when this bridge was lowered and strengthened,Wigan's cash strapped council removed those perfectly good railings and replaced them with...well...some more perfectly good railings, but at a cost of God knows how much.. A couple of weeks later, yon dead tree wot Camilla Parker Bowles can be seen dreamily strolling past came down in the gales and took out half of the new railings. Talk about joined up thinking....one couldn't invent it could one?
Comments by Linma, 17th May 2019
I think they don't even know each other they were just in the same place at the same time. But then we'll never know.
Comments by Julie, 17th May 2019
Ozy, Progress does not recognise if it ain't broke ! In Council's throughout the country you will have young people bursting with ideas to change things for the better . For them , it is far easier to knock down and start again .
You are thinking of 'your' mindset , not there's . The young of today are not looking back . They want modern everything, the latest gadgets.
Logic and common sense do not even come into it .
Comments by . Ozymandias ., 17th May 2019
Ah! Now those people must be some of the extraterrestrial infiltrators that I was speaking of Julie. Former inhabitants of the planet Zog, now mingling imperceptibly amongst us in human form, spending money that doesn't exist and ripping up the town centre every couple of years or so, only to replace it with something, well, pretty much exactly the same as before. Take the new bus station as an example if you like.
Just recently, the council advised me that there would be no increase in the council tax, but unfortunately, as the precepts had risen, I'd have to pay more. Work that one out.
Yes, the longer I live, the more convinced I am that the world is ultimately ruled by extraterrestrial beings, and the more convinced I become that David Icke wasn't quite as barking as some people would have us believe.
Comments by Poet, 17th May 2019
Parliament and the People out for a stroll.
Comments by Veronica, 18th May 2019
'Twas ever the saying ' you can't put a wise/old head on young shoulders' but you can reign 'em In just like wild horses!