| | | |
| --- | --- | --- |
| Ince | | Views: 1309 |
| Slag Tip-Ince. | | Comments: 13 |
| Photo: DTease Item #: 31196 | | |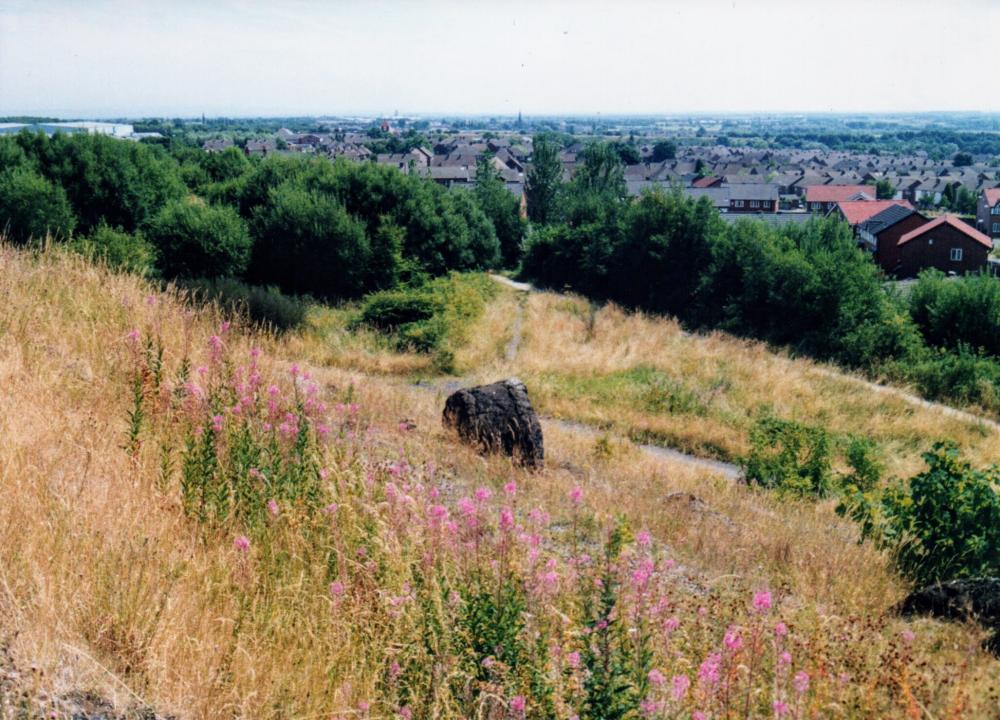 | | | |
| --- | --- | --- |
| | Image scaled down from 1000px to 720px wide | Click here, or click the photo to view original |
View from the Slag Tip across Ince and Hindley.
The path on the right is the trackbed of the former Whelley Loop Line. The path veering away to the left was a branch off the main line that went behind the Tip and up to New Springs.
The black lump in the middle is the slag that was left in the furnace after all the iron had been tapped off.
Comments by Albert.S., 5th May 2019
Many years have passed since this area was a vast industrious iron works, complex. Locally known as the. "Top Place".
Comments by Helen of Troy, 5th May 2019
My grandparents lived at Whiteley. My sister & I used to go down to the railway line across waste ground & there was a slag heap just a way up the line, you got a good view from it.
Comments by tuddy, 5th May 2019
The Rabbit Rocks.
Comments by Mick, 6th May 2019
Best view of Wigan from there
Comments by Barrie, 6th May 2019
In Scotland they are called Bings and some are now classed as historical monuments. In the late 1960's when I moved up to the Glasgow area to work on motorway construction I visited some of these Bings to see if they were suitable material as a road base. I had forgotten the name used until watching "Scotland from the Sky" Episode 3 on BBCiplayer a couple of days ago. There are a number of these sites to the west of Edinburgh from the old steel/Iron works as protected sites!!
Comments by . Ozymandias ., 6th May 2019
That's perfectly correct Barrie, they are called bings in Scotland. There are a number of them alongside, or if not exactly alongside, then quite close to the union canal near Broxburn. They have the appearance of burnt shale, i.e. red in colour. I've read that they are the residue following the extraction of shale gas, but I've also heard a more interesting story, the details of which elude me just now. I spoke to a local resident last year and he informed me, correctly or incorrectly, I wouldn't know, that many thousands of tons of this material was used as a base during the construct of the M8 motorway in the 1960s. You no doubt will be in a better position than I am to verify this.
Comments by priscus, 6th May 2019
Huge quantities of former Pearson & Knowles Coal & Iron Co. Ltd's red shale went from Ince Moss into the base of Preston Bypass (M6) in 1950's.
Comments by . Ozymandias ., 6th May 2019
Ah!, it's all coming back to me now, ( I've just googled it actually, but I did already know this...., honest). It seems that in 1851, a fellow by the name of James " paraffin " Young...(now who, I ask myself, in possession of all their faculties, wouldn't want to have paraffin as their middle name?........I wonder if it can be done online?), developed and patented the process of turning oil bearing shale into paraffin, and for a number of years,or so it would appear, Scotland, ( of all unlikely places ), was the major oil producing nation of the world. So, there you have it, there isn't anything new about shale gas is there? Incidentally, and as the opportunity just happens to present itself, the union canal from Edinburgh to Falkirk, a distance of some 30 odd miles, ( I can't be bothered googling it, I think it's 32 actually) has a total of no, none, zero locks, although it does have a number of acqueducts and just one solitary lift bridge. Just another useless bit of info.
Comments by DTease, 7th May 2019
Ozy, in the dim and distant past the better off folks where I lived had paraffin heaters in their bedrooms (Us poor folks had to make do with dad's ex-army greatcoat). The idea of the paraffin heaters was to raise the temperature a degree or two so that the bedroom windows didn't freeze up on the inside.
These better off folks got their paraffin from a chap called Pete. He was, has was declared on the side of his truck 'The Official Esso Blue Dealer' but he was known to one and all as 'Paraffin Pete'
Pete had been selling paraffin since he was de-mobbed after the war and, by now stank to high heaven of it, even when he wasn't working.
It wasn't his clothes that caused the problem because his wife was a very clean woman who washed and pegged out almost every day (Mrs Bradshaw, who lived next door) claimed that she would have done better to peg Pete out now and again to give him a good airing.
On sunny days a kind of shimmering, mirage effect would appear over Pete's head due to the paraffin in his body evaporating in the heat.
Sadly, Pete led a lonely life because people were afraid to get too close in case a carelessly thrown cigarette end resulted in a conflagration.
Pete died on Christmas Day 1956. Rumour has it that Pete, after over indulging on brandy, misjudged the distance between himself and the Christmas Pudding so that when the Pudding was lit....so was Pete.
The Fire Brigade was called of course, but despite valiant efforts on their part, the Pudding was ruined....and so was Pete.
I have been told by an impeccable source (Mrs Bradshaw) that despite a good degging down by the Firemen on the day of his demise, Pete continued to spontaneously self combust for another three days. Indeed, it was New Years Day before the Undertaker felt confident enough to put poor Pete in his box.
His wife, who didn't lack for a sense of humour ( and had a good Policy on him) had this epitaph carved on his gravestone.

HERE LIES THE BODY OF 'PARAFFIN PETE'
DIED WITH A PUDDING IN AN EXCESS OF HEAT
CHRISTMAS DAY 1956
Comments by Veronica, 7th May 2019
Hopefully Paraffin Pete is dug in extremely deep,
Imagine vaporous fumes that could still seep,
In the heat of day in a fluffy cloud,
A Vesuvian eruption with a bang so loud;
A graveyard covered in muck and bones,
As Earth gives up its secrets - leaving plots with no headstones!
Comments by Scholes Malc, 8th May 2019
Known to those on one side of the canal as 'The Rabbit Rocks' and to those on the others side as simply 'The Rockies'
Comments by priscus, 8th May 2019
WC&I Co must have tipped its slag as a 'solid' to leave these shapes. Is that unusual? I find no mention of it in Anderson's book 'Wigan Coal and Iron'.

When I have seen slag tipping, it has been molten slag, albeit with maybe some solid lumps where crust has cooled.

Both in Scunthorpe, and Ince Moss (former Pearson's site) the pourings have fused together as they have cooled. ie No ladle shape preserved in the form of a casting once cooled.
Comments by Alan, 9th May 2019
Known as the rabbit rocks because the rocks are in INCE.