| | | |
| --- | --- | --- |
| Alexandra Park, Newtown | | Views: 825 |
| Alexandra Park, Newtown, showing the lake. | | Comments: 10 |
| Photo: Tim Cooke Item #: 31024 | | |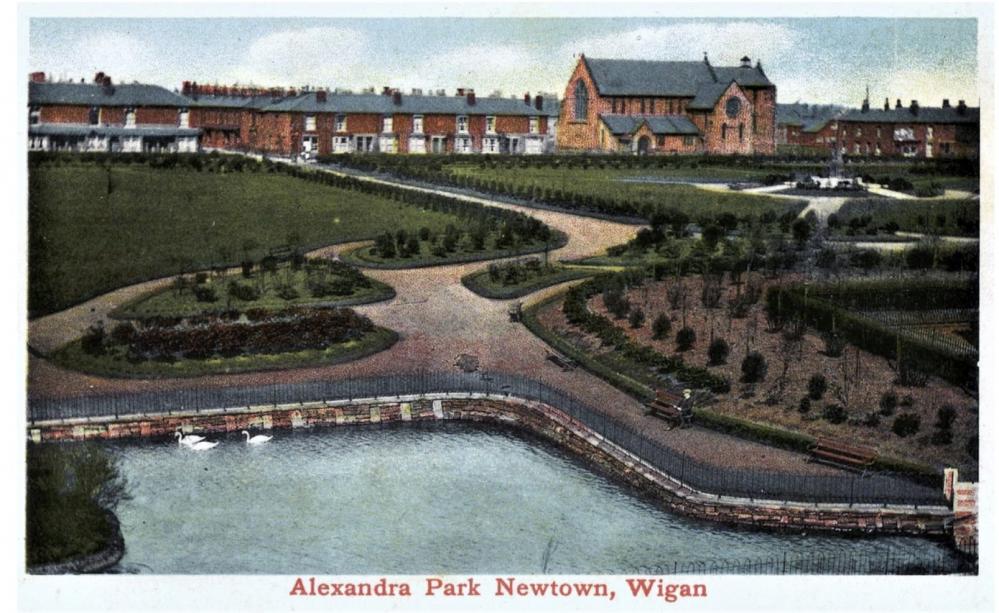 | | | |
| --- | --- | --- |
| | Image scaled down from 999px to 613px wide | Click here, or click the photo to view original |
Someone mentioned the park having a lake, I found this on an old hard drive.
Presumably late 1800's / early 1900's as again St. Marks church is without it's tower.
Comments by Helen of Troy, 11th March 2019
Can anyone name some of the streets in the background ?
Interesting pic, looks like a very new & neat park. My Dad would have known it as a boy.
Comments by Garry, 11th March 2019
For Helen. Stanley St, Norfolk St, Westminster St, Arundel St, Argyle St, Alker St, Manor St, Woolden St, Mitchell St and Harrowby St.
Comments by John Gaskell, 11th March 2019
Saint Marks Church Address: Victoria St, Wigan WN5 9BN
The lake may have been in the area now used for cycle ramp riding -- close to the railway line
Comments by Cyril, 11th March 2019
Yes Tim, that's the photo I saw, I'm more than sure it was in one of the Past Forward magazines of yesteryear, nice to see it again and on here for posterity.
Comments by Albert.S., 11th March 2019
I will curtail this comment, as I believe I mentioned it before. In 1974 one summer, very early morning. I was the duty sergeant doing a solo mobile patrol, in Rochester. I had the occasion to check a man walking his dog, adjacent to Rochester Borstal. He was the prison chaplain. It transpired that in 1962/63 he had been the curate at St Mark's Church, Newtown, when I worked the Newtown beat. His name escapes, so long ago.
Comments by Helen of Troy, 11th March 2019
Thanks Garry, a pretty comprehensive list. I will look them up.
Comments by Mark, 11th March 2019
Was there a little cafe in one of those streets in the 70's?
Comments by Keith Beckett, 11th March 2019
Albert

Would the curate have been a Mr Sanderson?
Comments by John Brown, 11th March 2019
Never knew it had ever had a lake. Great picture.
Comments by Albert.S., 12th March 2019
Kieth. It was just a fifteen minute natter, and such a long time ago. Our paths never crossed again.