| | | |
| --- | --- | --- |
| Leeds and Liverpool Canal | | Views: 1125 |
| Swinging | | Comments: 19 |
| Photo: DTease Item #: 30941 | | |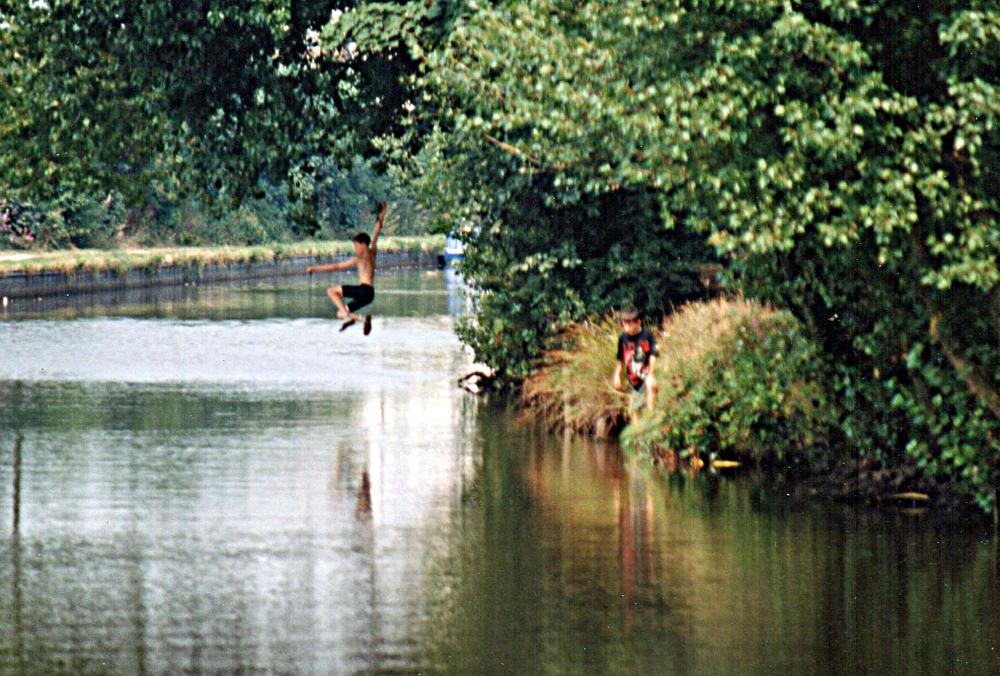 | | | |
| --- | --- | --- |
| | Image scaled down from 1000px to 676px wide | Click here, or click the photo to view original |
| | | |
| --- | --- | --- |
| | Two lads having a "Swinging" time down by the canal. Shades of Huckleberry Finn! | |
Comments by Alan, 11th February 2019
Very silly indeed.
Comments by DTease, 11th February 2019
We were all silly once Alan, and you know what, I wish I could be that silly again.
Comments by XPat, 11th February 2019
When I was a young lad, me and my mates walked absolute miles to bring back one single plank of wood for our bommie. How daft was that? It was like that film with Frank Sinatra and Sophie Loren but theirs was a cannon. Not one of us complained, it was just a case of task in hand and we enjoyed every single minute and laughed all the way home.
Thanks for the picture Dtease. I know where you are coming from..
Comments by Veronica, 11th February 2019
Looks more like a sleepy lagoon than the canal!
Comments by Poet, 11th February 2019
I saw it dangling in the glade. The big rope swing in Elnup Wood, gently swaying and creaking in the wind ; the gnarled stick tied to the end twirling like a beckoning finger. I looked at it for quite a while . Thinking about it. What if someone should see. Catch this silly old fool in such an embarrassing frolic. I paused and looked around. Waited for perhaps twenty minutes. No one came. I swear that moment of wanton sillyness was the most wonderful thing I've felt for years.
Comments by Alan, 12th February 2019
You can be if you jump in!
Comments by Helen of Troy, 12th February 2019
Dont be an old misery Alan !

Another wonderful full of life pic DTease.
Comments by walt ( North Yorks ), 12th February 2019
Over the years I have taken our grandchildren to the local swimming baths for their half hour lessons. They all doubt my words when I tell them that I was taught to swim in the canal, summer hols from school would be spent near the Green bridge diving, swimming -- you are right Dtease we were all foolish once, and I would do it all again given the chance.
Comments by Philip G., 12th February 2019
Geronimo!
Comments by Veronica, 12th February 2019
We all did silly things - and it would be great to repeat them- my silly thing was to 'have a go' on a scooter belonging to the grandkids my goodness they are really fast!. I scooted all the way down Leigh Rd in broad daylight! I enjoyed every minute and didn't give a hoot what anybody thought! The kids thought it was wonderful and they looked at me with 'fresh eyes' - they couldn't believe I did that....
Comments by PeterP, 12th February 2019
It is only when a section of canal is drained do you see the dangers beneath
Comments by DTease, 12th February 2019
Haaaa Walt, those hot summer days down by the Green Bridge! I remember them well. A T-Shirt, Jeans, a pair of pumps and a cossie were all you needed. Of course there was always one joker who thought it was a good idea to use your pumps as boats to see how long they would float before gurgling to th bottom, but it was all part of the fun.
Wigan Baths was O.K, but it wasn't the same as laying on the Canal Bank drying out in the sun.

Poet, you speak of the things we have all been tempted to do at some stage. To this day I can't walk past a fallen Conker without picking it up.
Comments by Veronica, 12th February 2019
Good for you Poet! I never swam in the canal as a child of the fifties as it was usually lads who did that. I have often wondered would I jump in now as an older lady if I saw anyone in difficulties especially a child. I think and hope my life saving skills would kick in somehow. I recall the first question of twenty included in the certificate I passed to get it. " How would you approach a drowning person?" Answer : - " From the rear and with caution". Can't for the life of me remember the rest- I do recall taking hold of someone with hands under their armpits and head resting on my chest. I hope I never see anyone in difficulties though and have to do it. I know emphatically I would have if it was a grandchild....... Thank goodness they can swim!
Comments by Xpat, 12th February 2019
PeterP . This young lad is as much paying attention to dangers beneath as he is to the fly flying over his head as he jumped .
Comments by From Where, 12th February 2019
I jumped disregard , i landed with doubt
wondering to stay or wish to get out .
As I paused on my notion my friends jumped with me
and suddenly cowards of the bank , laughed , as the water felt free..
Comments by Poet, 12th February 2019
'Cowards of the bank'. That's a sweet phrase, From Where...
These lads are Columbus and Captain Cook. Armstrong and Aldrin... Not without risk has man risen from the cave.
Comments by Veronica, 14th February 2019
It was said that Capt. Cooke was killed by the natives and eaten! Poor chap.
Comments by GW., 14th February 2019
Your thinking of Captain Cooked, Veronica.
Comments by Veronica, 14th February 2019
His goose was definitely cooked GDub!