| | | |
| --- | --- | --- |
| Rivington | | Views: 964 |
| Rivington | | Comments: 20 |
| Photo: DTease Item #: 30930 | | |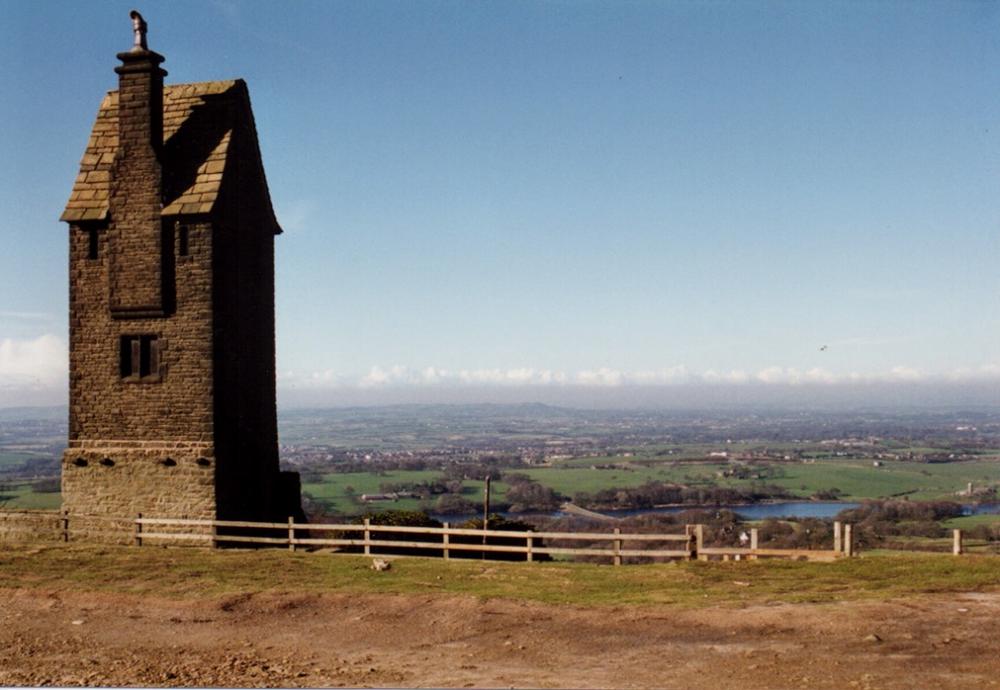 | | | |
| --- | --- | --- |
| | Image scaled down from 1000px to 690px wide | Click here, or click the photo to view original |
| | | |
| --- | --- | --- |
| | The Pigeon Tower, Feb '93 same day as the picture of the Pike. | |
Comments by Maureen, 8th February 2019
Been there a few times,and the views are lovely, don't think I could climb it now...but you never know....
Lord Leverhulme had it built specially for his wife to do her reading etc in peace,he even had pigeon holes built into the wall so she could watch the birds fly in and out..he was the most generous man with everyone,and what treasures he left for the public..his beautiful land.
Comments by Poet, 8th February 2019
The ' face' on the tower always reminds me of a farmer shouting ' Hoy! get off me land'.
Comments by Veronica, 8th February 2019
Used to love walking the hills in Winter - I would put a hot-pot in the oven on a very low light ready to eat on return. Strange how you never seemed to reach the top no matter how high you climbed. Another place I loved was the little village of Belmont. A bit further afield was Heapey with its lovely cottages and more hills to climb. I loved the cold bracing weather, and the healthy tiredness afterwards. It would be lovely to go back and do that again. There is a lovely little cafe just before the tiny village at Rivington after passing the low barn where you have to book for a meal. Set amongst the trees on the right hand side it's easy to miss, you have to keep eyes peeled.
Comments by Alan, 8th February 2019
We used to call that building the Witches Castle when we were kids.
Comments by Cyril, 8th February 2019
Despite his philanthropy a lot of folks still hated him didn't they Maureen, none other than Edith Rigby a suffragette who burned Roynton Cottage to the ground in 1913, and to think a celebration of that fact was held in 2013, after all the good he did for local folks and his workforce.

Historic England. Rivington Gardens: https://historicengland.org.uk/listing/the-list/list-entry/1000950
Comments by Veronica, 8th February 2019
You can still see the remnants of tiles left on the ground from the burning. It was tragic and no need to have done that deed - there of all places! And as you say after all Lord Leverhulme's benevolence. You only have too see Sunlight Village to experience his goodness.
Comments by Maureen, 8th February 2019
Yes Cyril,I wouldn't care but he was a great women's lib supporter..I personally thought it was a wicked thing to do especially a female..I hope she felt disgusted with herself after the event..I haven't read anywhere if she got any punishment for the terrible deed,unless you know anything Cyril.
Comments by Helen of Troy, 8th February 2019
DTease, I have really enjoyed seeing all these photos you have posted. This one is my favourite, just beautiful, thank you.
Comments by Pw, 8th February 2019
I remember in the early 60' climbing in through a window in the side that is in the shade on the right hand side.There was no floors left but went up a spiral stone staircase to the top level
Comments by DTease, 8th February 2019
Thank you, Helen, I'm glad that are enjoying these photos.
I remember this day so very well. The sky was perfect blue but it was bitterly cold and the wind was what people describe as "Bracing". As I climbed up the hill from the Car Park I was surprised at how many people were about in that cold wind.
When I reached the Pike at the top there were walkers and bike riders sheltering from the wind in the lee of the Pike Tower. I stayed at the top for about an hour just admiring the view and taking pictures. The lakes at the bottom were a deep blue reflecting the sky above. Later, I wandered around the ruined gardens and broken building that had belonged to the Bungalow. I photographed the remains of the tiles Veronica mentions that had once graced the Ballroom floor and just about everything else that I saw. It must have been a fabulous place in its prime. I visited other places around Rivington on that day and took a few more photos, sadly I only had the one roll of film that was in the camera otherwise I could and would have taken many more.
It was a great day out and although I have been back since it's that cold, sunny day that lives long in the memory.
Comments by XPat, 8th February 2019
Howard and Marina will turn up soon carrying a ladder between them ..Again ! Super bunch of pictures DTease , Cheers
Comments by Maureen, 8th February 2019
We used to have all the books on Rivington and lent them out,but never got them back.The ballroom was absolutely beautiful as was all the bungalow,we go walking there every Spring and Summer..and just love the place,.I love having a toot in the barn but they seem to have changed it,we park the car before the School then walk down to the barn then to the chapel where we have a drink of coffee and sandwich..there used to be a little Robin in the churchyard that would fly on your hand to be fed..that was a treat...then up Sheephouse Lane to finiish the walk,go by The Hall and top barn...I hope we do it again this year.its a lovely day out...Veronica..I will look out for that little cafe that you mentioned.
Comments by Veronica, 8th February 2019
On a bit of a morbid note but not to me - I want some of my ashes scattering up there in 'them thar hills' on a very windy day (as well as some around St Pat's....). There so many places with memories- I think they will have to be weighed out in 2oz toffee bags!
Comments by John D, 8th February 2019
Anyone who has not been lately would have a pleasant surprise if they went now. The whole area is being restored to its former glory.
Comments by From Where, 8th February 2019
A devils witch is buried here ,
Her voice of pagan still unclear .
She sends her soul on an eagles back
returning full on a carried sack .
She digs beneath in hoping find , on a perch her eagle waits behind
When lightning strikes both will be gone , leave as you find , told someone .
What she looks for tis not gold , neither parchment or fables told . She looks for truth with anger real , behead the ones who know but steal .
She holds forgiveness in her bag , but vengeance first for this old hag..
Come now thunder my eagle waits ..
Comments by Cyril, 9th February 2019
Maureen, Edith Rigby was incarcerated numerous times apparently, for arson, demonstrations and bombing Liverpool Corn Exchange. You can read about her here:
https://www.revolvy.com/page/Edith-Rigby
Comments by Maureen, 9th February 2019
Cyril,thank you for that info,I'm so glad that she didn't get away with it..she sounded a nasty piece of work..I've seen photos of the destruction she caused..she picked on the wrong man altogether..he was generous with all his staff..it just wasn't fair...thank you again Cyril
Comments by Poet, 9th February 2019
Women's suffrage would have happened without the Suffragettes . The forces of social change and modernity unleashed by the First World War made it inevitable. The day women got the vote so too did working class men .
Comments by Alan, 11th February 2019
John D, only because of the big fire last summer, they are re-planting young trees.
Comments by Pw, 11th February 2019
Alan when did you last go up Rivvy.