| | | |
| --- | --- | --- |
| Shevington | | Views: 984 |
| Dean Lock | | Comments: 9 |
| Photo: DTease Item #: 30929 | | |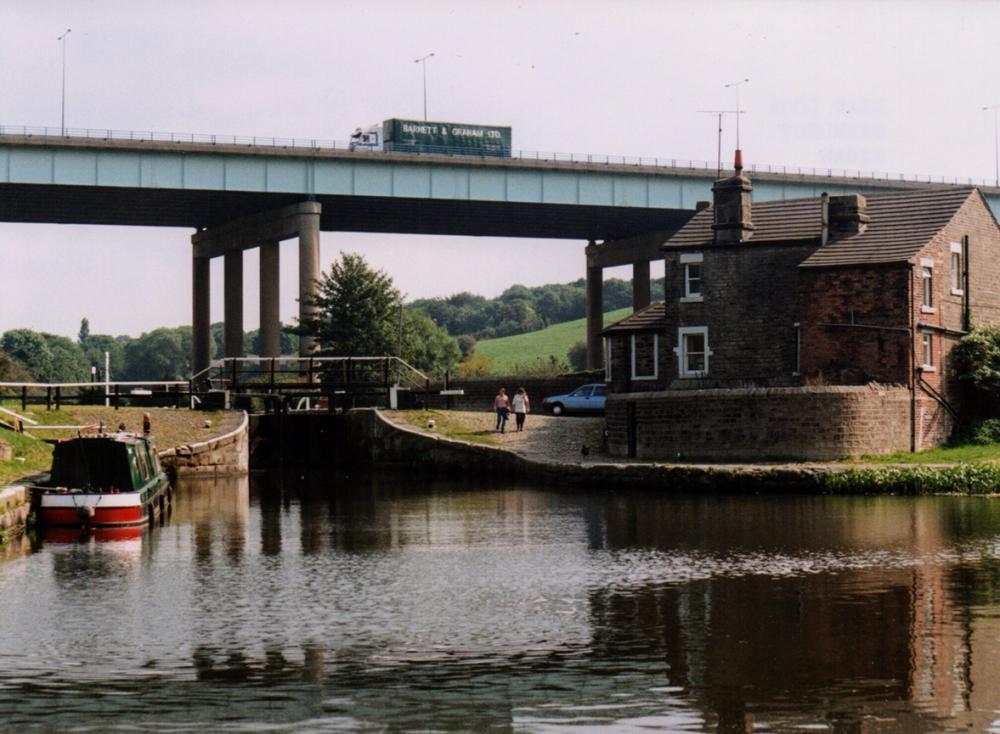 | | | |
| --- | --- | --- |
| | Image scaled down from 1000px to 734px wide | Click here, or click the photo to view original |
| | | |
| --- | --- | --- |
| | Dean Lock, Gathurst Lane, Shevington (Or wherever Alan says it is) | |
Comments by Alan, 7th February 2019
M6 motorway Viaduct.
Comments by Mr X, 7th February 2019
The M6 Gathurst viaduct was built between 1961 and 1963, and was opened to traffic in July 1963, and that meant the end of many vehicles coming from the Midlands and south, going through the centre of Wigan to get to Preston, Blackpool and up to Scotland. About 30 years ago a lorry driver was killed when his vehicle plunged off the viaduct in an accident. I'm sure there was a woman teacher at the Deanery High School who lived in the cottage at Dean Lock (I never knew the name of this lock).
Comments by Ray, 7th February 2019
The articulate lorry belongs to Barnett & Graham of Penrith.
Comments by Barrie, 7th February 2019
Always called Gathurst Viaduct from the time it was planned to now. Wigan Rural District Boundary map shows Gathurst Station being the boundary line in the 61/62 Official Guide Book.
Comments by Alan, 7th February 2019
The Creda lorry was a Ford Cargo Actic, the other the came off the viaduct was a Bedford for Younger's Tartan Bitter.
Comments by John D, 7th February 2019
There are actually two locks here side by side called a double lock although one is now disused. Close by are the remains of another lock which connected the canal to the Douglas. It's quite a while since I saw the latter and I doubt if there's anything left to trace.
Comments by Alan, 7th February 2019
Two lorries came off the Wigan M6 viaduct, one was a Ford Cargo for Creda domestics and the other a Bedford for Younger's Tartan Bitter.
Comments by Cyril, 8th February 2019
Aye, and you was walking along the towpath when it happened Mick, did you fish out a couple of barrels.
Comments by Mick, 8th February 2019
I was working overseas when the beer truck came of Cyril, it was the creda washing machine truck that came of when me and the missis and two kids where walking underneath.

It came off heading south and landed in the Dougie, drivers name was Machin from Stoke and the man driving the first car to be stopped in the road block at Gathurst, while they brought in the police rescue equipment was also named Machin, he was my next door but two neighbour.