| | | |
| --- | --- | --- |
| Rivington | | Views: 1420 |
| Rivington Pike | | Comments: 21 |
| Photo: DTease Item #: 30916 | | |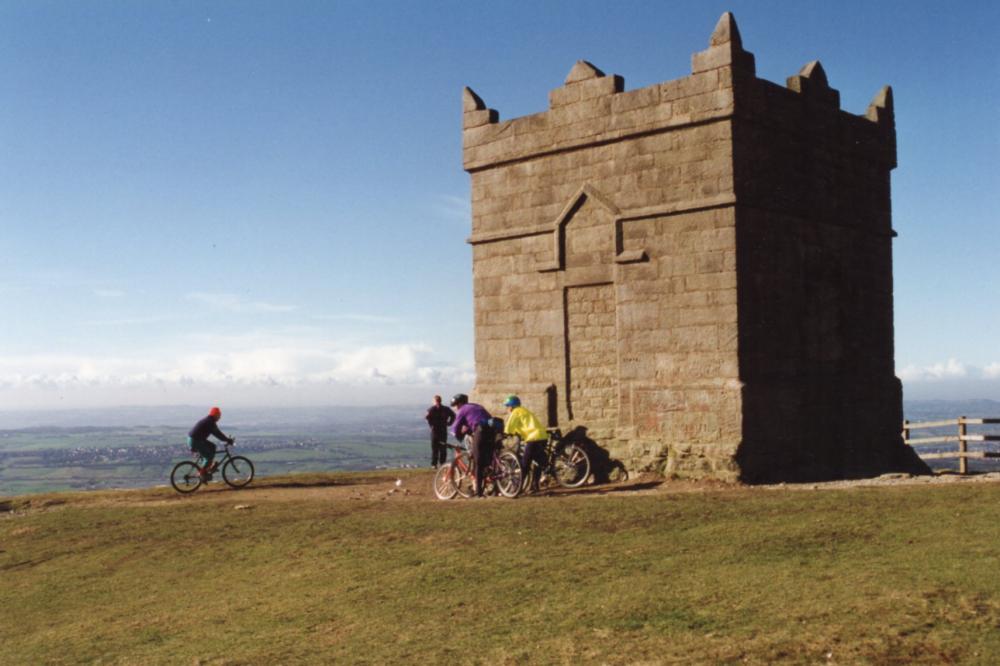 | | | |
| --- | --- | --- |
| | Image scaled down from 1000px to 666px wide | Click here, or click the photo to view original |
Comments by Albert, 28th January 2019
Did anyone ever go dancing ar Rivington Barn. It was always a packed venue.
Comments by Jarvo, 28th January 2019
Great picture.
Comments by Garry, 28th January 2019
You can see Blackpool tower on a clear day.
Comments by Roy, 29th January 2019
GARRY, you can see Blackpool Tower from Coppull most days, never mind top ot' pike !!!
Comments by Jarvo, 29th January 2019
Looks like it's been cleaned up, which kinda spoils it. I much preferred Billinge Lump and 'The Rolling Stones'.
Comments by Sue, 29th January 2019
Good Friday 68/69 remember seeing a band called 'Just US'at Rivington Barn.
Comments by Veronica, 29th January 2019
I remember going a couple of times to dances Albert in the late eighties. It was very enjoyable but not as good an experience as a 'proper' dance floor. More like a hoe- down! But it is a barn afterall. I used to go to the lower barn antique fairs quite a lot when I had a car - and for coffee. That's changed quite a lot as well.
Comments by Poet, 29th January 2019
Amazing how tiny Manchester looks from up there. Like a few upright dominoes at the end of a snooker table.
Comments by Albert., 29th January 2019
The barn certainly existed for quite a long time Veronica. It was in the early fifties when I tripped the dance floor there.
Comments by JJP, 29th January 2019
Does anyone know what the pike was actually built for ?. Was it perhaps some rich persons 'folly', anybody know.
Comments by Barrie, 29th January 2019
Following the official opening of the Warrington -Preston section of the M6 on 29th July 1963, the contractors McAlpine/Fairclough consortium held a opening celebration party at the barn. Coaches were laid on from Wigan, Preston, Warrington with pickups at various locations. It was free as a thank you to the staff, clients and operatives for their 3 years of hard work. During the evening, to clear my head,I walked up to the Pike and back I think the "do" ended around 11pm. Work followed the following morning. Does anyone else remember the party?
Comments by Poet, 29th January 2019
I think we need make a distinction between the pike and the tower JJP. The pike itself was always used as a beacon famously spreading news of the Armada. The tower was built in 1733 as a hunting lodge by a John Andrews of Rivington Hall.
Comments by Albert., 29th January 2019
Did the Pike originally have an entrance into it.. Is it completely secured on all four sides?.
Comments by Ann Winstanley, 1st February 2019
My mum told me of going there with a group of friends early 1940's when the Pike was guarded by the Territorials, armed with rifles. She never knew why the soldiers were there!
Comments by Rob, 2nd February 2019
Would most likely have been the Home guard and not territorials Ann.
My dad was in Home guard when he was waiting to join up and said they had them doing some daft things.
Comments by Poet, 3rd February 2019
Sooner or later Pike and Dad's Army were sure to meet.
Comments by Philip G., 3rd February 2019
That's right Poet, and shades of The Lion Has Phones episode - "See that your bicycles are in good working order."
Comments by Veronica, 3rd February 2019
There's Capt.Mainwaring surveying the scene with his arms akimbo looking for Godfrey. ( He's in he bushes attending to nature!) That stupid boy Pike - late as usual - his mother called him back, he'd forgotten his scarf! I believe they are having a picnic with sister Dollie's upside down cakes and Jonesy's sausages-just a cover really they are on the lookout for German planes landing!
Comments by Jarvo, 4th February 2019
On a serious not, the Pike was a beacon used by German bomber pilots retuning home from raids over Liverpool. They'd swing right over Bootle and head for Rivington eventually picking up the eastcoast at Sca'brough. The Home Guard tried their best to detect the German undercover agents, but were hoplessly outwitted on ever single occasion. Fact.
Comments by Poet, 5th February 2019
Jarvo's tale suggests shades of the ' The Deadly Attachment' episode.
" Don't tell him Pike".
Comments by Veronica, 14th February 2019
My dad was stationed at Whitby near to Scarborough during the war and he told me of the terrible bombings that went on there. They were billeted up near the abbey - he never forgot that period ( and all those steps!)