| | | |
| --- | --- | --- |
| Newtown | | Views: 925 |
| Scot Lane Chapel | | Comments: 10 |
| Photo: RON HUNT Item #: 30891 | | |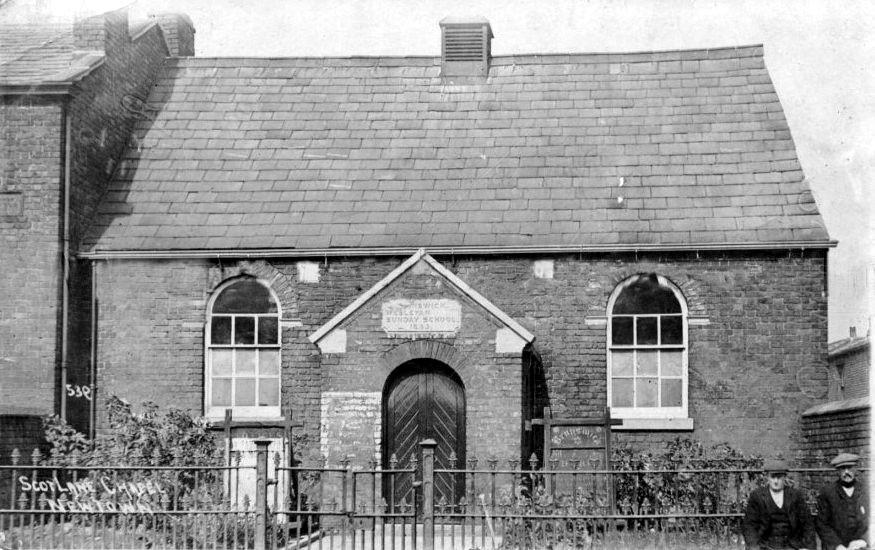 | | | |
| --- | --- | --- |
| | Image scaled down from 875px to 550px wide | Click here, or click the photo to view original |
| | | |
| --- | --- | --- |
| | Photo of the old SCOTT LANE CHAPEL | |
Comments by Cyril, 11th January 2019
I can make out the word Brunswick on the notice board so it must have been the forerunner to the quite spacious Brunswick Methodist church on the corner of Ormskirk Road and Scot Lane.
Comments by Ray Smyth, 11th January 2019
Cyril..I can make out Brunswick Wesleyan Sunday School, and
what looks like 1833 or 1853. If it is where you said, did it face on to Scot Lane or Ormskirk Road. Ray.
Comments by Cyril, 14th January 2019
Ray I'm not sure- just surmising, the backs of the houses on the right of the photo could be Albert Street and maybe this building and the building on the left was demolished so the larger church could be built, the entrance to this was on Scot Lane.

Interestingly in Worrall's guide (on this site) about Pemberton it mentions a Brunswick Day School also on Scot Lane, so whether it is the same building or another it doesn't say. I don't know why John Wesley called Wigan wicked as a lot of Wesleyan Methodist churches were built after his visit.
Comments by Steve M, 14th January 2019
Just been checking on old-maps.co.uk
Chapel was on left just in to Scot Lane , building to left would be on corner of Scot Lane & Ormskirk Rd .1908 map
https://www.old-maps.co.uk/#/Map/358503/405500/12/100674
On the 1848 map , Scot Lane is named as Marsh Green Lane and Ormskirk Road is called Robbing Lane . Names must have been changed in late 1800s
Comments by John, 15th January 2019
A good website for old maps is https://maps.nls.uk/os/6inch-england-and-wales/
You can overlay an old o.s. map on top of a modern map to see exactly where a demolished building or street lay in relation to the present day.
Comments by Ray Smyth, 17th January 2019
Cyril and Steve M, Thank you for the info,So, Scot Lane Chapel is facing Aldi Supermarket, and the two chaps with
flat caps on their heads are stood where the bus stop for
Marsh Green is. Ray.
Comments by Viv, 17th January 2019
Hi seem to remember bus stop going to marsh green and worsley hall in scot ĺane the building to the left was in ormskirk rd with a door way on the corner used to stand there watching for the bus passing the saddle pub both belonging to brunswick thinking one was chapel and one sunday school maybe wrong viv
Comments by Lorraine Harrison, 31st January 2019

If this is at the bottom of Scot Lane (facing where Aldi is now) then I think it's near to my mum and dad's old house. They lived at 4 Scot Lane so as you're looking at the photo, no 2 would be on the right and my parents' house next door to that. I wonder who the chaps are there? Does anyone know what year this is, please?
Comments by Derek Callaghan, 15th April 2019

Unsure if this is right place but here goes. Around mid sixties I was friends with June Smart who lived in Scot Lane. Somewhere around number 25, She was going out with my mate. Heard a rumour she emigrated to Australia. She came to my wedding in 1971 and would love to here something Her house would only be a few numbers away from the chapel. Fingers crossed