| | | |
| --- | --- | --- |
| Whelley | | Views: 1095 |
| Whelley c.1905 2 | | Comments: 8 |
| Photo: RON HUNT Item #: 30881 | | |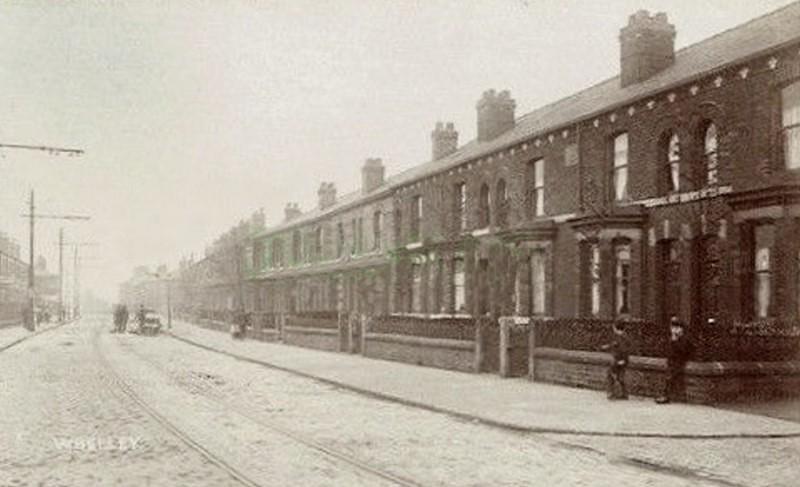 | | | |
| --- | --- | --- |
| | Image scaled down from 800px to 487px wide | Click here, or click the photo to view original |
| | | |
| --- | --- | --- |
| | Anyone any idea of whereabouts this is? | |
Comments by watchalot, 4th January 2019
i would say the two little lads are opp where dr oldfield surgery was
Comments by watchalot, 4th January 2019
i would say the two little lads are opp where dr oldfield surgery was on left just out of photo
Comments by Ken R, 4th January 2019
I am just hazarding a guess, in front of the camera what you see, is Wigan Rd, behind the camera is New Springs. We attended a Doctors to the left of the pic.
Comments by Tony G, 4th January 2019
Mount in the distance?
Comments by Helen of Troy, 4th January 2019
The first thing that screams out to me with these 2 photos of Whelley is...where is the litter ? Were the streets swept before the pic was taken ? Things were supposed to be worse in the Good Old Days werent they ?
Comments by Dr. Keith Tattum, 4th January 2019
It's a very long time since I left Whelley, and I may well be mistaken, but I believe this is a view from near what was referred to as "The Bottom Chapel", or even Drs Simmond's and Oldfield's GP Surgery, both on the same side of the road as the photographer, looking towards Wigan. There were many allotments behind the houses on the opposite side of the road, and my Grandad would buy bunches of Chrysanthemums there in the autumn, for my Nan.

Two of my school contemporaries from Whelley Secondary lived on this stretch of Whelley, Paul Miller lived on the photographer's side, and Vivian Bradshaw, on the opposite side.
Comments by Steve M, 9th January 2019
Row of houses is on Whelley , on right going from New Springs towards Wigan . Half way between Cale Lane and Mount garage.
https://www.google.com/maps/@53.5572794,-2.6081427,3a,75y,269.3h,86.49t/data=!3m6!1e1!3m4!1sGSLY7NhrJAAf93w21WMcVw!2e0!7i13312!8i6656
Comments by Kathy Lee, 9th January 2019
I lived in the house by the Gas lamp on the right of the picture from 1941 till 1956 it was number 288 Whelley I can name most of the occupants of these houses at that time