| | | |
| --- | --- | --- |
| St Mary's Church Standishgate | | Views: 1678 |
| Howe/Worthington Wedding | | Comments: 19 |
| Photo: Robert Howe Item #: 30865 | | |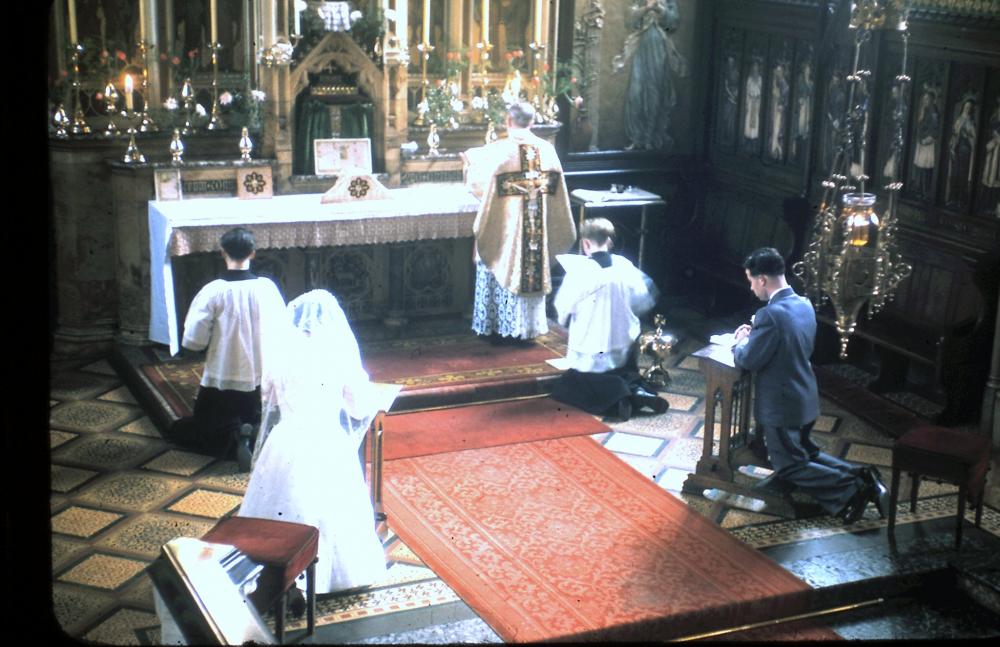 | | | |
| --- | --- | --- |
| | Image scaled down from 1000px to 647px wide | Click here, or click the photo to view original |
| | | |
| --- | --- | --- |
| | Another picture (taken from slides) of my mum (Winifred Worthington) and dad's (William "Bill" Howe) weddding day. 25th February 1955 | |
Comments by Eisenbahn, 28th November 2018
YAWN................Please not wedding photos now, we had enough with Holiday Snaps. NO INTEREST
Comments by mojo, 28th November 2018
To Eisenbahn If you have any interest at all in life please leave a list and i will do all i can to fulfil you wishes
Comments by Billy Iboo, 28th November 2018
Some people are so rude
Comments by Bradshaws Girl, 28th November 2018
This is a VERY INTERESTING photo. Had forgotten what a beautiful church St Mary's is/was and there is no denying this is a catholic wedding.
Comments by Veronica, 28th November 2018
A beautiful scene- and a lovely old church.
Comments by Albert., 28th November 2018
My wife, and I were married in this church, in September,1961. Father Gore was the parish priest. Father O'Donahue officiated at our wedding. The weather was absolutely glorious.
Comments by Helen of Troy, 28th November 2018
A lovely rememberance of a special day.....
Comments by Jarvo, 28th November 2018
Lovely photograph.
Comments by Mike, 28th November 2018
Would anyone happen to know the name of the Priest or the Altar Servers ?
Comments by Philip G., 28th November 2018
A smashing scene . . . and of fine symmetry.
Comments by Robert Howe, 29th November 2018

The Priest was Fr. Gore. The alter boy on the left is my Uncle John Worthington (the Bride's youngest brother). I will have to consult my mum for the other one.
Comments by Albert., 29th November 2018
How times change. The church was the main venue for marriage ceremonies in those days of yore. Now there seems to be a multitude of venues.
Comments by Duncan, 29th November 2018
This is a beautiful photo, and it is good to see a well preserved colour image from the time, colour photography from that era did not always survive so well.
Comments by Joseph, 29th November 2018
Great photo of a catholic wedding. Eisenbahn is Brazilian crap ignore the railway fool, Robert.
Comments by Eric, 30th November 2018
I like all old photos of Wigan that have people in them as I always search for anyone I might know. The comments say St Mary's. Is that different to St Marie's?
Comments by Michael Gormally, 1st December 2018

Eric, this is St Mary's, Standishgate, Wigan. St Marie's is in Almond Brook Road, Standish.
Comments by Mr X, 25th December 2018
The altar of St Mary's church has hardly changed over the years. In 1955 Pius XII was the pope. I have seen a more recent computer picture in 1982, when St Mary's priest was Fr Cummins, and I counted no fewer than 31 altar boys, one being famous rugby player Shaun Edwards who is a nephew of current priest Fr Johnson. Times have changed as there are now no young servers, only one elderly gentleman.
Comments by Albert., 26th December 2018
Same where ever you venture Mr X . Here in Blackpool we are all elderly. I just do altar server, at Tuesday mid-day mass, I will do altar server at other times, if someone cannot do it, but I will soon be eighty five.
Comments by Veronica, 28th December 2018
I have lit many candles in S Mary's over the years. I liked to visit the beautiful grotto at the back of the church in it's own garden - a peaceful haven to sit and meditate for a while.