| | | |
| --- | --- | --- |
| Market Square | | Views: 2621 |
| Christmas Tree, Market Square | | Comments: 42 |
| Photo: ArthurP Item #: 30862 | | |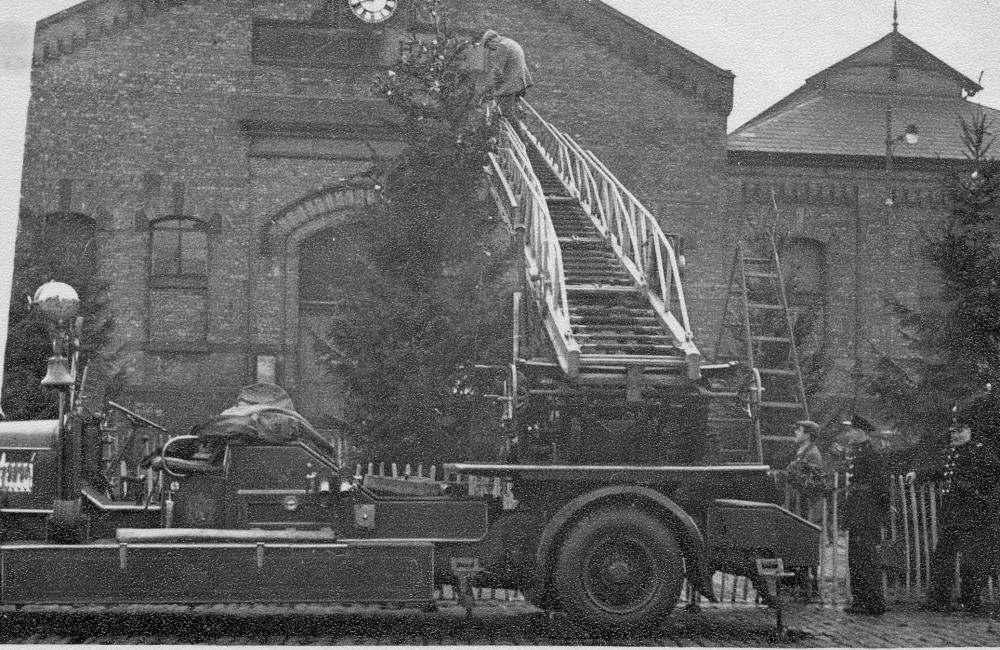 | | | |
| --- | --- | --- |
| | Image scaled down from 1000px to 650px wide | Click here, or click the photo to view original |
| | | |
| --- | --- | --- |
| | Taken in December 1956 or 1957. Workmen putting the lights on the Christmas tree with the help of the Borough fire brigade. The "Fireman Sam" fire engine looks to have some age to it - possibly a Merryweather"? | |
Comments by Helen of Troy, 22nd November 2018
That is a very good pic of yesteryear, no hype, no great fanfare...just Christmas as it should be.
Comments by Garry, 23rd November 2018
Great, no hi-viz jackets, no traffic cones, no health and safety telling workers what to do or what not to do. We all just got on with it. Lovely photo of a bygone age when workers were happy doing their job.
Comments by Sgt Pepper, 23rd November 2018
No health and safety telling workers what to do. We all just got on with it, a bygone age when workers were happy doing their job, although many were missing fingers or toes, or limbs.
Comments by Dessie, 23rd November 2018
Yes Garry, Oh! for the pre Health & Safety days of the 50's 60's & 70's , when deaths in the construction industry were running at an average of 1 per day! A hi-viz jacket and a helmet is a small price to pay don't you think?
Comments by Helen of Troy, 23rd November 2018
I agree with you entirely Garry !
Comments by TommyT, 24th November 2018
I agree with Gary. Today's workforce don't seem to be able to do anything without having to wear hi viz hard hat clothing.
I was in the building trade in the early 1960s, hod carrying, mixing compo,moving scaffolding and laying bricks. Yes I did get my fingers trapped, dropped bricks on my foot and other injuries, but you learned from your mistakes and tried not to do it again.it was all part of the learning process.
And the "snowflake generation" born in the 21st century, they're going to be in for a shock when they have to pick a spade up.
Great picture ArthurP
Comments by Garry, 24th November 2018
Workers still lose fingers and toes even with hard hats and hi-viz.
Sgt pepper and Dessie talk bonkers.
The Working environment is about common sense.
Comments by Pw, 24th November 2018
I worked at British Rail.heavy engineering,factories and construction sites and when PPE came along I thought it was OTT but soon reailised it made working conditions very much safer.Better safe than sorry
,
Comments by Anne, 24th November 2018
Garry talks sense.
Comments by Irene Roberts, 24th November 2018

Yes, Garry does talk sense. I can understand health and safety to a point and I can see the sense of headgear on building sites etc. but when it comes to things like stopping children playing conkers in the schoolyard things have gone really silly.
Comments by Ticsmon, 24th November 2018
Workers still lose fingers and toes even with hard hats and hi-viz.'

Is that because hard hats and hi-vis aren't designed to protect fingers and toes?
Comments by MikeW, 24th November 2018
That is not really a sensible approach Gary and speaks volumes. I wear PPE everyday at work and have a degree of satisfaction in knowing that not only are my chances of being hurt or seriously injured reduced significantly I also know will be going home safely to my wife and family and will be able to continue to provide for them in the future. Those considerations were obviously not high on your agenda, if at all back then.You can criticise the health and safety executive and their actions and policies and rulings all day long but you cannot do is deny they have saved countless injuries and lives since 'your time'
Comments by Garry, 25th November 2018
Spot on Irene, how stupid is that!
What Health & Safety and some on here should be concerned about is some cyclist who don't have lights on their bikes and not wearing Hi-viz jackets or crash helmets. I've had some near misses at night and early mornings in the dark. Like I said before, most of it is common sense.
Comments by Garry, 25th November 2018
No ticsmon it's not. your missing the hole point. some folk on here think Hard hats and a hi-viz jacket is the be all and end all. Use Common sense at work place that's all you need, after saying that, some on here don't have any sense not even common sense.
Comments by Al, 26th November 2018
Common sense is what it's about, and yes people no doubt still lose fingers despite all this nonsense H&S. I'm all for hard hats and visibility jackets being worn if it's absolutely essential, but we're not seeing that in today's workplace, instead we're seeing people pushing trolleys at Asda in broad daylight wearing a hi-viz jackets, postman (is that a PC word now?) wearing them (why?, all he/she is doing is posting parcels and letters for forsake), and everything from delivery men in vans delivery bread, milk or shopping to your door have to wear them. And now you see school kids wearing them. I thought they were for visibility in the dark?. I think all this overblown H&S stuff is about conformity and control, not about genuine safety in my opinion. And the more ridiculous it gets, without resistance, the more controlling and restricted your work place becomes. Its the whole drip, drip, drip tiptoe effect. And how bad is it going to be when companies and employers are forced to have their employees microchipped?. Think that's nonsense, well in some countries like Sweden it's already happening. Are we gonna say that's for our own safety?.
Comments by Pw, 26th November 2018
H&S is there to make people's working environment a safer and healthier.When I started my electrical apprenticeship in the 60's there was no H&S you did just get on with job.Looking back the conditions were atrocious and very dangerous.The only thing we got was a pair of overalls.There was no safety glasses,ear defender
s.masks even when working with asbestos,gloves when surrounded by nasty chemicals and unknown substances,many people now have skin problems. It still makes me wonder what damage I and many others did to our health.You were expected to work off ladders,no safety harness or hard hats,damp conditions etc.Things very slowly got a little better with some firms I worked for.The last firm I was at supplied everything you needed and to me was very responsible.Sometimes it was a pain putting on the equipment to do a five minute job but those were the rules for my benefit.Some H& S officers seem a pain in the arse but most do their job well.I can only say I wish H&S had been there all my working life.People on here seem to think it just about Hi- Vis and hard hats but it is about your life.There are still nasty workplaces out there and if you had ever worked in them you would not be so flippant with comments.
Comments by jack, 26th November 2018
Garry, you didn't mention goggles or risk assessment. I'm sorry but I will have to report you to the Health and Safety.
Comments by tom, 26th November 2018
have any of you ever worked on jobs were health and safety really mattered ,it dos'nt sound like it
Comments by Pw, 26th November 2018
ArthurP,sorry this went off your very nostalgic photo of a memorable time in Wigan.
Comments by Helen of Troy, 26th November 2018
Does it not down to the perspective of danger ?
Irene has it perfectly, when we seem have bred a generation that will soon be frightened of their own shadows. What is needed is a sensible attitude to what is dangerous & what may be a bit risky ...thats my last word on the subject
Comments by Dessie, 26th November 2018
Very well put Pw, Nicely summed up indeed by a man who knows!
Comments by GW., 26th November 2018
I was about to put forward a well contrived and constructive comment but I've just been poked in the eye by a branch from my Christmas tree. [ I knew it was too early to put up ]
Comments by Ticsmon, 26th November 2018
Garry, you mentioned hard hats and hi-vis and losing fingers and toes. Health and safety at work is more than providing PPE. The 'whole' point of H&S is about those who control the work giving some thought ('common sense') on how to do a job safely. Amongst other things, workers need to be told by their employers how to do it safely, be provided with correct equipment, trained in how to use it, maintained in a good working condition. Perhaps that's why the rate of fatalities and serious injuries have fallen significantly since 'the days before health and safety'. I'm not sure when 'the days before health and safety' were. Not in the 50s and 60s because there was legislation covering the workplace, including construction. Read Deuteronomy 22:8, from 2000 years ago, for work at height.

Unfortunately, common sense isn't that common. Many workers don't know or choose to ignore their employers safe systems and some end up injured or suffering ill health. Then they look around to see whose fault it was.

Similar to some other posters, I am also grateful I have an employer who is committed to looking after my health and safety.
Comments by Veronica, 27th November 2018
Seeing that the photo is of a Christmas Tree about to be installed. What about the 'toys' that disappeared? Some quite innocuous, but looking back were lethal. Catapults, pea shooters and bow and arrows! Not to mention the gollywog ( but not a safety issue as the others were). I have seen one or two of late though!
Comments by Mikew, 27th November 2018
Gary must have been one of the lucky ones. ie. 'it won't happen to me'
Comments by Mark, 27th November 2018
I worked in furniture industry for many years from apprentice. I saw men with incredible common sense have injuries I won't describe . Some times a timber would kick back violently for no reason . This is not lack of common sense . If you are working with timber and other elements , they don't always act accordingly, no matter how much common sense you feel
hold . I was told as young apprentice that timber lives and breathes , don't
forget that . I was told this by elder experienced workmen . Common sense is only part of it . I saw it first hand . All we can do is look for the clues when something badly goes wrong .
Comments by DTease, 27th November 2018
I'll bet the toe-rags who chopped New Springs Christmas Tree down recently we're not wearing Hi Vis jackets!
Comments by common sense, 28th November 2018
It's common sense.
Comments by Jarvo, 28th November 2018
What's up with a Gollywog?
Comments by Irene Roberts, 29th November 2018

Nothing wrong, Jarvo. I have a much-loved golliwog which sits under my Christmas tree every year. xx
Comments by Veronica, 29th November 2018
I agree Irene... It is an innocent child's toy but the climate of today deems it racially insensitive. If you imagine a toy box with dolls and teddies there was always a gollywog tumbling out. At the same time the rare ones I have seen in shops aren't as well made these days.
Comments by Philip G., 29th November 2018
I wish I'd have kept my Golliwog badges Irene. And how dearly would Jarvo have liked one dressed in Old Gold & Black.
Comments by TommyT, 29th November 2018
I had a black sambo moneybox when I was a small child, played with it for hours putting money in its hand and pressing a lever so it could swallow it.
Waiting for the p.c. brigade and bleeding hearts to jump all over that one.
Comments by Jarvo, 29th November 2018
Philip: That would be great for my granddaughter...Yip!
Comments by Irene Roberts, 29th November 2018

Well said, Veronica! Philip G, I think I've mentioned this before to you, but just to jog other Wigan Worlders' memories, the paper tokens you collected to send off for the golly badges were to be found tightly held behind the Robertson's Jam label on the jar. They weren't glued on.....the label held them firmly. I had a skater golly badge but there were many to choose from....footballer golly, golfer golly, nurse golly and later on an air-hostess golly, so she was a trolley-dolly-golly! Tommy T., I too had a much-loved Black Sambo money-box. You put a sixpence in his hand and he put it into his mouth. I still see them occasionally in antique shops.
Comments by Veronica, 29th November 2018
I remember the money boxes well Tom -I thought they were fascinating the way they 'gobbled' pennies! They were quite heavy as well - without any money inside. I wouldn't have liked one to drop on my toes!
Comments by Julie, 29th November 2018
Absolutely nothing at all Jarvo , if you happen to be frozen in a rock like the bones of a dinosaur. Try asking your question on a forum where there ARE people who find it offensive . You wouldn't get two or three replies like here on WW , you would be overwhelmed with those bursting to answer
your question . And I guarantee, you would get a very different response .
The world is a totally different place now . Everything we say or write we need to ask , can I say this , could this offend someone . The free voice has gone or is disguised .
Comments by Al, 1st December 2018
As I said, nothing wrong in people on building sites wearing hard hats, safety harnesses and hi viz jackets, because it's obvious they're needed for such work, and no doubt countless other examples. But why does a postman, bus driver, milkman, and even school kids out on a trip have to wear the camn ugly things for when they are clearly aren't necessary?. H&S might seem necessary on the face of it in certain workplaces, but companies and businesses seem to be completely brainwashed and fearmongered by it all, to a point where they have to have yellow visible tape on the edge of steps in shops so people don't fall.
Comments by MikeW, 1st December 2018
Because employers now have a legal duty of care over their employees and the public in general. They must by law take every possible effort to reduce and eliminate the risks their employees face while at work and any posed to the public in the course of their business. Regarding the hi-viz. A risk assessment will have been carried out and the possibility of being hit by moving vehicles etc will have been flagged up. Obviously the moving vehicles cannot be taken out of the mix so the next best thing is to make the individuals at risk as visable as possible for the benefit of the vehicle drivers. Back in Gary's day there was no such thing as corporate manslaughter, now there is and this, together with huge fines for directors breaking H&S laws is what drives the culture the older generation are so cynical about.
Comments by Valerie B, 6th December 2018
Hang on! Should we not be commenting on hoe Wigan market square always looked so lovely at Christmas with the beautifully lit tree? What do we get now?
Comments by Robert, 7th December 2018
I think that Christmas has been ruined (because it now starts in late September)........
It's all over commercialised now after being hijacked by greed ridden big business & has become nothing more than a glorified "Retail Festival" that's rammed down our necks for about 12 weeks each year........

I'm all Chrismassed out by Bommy night.
...................................................
The 12 nights of Christmas???????..these days it's the 12 weeks of Christmas........JUST RUINED!!