| | | |
| --- | --- | --- |
| Newtown | | Views: 959 |
| William Ardern Mason - Newtown Grocer & Confectioner | | Comments: 7 |
| Photo: Michael Ardern Mason Item #: 30852 | | |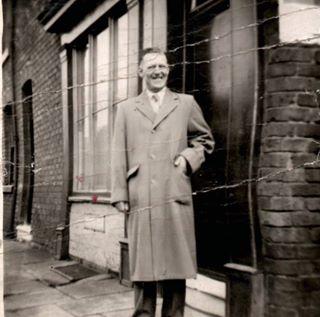 OPEN ALL HOURS IN NEWTOWN
My dad, William Ardern Mason standing in front of his Victoria Street corner shop around 1958. We lived next door to the shop until 1976. I was born above the shop in 1948 and have many happy memories of our customers and friends. Newtown had plenty small shops in my younger days including George Taberner's newsagents, Warrington Road, Liptrots, Victoria Street (later Ralph Freeman's), Mason's Stores, Ormskirk Road (my grandparents' shop), the Co-op in Norfolk Street, Tom Smailes grocers shop, Ormskirk Road (Mr. Smailes was the father of identical twin boys who played Tweedle Dum and Tweedle Dee in a production at St Mark's Sunday School).
Our shop was popular for cooked meats, pies and cakes, and we also did outside catering for weddings and funerals. My auntie, Marion Moreman worked in the shop and was particularly good at listening to customers' personal problems. Because we lived next door to the shop, we were considered to be open for business at all hours.e.g. if there were events at the Bethel Chapel next door, people would regularly knock on the front door late at night to see if we had any milk left for sale. We regularly organised coach outings for customers to shows in Manchester e.g. the film, "South Pacific", and we also had big raffles for hampers at Christmas. It was my job as a child to draw the winning ticket, which was miraculously always won by someone who needed the hamper! Other good memories included hearing the St Mark's Church Choir singing carols outside the shop on evenings before Christmas, and also hearing the Bethel Chapel Choir singing "Hail Smiling Morn" in Victoria Street following their midnight New Year's Eve Watchnight Services.

Comments by Maureen, 15th November 2018
Michael,what lovely childhood memories you have..they help us to become the person we eventually turn into.
Comments by Wendy, 15th November 2018
I agree, lovely memories and a pleasure to read. Love the bit about the Christmas hamper, bless.
Comments by Helen of Troy, 15th November 2018
I love those memories Michael.....
Comments by Philip G., 15th November 2018
A smashing read Michael. Thanks.
I particularly like your mention of 'open for business at all hours.' I also believe that South Pacific had been released in the same year as that in which this photo had been taken (I still have the film's soundtrack album RB-16065). But what about your Dad's topcoat - It's a belter.
Comments by David Wood, 15th November 2018
Remember the shop well, and all the family, my wife knew your dad through working in the confectionery business.
Comments by Veronica, 16th November 2018
Michael you have triggered a memory off for me. Many a time I was sent to the corner shop when it was supposed to be closed. Looking back I'm surprised I wasn't told off for banging on the house door for a tin of Zam - Buk or a packet of Bird's Custard Powder! Perhaps that was why I was sent as a child, because they must have had endless patience those local shopkeepers. As you say your auntie had good personal skills with the customers and was a good listener. Many's the time children were served and ushered out whilst the grown-ups carried on talking in hushed tones - now I realise why. Oh for those days again! You must have seen it all and become oblivious to it! ;0))
Comments by Maureen, 16th November 2018
The corner shops were a blessing in disguise,not only for food but many a lonely person who perhaps had lost their family or widows who had no-one else to have a chat with,could go and meet the neighbours and have a good old chin wag,I'm sure it kept many a lonely person sane..plus it wasn't a hurried lifestyle like it is today.They always seemed to have a stool in the corner where any weary limbs could sit themselves down..to say they were priceless is an understatement really..I'm sure they saved many an old person from suffering with depression.