| | | |
| --- | --- | --- |
| Butlins | | Views: 1478 |
| the likely lads Filey about 1970 | | Comments: 16 |
| Photo: DEREK EVANS Item #: 30809 | | |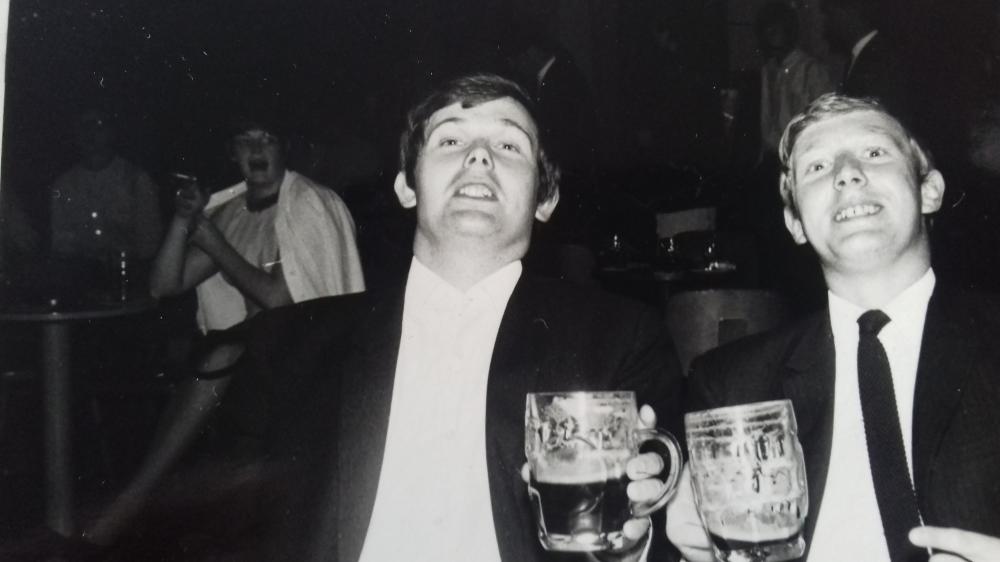 | | | |
| --- | --- | --- |
| | Image scaled down from 1000px to 562px wide | Click here, or click the photo to view original |
| | | |
| --- | --- | --- |
| | The likely lads aka Nolan Bradshaw and cousin Derek Evans on Holiday at Butlins Filey around 1970. | |
Comments by Alan, 1st November 2018
Have they both got stiff necks.
Comments by MarieM, 1st November 2018
Those Were The Days My Friend.
We Thought They'd Never End.
Comments by Arthur, 1st November 2018
Are they in shock!
Comments by Jarvo, 2nd November 2018
Post-sixties Albert Finney era. The music had changed, but the suits stayed for another few years. 1970 was a good year: the weather, music, and jobs were plenty. And I bet they were drinking Watney's Red Barrel...
Comments by Poet, 2nd November 2018
The best portrayal of' lads at holiday camp ' scenario was by Ringo Starr and David Essex in ' That'll Be The Day'. Magnificent film.
Comments by derek evans, 2nd November 2018

Alan stiff neck is that a euphemism. We would have had a few sherberts when this photo was taken. Its ironic that now Nolan is tea total and I might have a shandy one a month how times change.
Comments by walt ( North Yorks ), 2nd November 2018
sadly Butlins Filey is now a housing estate, those days have definitely gone, they did come to an end.
Comments by Veronica, 2nd November 2018
When young men dressed smartly- even during the week to go to the pictures or for a quiet drink. (I blame the Rolling Stones for the change that came about! It wasn't for the better.) Nothing makes a man look nicer than a smart suit and tie. These days they might wear one to a wedding! Even at funerals I have seen young ones with their shirt hanging over their trousers and no jacket! Ugh!
Comments by Philip G., 2nd November 2018
Yes Jarvo, 1970 was also a good year for another of the greats: Nijinsky. It became the first horse in 35 years to win The Triple Crown.
Poet. I went to see that film as well and I even bought the double album. One of our lads sometimes gave us his tough-guy impression of a particular line from one of the film's songs e.g., 'Jimmy spent a packet on a real leather jacket.' Beautiful, isn't it.
Comments by Mac, 3rd November 2018
Hi Poet , when that film pops up , I always think and remember how good Ringo Starr was in it . He played it just perfect . He deserved more recognition for his efforts .
Philip , regarding leather jackets . In the wildness are my youth .
I was once ended up wearing the leather jacket, and Colours , of a lady I had met in a pub . No , not what you think , or even a clinch . I was informed the following week that I was on a wanted list ! It turned out , she was the girlfriend of a Hells Angel gang leader , who was not best pleased that I was seen wearing the jacket and more importantly, their Colours . He now was wanting an explanation and my blood . In the drunken mayhem of the pub I had no idea either how I ended up wearing it .
Luckily , at the time , I had progressed from my early Mod days , to the hippy era , this progression turned out to be my saviour . The leather gangs did not fear us , so we could mix , and we did .We could go to the bars and places skinheads couldn't . The skinheads hated us .
With the help of 'negotiators' who knew both myself and the Hells Angel leader , the matter was amicably resolved . We later became great friends and often shared a pint when we met . I still to this day , have no recollection, how I ended up with it in my possession. I do though recall it was a very scary time for me , you know .. ' word is out'
Sorry Derek , for going off your post , but Thankyou for posting and stimulating the juices of memory which we each hold .
Comments by Philip G., 3rd November 2018
Mac.
Your shift from Mod to Hippy, and subsequent use of negotiators, had served you 'fairly' well. But I think that the introduction of a tune from your dad's handmade musical box in preference to the use of negotiators, would have made the situation less stressful for you; calming the Hell's Angel leader almost instantly. Regards.
Comments by derek evans, 4th November 2018

When we went out we always wore a white shirt,suit and tie, cufflinks, and black shoes. The tie didn't always make it to home time.
Comments by Maureen, 4th November 2018
Young or older men always look handsome in a suit and tie,even if they're not particularly handsome,they look the works..especially a grey suit..all these ripped jeans and t/shirts do nothing at all for their image...my Dad wore dungarees during the week,but when he donned that suit white shirt and tie..he knocked spots off everyone.
Comments by Veronica, 4th November 2018
Absolutely right Maureen- and I bet those two young lads still wear a nice suit even now after all these years - when the occasion arises!
Comments by Karina Fairhurst, 24th March 2019
Is that the Nolan Bradshaw the head porter ay Wigan infirmary?
Comments by derek evans, 27th March 2019

It certainly is Nolan well spotted