| | | |
| --- | --- | --- |
| Amberswood | | Views: 1179 |
| Stage is set for the battle of Amberswood.(from Wigan Observer 1978) | | Comments: 3 |
| Photo: Barrie Item #: 30747 | | |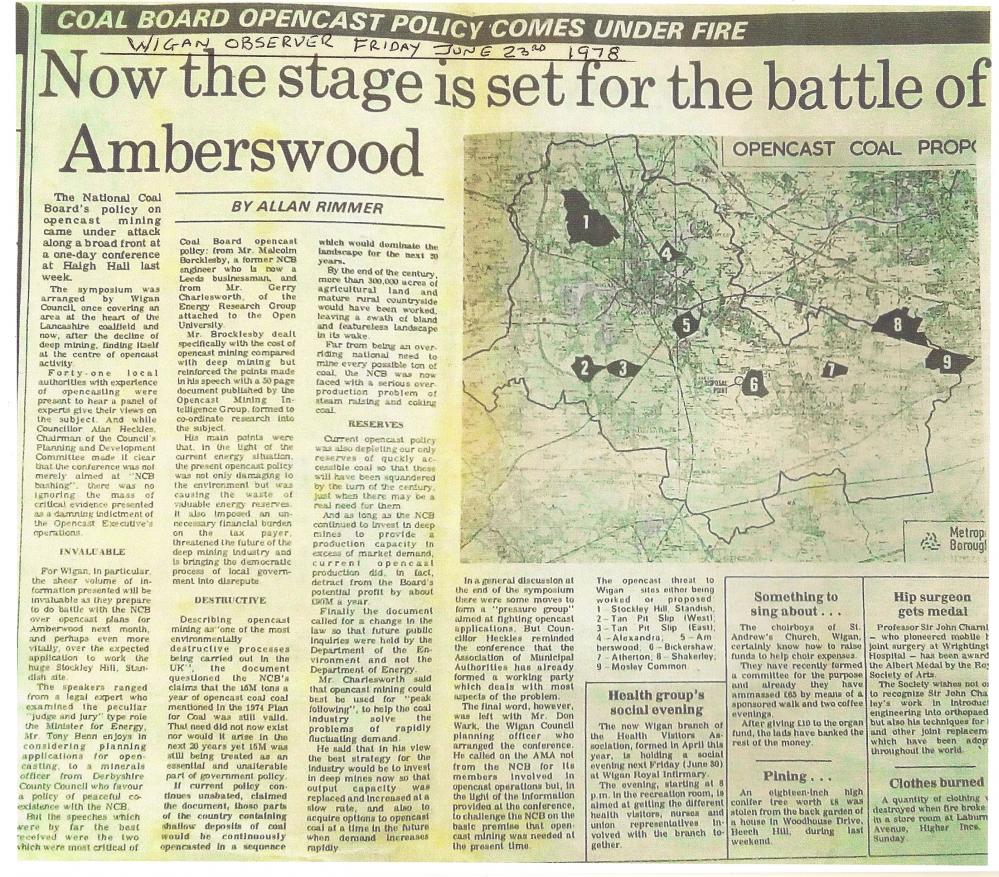 | | | |
| --- | --- | --- |
| | Image scaled down from 999px to 877px wide | Click here, or click the photo to view original |
With reference to #30732 recently,I found this cutting from the Wigan Observer dated 23rd June 1978 with the title as above. It was in my Dad's folder but the main page was relating to the proposed clean up of the River Douglas by Jack Winstanley.
Did anything become of the proposed sites mentioned in the article?


Comments by English Electric, 16th September 2018
One thing I never quite understood about the NCB's local opencast schemes in the 1970s and 80s - given that most of the shallow pits in the Wigan coalfield were supposedly worked out by the 1920s / 1930s (leading to mostly deep mining after that), how come there was enough coal still remaining at Amberswood that could be just dug up by mechanical excavators?

I would have thought most of this coal would already have been taken out (by hand) in the coal mining heyday - say between the 1880s and First World War.

Apart from availability of bigger mechanical diggers, was there some kind of new technique which allowed a worthwhile amount of coal to be extracted from seams which were previously considered low quality or not economic?
Comments by Rev David Long, 16th September 2018

EE - there were a number of factors involved in making opencast working of previously-worked sites economically worthwhile. One was that you ended up with a big hole which you could charge companies and Councils to fill with rubbish. On the way, they would strip coal seams which had been ignored because they were too thin to be exploited; seams which had only been partially-worked by hand-getting (there's a pic in the mining section of an opencast site showing previously unknown workings after they were exposed from above); early mines which were small-scale, and only exploited a proportion of the coat available; mines exploited using pillar-and-gallery hand-getting which left large pillars to support the roof. All these methods relied on having a very efficient screening process to separate the coal from the slack. These processes were so efficient that they could be applied to the waste-tips themselves. Early screening was evidently very inefficient - witness the pics of striking miners digging in them to get coal for their home fires, or the tips which self-ignited because of the amount of coal in them - so tips usually contained enough lost coal to justify re-screening them as you were paid (post-Aberfan) to remove or regrade them.
Comments by Barrie, 17th September 2018
Further to this article, I can remember an opencast site alongside the canal at Red Rock in the mid-late 50's.My elder sister, when a teenager, used to help out at Red Rock Farm in around 1952-54 but she can't remember it starting.Can anyone remember when it closed- I think a walking dragline was used and vaguely think a bailey bridge was constructed across the canal somewhere between Pendlebury Lane & Red Rock lane for access.