| | | |
| --- | --- | --- |
| WALLGATE STATION | | Views: 1825 |
| Wallgate Station | | Comments: 14 |
| Photo: DTease Item #: 30640 | | |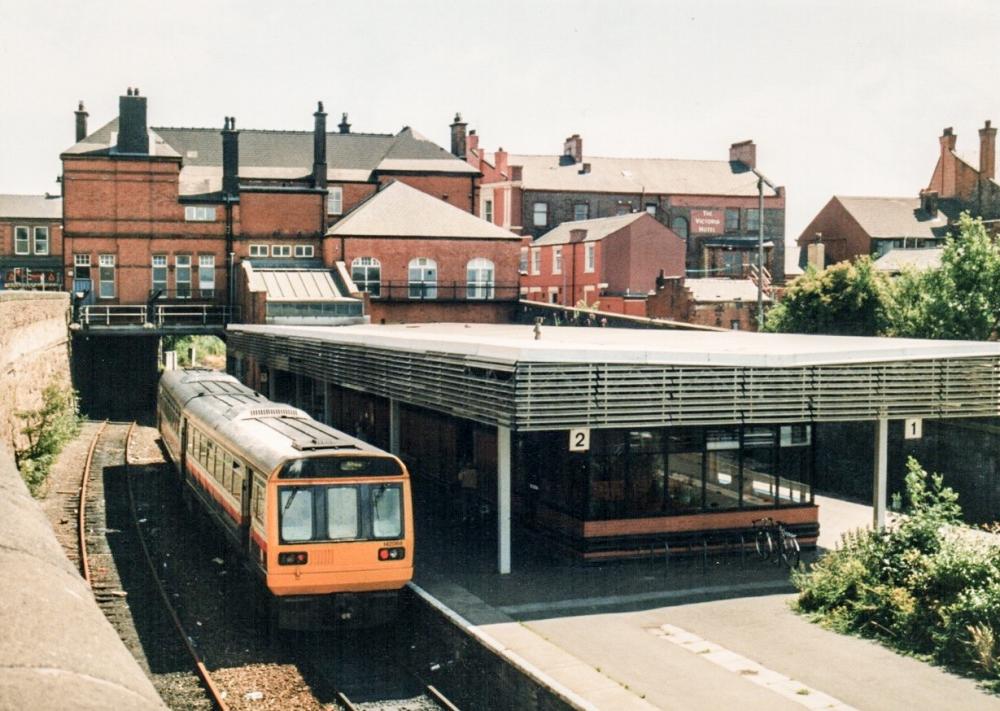 | | | |
| --- | --- | --- |
| | Image scaled down from 1000px to 711px wide | Click here, or click the photo to view original |
| | | |
| --- | --- | --- |
| | There's only one track on this side now isn't there? | |
Comments by Stan, 11th July 2018
We can all see because of the bridge and buildings on Wallgate, that electrification of this Bolton to Southport line at Wigan would be a massive task indeed.
Comments by Jarvo, 11th July 2018
What a sad photograph. The refurbishment on the platforms ruined a great L&Y station. The goods loops are now gone and so is the character. Progress? Never!
Comments by Philip G., 11th July 2018
While the litter-strewn area between the high wall and the train, and the cold cheerless area at bottom right strengthen Jarvo's description of this scene, perhaps the seemingly discarded toy meerkat on the roof could provide 'some sort' of cheer.
Comments by Alan, 11th July 2018
Horrible train.
Comments by DTease, 11th July 2018
Was there a Club on the top story of the station building at one time?
Comments by Philip G., 11th July 2018
DTease.
There had been a club upstairs, but I dont' know what its name was - I believe The Ladybirds had appeared there.
Comments by Arthur, 12th July 2018
Railway Club.
Comments by A.W., 12th July 2018
DTease, the room over the station was also an antiques centre for a time in the early 1980's.
Comments by Ray, 12th July 2018
Some rooms above Wigan Wallgate Station were used by the
Wigan & District Model Railway Society in the mid1970s,
they later moved to a disused pub in Foundry Lane, Pemberton for a number of years. After club meetings on
Tuesdays and Thursdays, it was usual for some members to
assemble in the Railway Inn, opposite Pemberton Station,
to talk about model railways, and have a beer or two.
Comments by DTease, 12th July 2018
A,W,/Ray, I only went to the club once. I think it was for a birthday do or an engagement do.
I never knew that it had been used for other things as well. Just goes to show you learn something every day on wiganworld.
Comments by DerekB, 12th July 2018
Arthur is right, it was the Railway social club before the new one was opened off Barnsley St in the 60s
Comments by Veronica, 14th July 2018
I didn't even know there was a building on top of the building! I would loved to have gone inside it...makes me feel 'deprived' not to have known!
Comments by AP, 14th July 2018
It looks a nice station from this angle. Although whenever I have embarked or disembarked on rail travel at Wallgate, I have always experienced it to be a rather disappointing station.
Comments by Robert, 16th July 2018
Believe it or not Stan it wouldn't be all that hard to electrify beneath Wallgate.
A simple solution would be to lower the track/lay slab track & lower the platforms (as has recently been done last year at Poulton Le Fylde)...on the Blackpool electrification scheme.
There's always an engineering solution Stan.