| | | |
| --- | --- | --- |
| Hindley | | Views: 626 |
| Hindley - just west of railway station Sunday 13th October 1963 | | Comments: 10 |
| Photo: Chris Heaven Item #: 30630 | | |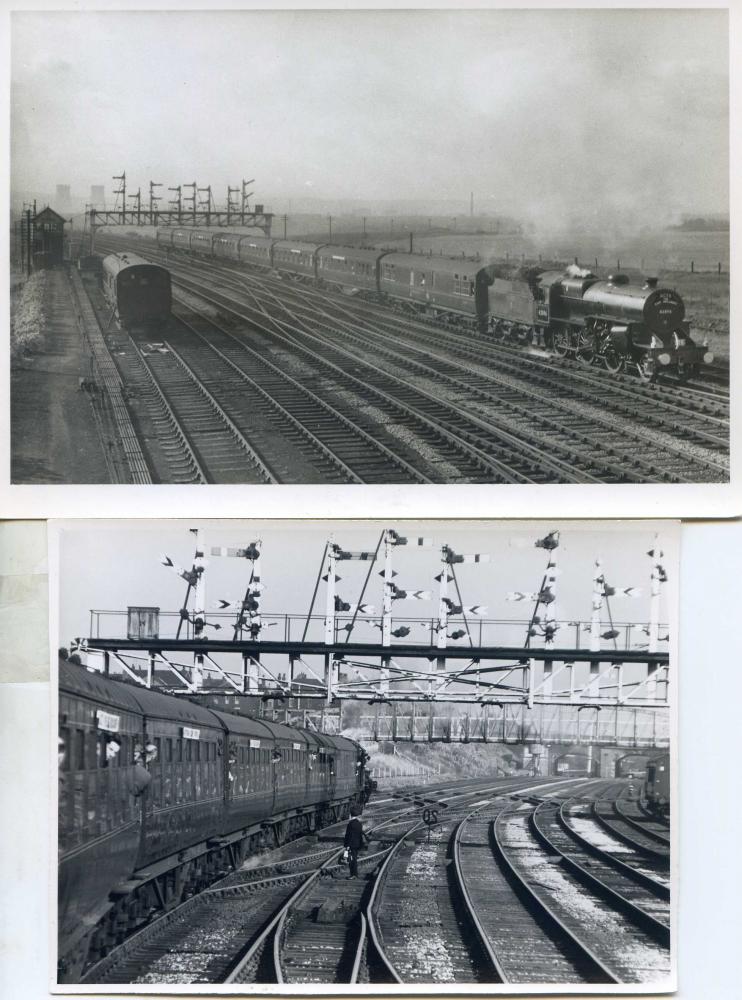 | | | |
| --- | --- | --- |
| | Two photos taken independently moments apart on Sunday 13th October 1963 just west of Hindley railway station. I found these among an auction lot of railwayana and I am grateful to Tom Sutch for identifying the location. The train is approaching Hindley off the Pemberton loop. It is the Railway Correspondence & Travel Society (RCTS) "East Midlander" No6 railtour. One photo is taken from the train and the other from the footbridge (which still exists I think) visible in the lower picture. The platform at Hindley station can be seen through the bridge arch in the distance in the lower image. The railwayman standing by the train in that picture can just be made out next to the last carriage and below the fantastic signal gantry in the upper image. The locomotive was ex LMS Crab 42869. The train, which set off from Nottingham, had come from Crewe via Warrington, Earlestown & St Helens and Rainford Junctions. It went on to Horwich (old) station & Works via Crows Nest Junction. It had to back into Horwich station. | |
Comments by Jarvo, 6th July 2018
Surely the connection from St Helens to Rainford would have been long closed and lifted by 1963? Correct me if I'm wrong.
Comments by Jarvo, 6th July 2018
Just found this:

In 1951 BR[LMR] proposed the withdrawal of the St Helens and Rainford Junction service and the last trains ran on Saturday 14 June 1951. After that date the St Helens platform at Rainford Junction went out of use. Goods trains, always more numerous than passenger services, continued to pass through as did some passenger diversions and excursion services. Even in 1964 the St Helens line had two daily pick-up goods services calling at Old Mill Lane sidings with one continuing on to Rainford Junction, and there were five through freight trains running to/from the north-east.
Comments by Chris Heaven, 7th July 2018
See Six Bells Railtours website for all the details of the train's route and itinerary.
Comments by Jarvo, 7th July 2018
Thank you, Chris. Great photographs of my favourite stretch of railway track, coming off the Pemberton Loop.
Comments by baker, 8th July 2018
the st helens to skelmersdale and ormskirk line closed in 1965 lifted 1965/6
Comments by Colin Harlow, 8th July 2018
Brilliant brings back great memories.
Comments by Philbee, 9th July 2018

From the top picture it looks as is coming off the whelley loop,the Pemberton loop was about half a mile down the left side of the photo
Comments by baker, 13th July 2018
rear coach is positioned west of the whelley loop junction,somewhere in these pages is a pic of a war dept 2_8_0 with a coal empties for yorkshire using the same stretch of line coming off the pemberton loop line
Comments by Garry, 14th July 2018
Wrong Baker, the Pemberton line is under the 3rd signal gantry, 3rd from the left.
Comments by Garry, 14th July 2018
Should have said shown in the top photo.