| | | |
| --- | --- | --- |
| Standish | | Views: 1265 |
| The Horseshoe | | Comments: 11 |
| Photo: DTease Item #: 30624 | | |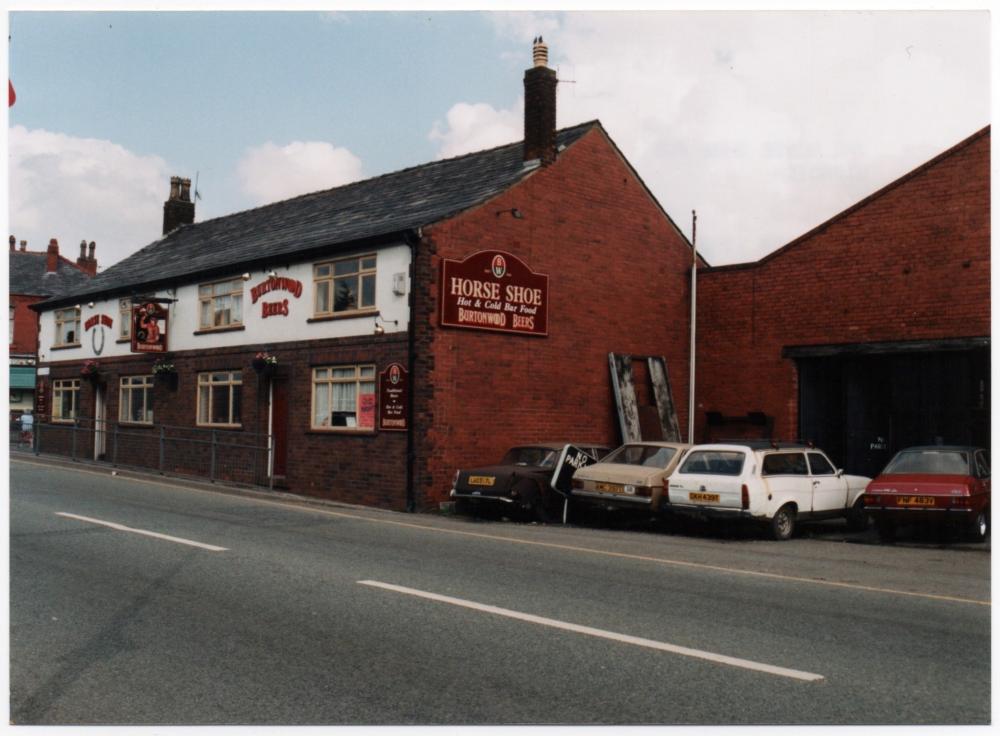 | | | |
| --- | --- | --- |
| | Image scaled down from 1000px to 736px wide | Click here, or click the photo to view original |
| | | |
| --- | --- | --- |
| | The Horseshoe Pub, Standish | |
Comments by Ian B, 4th July 2018
Had my stag do in there back in 82 with my work mates from Douglas Mill, how times change would be Amsterdam, Vegas, Spain etc now!!!! :-)
Comments by irene roberts, 4th July 2018
I remember it well. I worked in a chemists just further up on the opposite side of the road, (81, High Street), 1970-1973. I loved the village of Standish, and now my grand-daughter is to start at Standish High School in September.....I would never have imagined that in those far-off days when I was young!
Comments by Garry, 4th July 2018
Whitley Bay's not bad.
Comments by Mick, 4th July 2018
Went on some very good trips to Cartmel Races with the Horseshoe, when Nobby Clarke had it in the late 1970s/early 1980s.
Comments by DTease, 4th July 2018
I just Googled a Travel Guide for Whitley Bay and I kid you not there is a picture there of a young lad sitting on a concrete sewage outlet.
Comments by Roy, 5th July 2018
A pub no longer unfortunately, The Wiper Company now, industrial hand wipers etc.
Comments by John G, 5th July 2018
DTease: I think I get it, are we saying that Burtonwood ales has some kind of connection with a young lad sitting on a sewage pipe in Whitley Bay. Or is their some other dark mystic meaning.
Comments by DTease, 5th July 2018
John G, I was just wondering why Garry was recommending Whitley Bay as a venue for a Stag do, so I looked it up.
Comments by Johnny, 5th July 2018
Is that a Used Car lot next door? Or have the patrons foolishly parked?
Comments by Barrie, 5th July 2018
If you go to Places (Standish) I posted a few photographs of this building #29237, #29230 etc. The pub was on the left side of the building whilst on the right (next to what was Turners Garage) used to be the smithy and from 1955 my Dad rented that section to garage our little Austin 8 and then build the Paramount car (also shown in same section). Apparently, during the 1940's, the pony my sisters had as children was stabled there.The pony was called "Lady Bet" That right hand side was badly damaged when a wagon hit it in 1962.
Comments by Mr X, 7th July 2018
The Horseshoe pub in Standish has been closed for about a decade, but who remembers the other Horseshoe pub in Wigan, opposite the baths, demolished to make way for the ring road in 1985. Next door to the Standish Horseshoe was a garage, and I always remember a dead Rover car LAO317L that was there permanently in the 1980s/90s. It is seen here with three Mk2 Ford Escorts, the beige and white saloon and estate are low spec models, but the smarter maroon one with more chrome is a top of range Ghia.